Of all of Manchester's suburbs, being vegetarian in Chorlton shouldn't be a chore. We've made sure that our menu is packed full of vegetarian options, with enough choice to keep even the pickiest of veggies happy. Whether you're trying it out for a little bit, or are a lifer, we like to think that The Beagle is one of the finest vegetarian restaurants in Chorlton. Want to go all the way and keep it vegan? We've got you covered too – and your omnivore friends will be happy with our selection too. Whether for brunch, lunch, or dinner, there's something for everyone.
View our menu at the bottom of this page, or read some of the things that people have said about our food of late below.
Friendly staff and nice location. Food is really good too with some nice veggie options.
AP, 2019, *****
Always a good selection or beer and food thats an interesting upgrade on normal pub grub. Great number of options for veggies/vegans.
JS, 2019, *****
Very good food. Lots of veggie/vegan options
BB, 2019, *****
Nice pub with good happy hour offers. Food was also good, with a wide range of vegan offerings alongside meat options.
SC, 2019, *****
Good food and excellent vegan choices.
LM, 2019, *****
We serve food every day we're open (Tuesday – Sunday), right up until 10pm
After drinks? See our drinks menu here.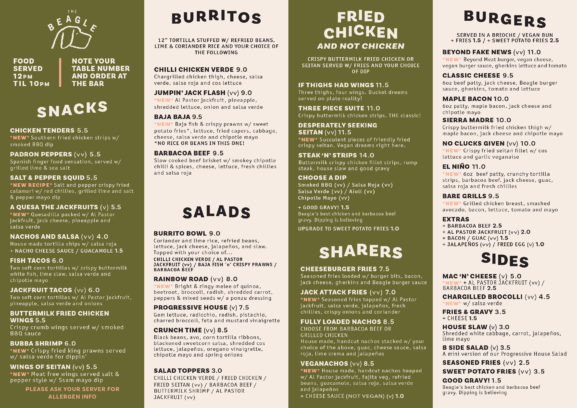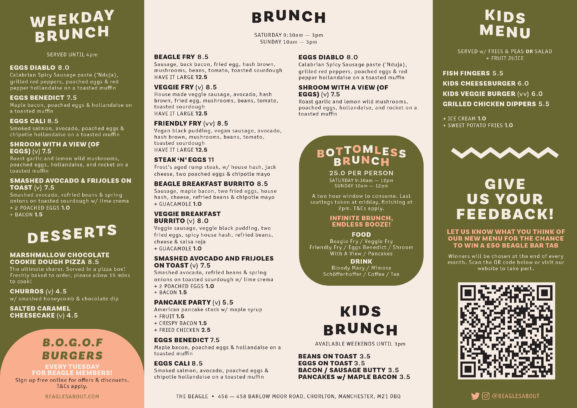 To book a table please email: bookings@beaglesabout.com or call 0161 881 8596.