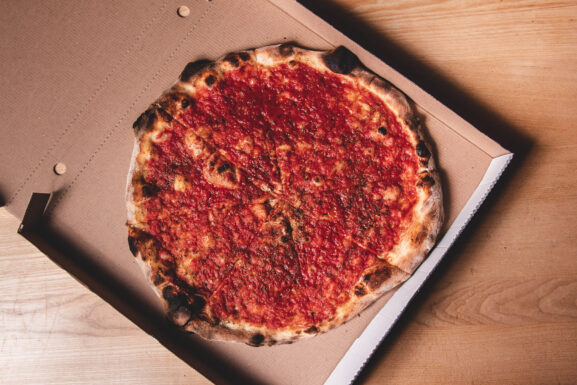 Nell's Pizza, Chorlton – Vegan Menu
While we're not exclusively vegan, we've got extensive options for our green friends thanks to Nell's Pizza, who've now taken over our kitchen. No matter if you're trying it out for veganuary (or veg-any-other-month), or if you've been in it for the long haul, Nell's vegan pizzas are amongst our most popular. We cater for almost all dietary requirements – vegetarians can eat happy, as can omnivores. As far as options for a vegan restaurant in Chorlton go, we'd like to think we're the best.
NELL'S PIZZA (14″, 22″, selected varieties by the slice)
MARINARA (ve)
Good tomato, good oil, sliced garlic, good oregano. No cheese.
£8 / £16
MARINARA PLUS (ve)
Marinara base, finished with chopped black olives, breadcrumbs, basil oil, fresh basil.
£10.5 / £22
VEGAN GREENS (ve)
Roasted garlic cashew cream, vegan n'duja, seasonal greens, evoo, vegan parm
£13 / £26
VEGAN GREENS & SAUSAGE (ve)
Cashew cream, bomba, seasonal greens, evoo, nooch, Beyond Vegan Sausage.
£14.50 / £30
VEGAN DELUXE (ve)
Marinara base, artichokes, marinated peppers, red onion, garlic, 'vegan'duja'.
£13 / £28
VEGANIC (ve)
Mushrooms, roast garlic cashew cream, chilli, forza win sauce, thyme.
£11.5 / £24
GARLIC BREAD (13″)
VGB Vegan Garlic Bread Roast garlic cashew cream, slice garlic, garlic oil, chives
DIPS
House Chilli Sauce House Marinara Sauce
Ice Cream Sandwiches
Vegan Chocolate Cookie (ve) *NEW*
Nell's original recipe chocolate chip cookie, filled with Cheshire Ice Cream Farm vegan chocolate ice cream
---
Here's what our customers have been saying about Nell's Pizza and our vegan offerings recently.
Get the 🍕 pizza you won't regret it MB, October 2020, *****
Love the Nells pizza, they do the best vegan pizza I have ever had. You can get pizza by the slice which is cool and it's New York style rather than neapolitan which you get everywhere. Thin crispy pizza and great drink selection, what more could you want? MR, November 2020, *****
Fantastic pizza. Very different flavours. Great for vegans DA, October 2020, *****
Coming from NYC, I can definitely say this has the best nyc pizza in Manchester!! Amazing slice of […] greens!!! RB, September 2020, *****
The best substantial slice of heaven. Best beer, best pizza, Ledgeville right here. BG, October 2020, *****
Pizzas were amazing! Great value for a 22 inch! MP, October 2020, *****
After drinks? See our drinks menu here.
To book a table please email: bookings@beaglesabout.com or call 0161 881 8596.