While we're not exclusively vegan, we've got extensive options for our green friends: you won't be stuck with some flavourless nut roast in The Beagle. No matter if you're trying it out for veganuary (or veg-any-other-month), or if you've been in it for the long haul, our vegan offerings are some of our most popular dishes. We cater for almost all dietary requirements – vegetarians can eat happy, as can omnivores, and most of the menu can be made gluten-free on request. As far as options for a vegan restaurant in Chorlton go, we'd like to think we're the best.
View our menu at the bottom of this page, or read some of the things that people have said about our food of late below.
I have been here 4 times over the past couple of months and really enjoyed it. The atmosphere is great, the staff are lovely and the menu has something for everyone. Additionally, I am vegan so it is nice to see more than just one option available for us.
GF, 2019, *****
Always a good selection or beer and food thats an interesting upgrade on normal pub grub. Great number of options for veggies/vegans.
JS, 2019, *****
The menu is […] is again done without fault or flaw, providing plentiful vegetarian and vegan options.
BB, 2019, *****
Nice pub with good happy hour offers. Food was also good, with a wide range of vegan offerings alongside meat options.
SC, 2019, *****
Good food and excellent vegan choices.
LM, 2019, *****
We serve food every day we're open (Tuesday – Sunday), right up until 10pm
After drinks? See our drinks menu here.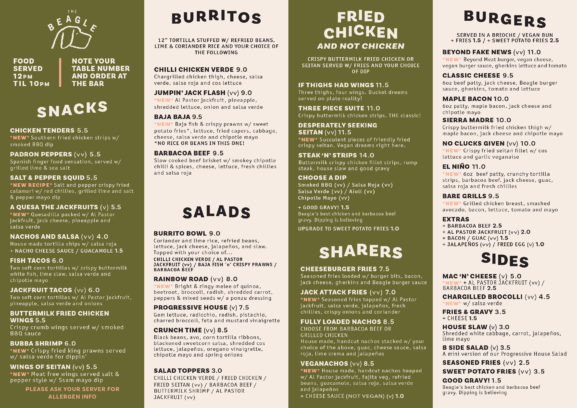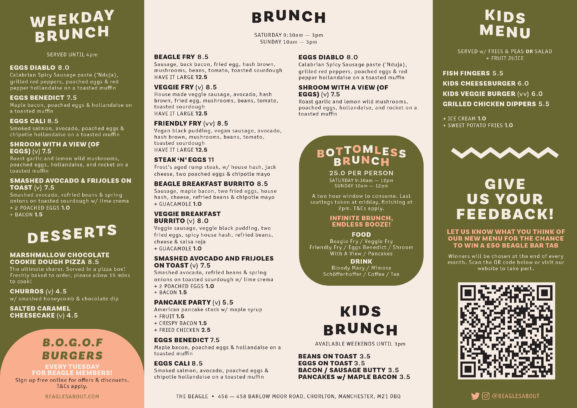 To book a table please email: bookings@beaglesabout.com or call 0161 881 8596.