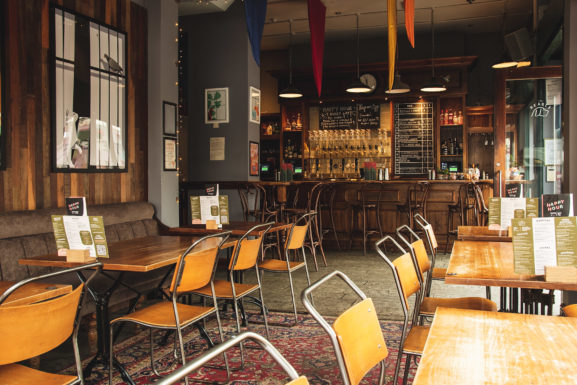 While we're not exclusively vegan, we've got extensive options for our green friends: you won't be stuck with some flavourless nut roast in The Beagle. No matter if you're trying it out for veganuary (or veg-any-other-month), or if you've been in it for the long haul, our vegan offerings are some of our most popular dishes. We cater for almost all dietary requirements – vegetarians can eat happy, as can omnivores, and most of the menu can be made gluten-free on request. As far as options for a vegan restaurant in Chorlton go, we'd like to think we're the best.
Skip below the images for our vegan offerings, or see our full menu below – view the PDF by clicking here.
Click the titles to skip to individual sections or scroll below
Fried Seitan
Crispy fried seitan served w/ fries, gravy, and your choice of dip
*NEW* FAKE IT 'TIL YOU MAKE IT (vv) £9
Five friendly fried seitan strips
*NEW* ULTIMATE VEGAN BUCKET (vv) £11.5
Crispy Seitan tenders and oyster mushroom wings
SPICE UP YOUR LIFE
House made hot chilli sauce goodness to coat your seitan and warm your soul. Add £2.0
Burritos + Wraps
Burrito
BANANA BLOSSOM BURRITO (vv) £9.5
Vegan fish vibes w/ our deep fried banana blossom w/ fried capers, refried beans, lettuce, salsa verde, chipotle mayo, lime and coriander rice
Wrap
WING DINGS WRAP (vv) £8.5
Crispy Oyster Mushroom Wings w/ lettuce, tomato, chipotle mayo, jalapenos, wrapped in a tortilla with fries on the side
ADD Guac £1 / Cheese £1 / Bacon £1.5
Vegan Burgers
BEYOND FAKE NEWS (vv) £12
World renowned Beyond Meat patty w/ vegan cheese, burger sauce, gherkins, tomato, lettuce, vegan brioche
NO CLUCKS GIVEN (vv) £9
The Beagle's original recipe vegan fried chicken burger. Crispy fried seitan, lettuce, garlic mayo, vegan brioche
SPARK CLUCKERBURG (vv) £10.5
Sticky hot 'n' spicy dipped seitan burger w/ jalapenos, chipotle mayo, lettuce, vegan brioche
NOT MUSHROOM FOR IMPROVEMENT (vv) £12
Beyond Meat patty w/ crispy oyster mushroom wings, salsa verde, mayo, lettuce, vegan brioche
// + Guacamole (vv) 1.5 // + Jalapenos (vv) 1.0 //
Nachos
FULLY VEGAN NACHOS (vv) £10
*NEW* House made nachos heaped w/ banana blossom, refried beans, fajita veg, guacamole, jalapenos, aioli, salsa roja, salsa verde
ADD vegan cheese sauce + £1.5
Salads
CAULIFORNIA DREAMIN' (vv) £8.5
*NEW* Gently spiced roasted Cauliflower Cous Cous w/ broccoli, hazelnuts, dried apricots, toasted seeds, tomatoes, peppers, avocado dressing and shredded lettuce.
CRUNCH TIME (vv) £8.5
Black beans, avocado, crunchy corn tortilla ribbons, sweetcorn salsa, jalapenos, shredded cos lettuce, oregano vinaigrette, chipotle mayo, spring onions
ADD / Crispy Seitan (vv) / Crispy Banana Blossom (vv) / Oyster Mushroom Wings (vv) + £3.0
Brunch
FRIENDLY FRY (vv) £9
Vegan sausage, vegan black pudding, avocado, hash brown, mushrooms, beans, tomato, toasted sourdough
MAKE IT XL £13
VEGAN BREAKFAST BURRITO (v) £8
Veggie sausage, veggie black pudding, hash brown, refried beans, cheese, salsa roja
Add Guacamole + £1.5
AVOCADO ON TOAST (vv) £6.0
Smashed avocado w/ toasted hazelnuts and seeds, salsa verde on sourdough
Add Poached Eggs (v) / Refried Beans (vv) / Bacon + £1.5
WELSH SHROOM-BIT (vv) £7.5
Sauteed mushrooms, vegan black pudding w/ vegan cheese sauce and fake bacon bits on toasted sourdough
Snacks + Sides
OYSTER MUSHROOM WINGS (vv) £6
*NEW* Ain't no thing but vegan chicken wings! Super tasty fried oyster mushroom wings w/ garlic aioli and vegan bacon bits
NACHOS & SALSA (vv) £5
House made tortilla chips w/ salsa roja
Add Nacho Cheese Sauce / Guacamole + £1.5
***NEW*** VEGAN MAC 'N' CHEESE (vv) £5.0
CHARGRILLED BROCCOLI (vv) £4.5
w/ salsa verde
B SIDE SALAD (vv) £4.0
SEITAN STRIPS (vv) £6
Crispy crumb seitan strips w/ garlic aioli and vegan bacon bits.
NISH NISH TACOS (vv) £6
Vegan fried banana blossom "fish", lime slaw, chipotle mayo, salsa verde, on two soft corn tortillas
SEASONED FRIES (vv) £2.5
–
CURLY FRIES (vv) £3.5
–
*NEW* VEGAN GRAVY (vv) £1.5
Kids Menu
Kids Mains
Served w/ fries & peas OR salad + fruit juice
Kids Veggie burger (vv) £6.0
+ Ice Cream £1.0
Sub regular fries for curly fries + £1.0
FIVE POUND LUNCH
Available Monday – Friday 12 – 4pm 
Served w/ fries (Substitute for curly fries + £2.0)
V-GANG WRAP £5.0 (vv)
*NEW* Crispy seitan strips w/ lettuce, chipotle mayo, tomato, wrapped in a tortilla
WING DINGS WRAP £5.0 (vv)
*NEW* Crispy oyster mushroom wings w/ lettuce, chipotle mayo, tomato, wrapped in a tortilla
---
I have been here 4 times over the past couple of months and really enjoyed it. The atmosphere is great, the staff are lovely and the menu has something for everyone. Additionally, I am vegan so it is nice to see more than just one option available for us.
GF, 2019, *****
Always a good selection or beer and food thats an interesting upgrade on normal pub grub. Great number of options for veggies/vegans.
JS, 2019, *****
The menu is […] is again done without fault or flaw, providing plentiful vegetarian and vegan options.
BB, 2019, *****
Nice pub with good happy hour offers. Food was also good, with a wide range of vegan offerings alongside meat options.
SC, 2019, *****
Good food and excellent vegan choices.
LM, 2019, *****
We serve food every day we're open (Tuesday – Sunday), right up until 10pm
After drinks? See our drinks menu here.
To book a table please email: bookings@beaglesabout.com or call 0161 881 8596.