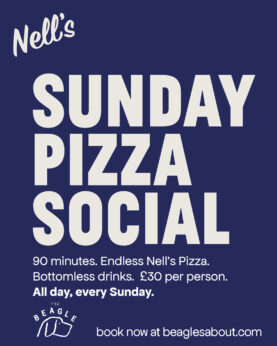 BOTTOMLESS NELL'S PIZZA & DRINKS.
90 minutes. Endless Nell's Pizza & bottomless drinks. £30 per person. All day every Sunday at Nell's, Kampus, The Beagle, Chorlton, and Common, Northern Quarter. Book below, or walk up.
Here's what you can expect to be eating – all endless, bottomless, or however else you'd like to describe it. Cheers!
Slices
Original Cheese (v) Simply house tomato sauce, mozzarella blend, finished with evoo and parm.
Marinara Plus (ve) Good tomato, oil, garlic, oregano, chopped black olives, breadcrumbs, basil.
Cheese & Onion Pie (v) Northern classic. Burnt onions, mozzarella, Lancs cheese, chives, parm.
Do You 'Roni Honey? N'duja, pepperoni, tomato, mozzarella, finished with chilli honey & parm
Greens (v) Seasonal greens, roast garlic cream base, Lancs cheese, chilli, evoo, parm.
Mushroom (ve) Roast garlic cashew cream, chilli, mushrooms, marinara sauce, thyme, evoo.
+++ specials on the day – ask your server.
Drinks
Nell's Lager 4% Cult classic & best seller.
Nell's Pale 4∙5% Kirkstall's Virtuous IPA – our house pale. GF.
Schofferhofer 2∙5% Grapefruit wheat beer radler. The best.
Mimosa Fizz & orange juice – brunch classic.
Bloody Mary Tomato, vodka, chilli, lemon, Hendo's.
Prosecco Yes please.
+++ soft drinks, juices, water, soda.