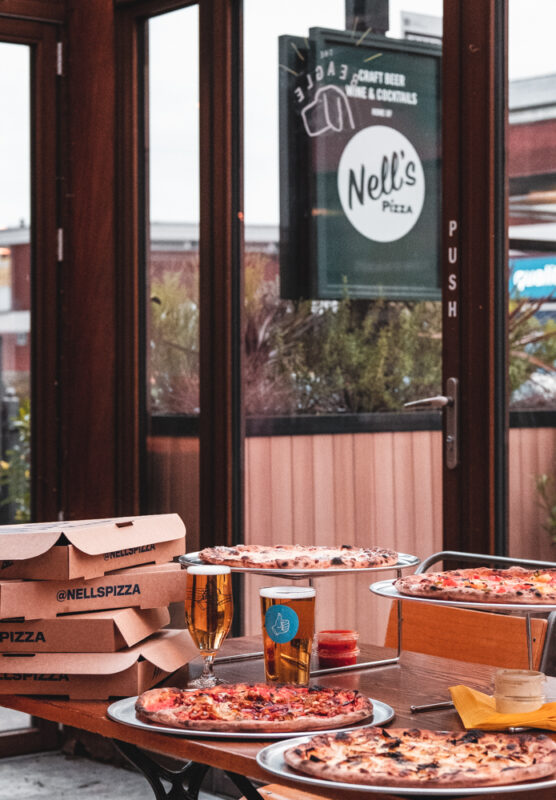 See the Nell's Pizza menu here.
About Nell's Pizza
Nell's is a family-run business, operated by husband and wife team, Jonny and Charlotte Heyes. The name is derived from the initials of their kids' names: Lenny, Nell and Edith.
After realising most of the best pizza available in the UK is Neapolitan style, the aim was for Nell's to bring some diversity to the market. Looking Stateside for inspiration, Jonny has spent the last 18 months researching, trialling and developing the concept and product, also travelling around Brooklyn, sampling the best slices that NYC has to offer. 
Now slinging pizza from the Common kitchen, Nell's is all about the best dough and the best ingredients, treated with care and attention. Using 100% British organic flour from Shipton Mill, the dough is slow-fermented over 36 hours to allow for the perfect combination of strength for folding and lightness for enjoyment. Local cheese is sourced from the Crafty Cheeseman, while British meat comes from Littlewoods Butchers and charcuterie from London based supplier Cobble Lane Cured.  
Nell's prides itself on following an environmentally-friendly model – not only using local and responsible British suppliers, but also using less power, less meat and creating less waste, while constantly looking for other ways in which the day-to-day operation can be gentler on the planet. 
Jonny and Charlotte have been at the forefront of the Manchester hospitality scene for over 15 years, having first launched Northern Quarter institution Common back in 2004. Since then, the Common & Co. family has expanded with nearby Port Street Beer House, The Beagle in Chorlton and The Pilcrow, based in Sadler's Yard. The duo, alongside their team, are also behind two annual beer festivals: Indy Man Beer Con and Summer Beer Thing. 
In 2020 they were due to take on a new wet-led site, which Nell's would sit alongside as an eat-in food offering and takeaway slice bar. The onset of Covid-19 changed all that, and like many businesses Nell's was forced to change tack fast. Following a fairly major pivot during lockdown, the Nell's brand was launched from Common in May 2020 to give the bar more flexibility during the pandemic, allowing a click and collect food service while customers waited for doors to reopen.  
14 inch pies are also available on Deliveroo. 
Visit the Nell's Pizza website.
Photography by Joe White.