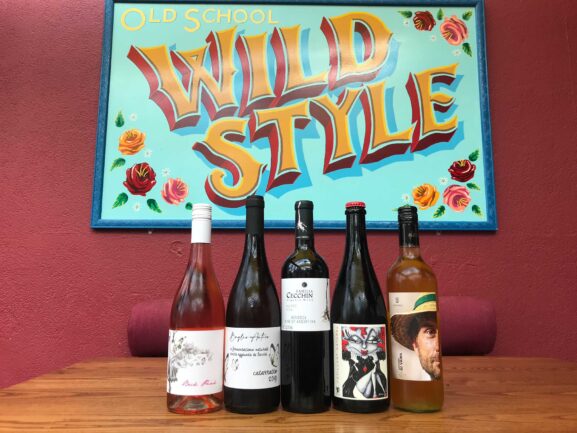 We're now back open, operating within Tier 3 restrictions, and are open 4 – 9pm on New Year's Eve & New Year's Day
–
New normal, new additions to our drinks menu – Low Intervention Wines are here, with a rotating cast of natural beauties specially selected for The Beagle. Mostly available by the bottle (with some available by the glass too) here's what we've recently got in house: download the Common & Co App to see what we've currently got on offer.
Fuchs und Hase Pet Nat
Country: Austria
Region: Kamptal
Grapes: Zweigelt, Cabernet Sauvignon
Vintage: 2018
The rose pet nat is made from organic Zweigelt and Cabernet Sauvignon grapes with nothing added and nothing taken away. Very fragrant with pure red berry fruit, violet and thyme notes and a touch of leafiness carried along by soft, mouth filling bubbles.
Vina Ilusion Rioja BLANCO
Vintage: 2018
Country: Spain
Region: Rioja
Grape Variety: Viura
Brand Name: Vina Illusion
Expect a medium level of acidity with bold citrus flavours of lemon and mandarin which are softened by stone fruit flavours of melon and peach.
Continental Platter Semillon STELVIN
Country: Australia
Region: South Australia
Vintage: 2019
Wine Type: Dry White Wine
Wine Style: Medium bodied
Continental Platter Semillon, Biodynamic Semillon, green pepper, peach, lime, pure zingy yet ripe fruit with a dry salty twang.
Gendres VDF Pet Nat SB Chenin
Wine type: other sparkling
Region: south west
Country: france
Food pairing: nells pizza, sushi, smoked fish, goat's cheese
Dangerously drinkable, naturally sparkling wine from Bergerac. This is wonderfully drinkable, and a natural progression for Prosecco drinkers looking for something a little more interesting while still being easy and fun to drink. Made here from Sauvignon Blanc and Chenin Blanc in Bergerac, this is bright with acidity, which balances the slight sweetness, similarly to prosecco, and bottled without fining, filtering or the addition of sulphur.
Intellego Chenin Blanc
Country: South Africa / Swartland
Colour: White
Grape: Chenin Blanc
Year: 2018
Chenin from two sites over granite and gravel respectively are whole bunch pressed and aged in old French oak. Firm acidity and an apple like crunch.
DNS Kindeli Luna Nueva White
We love the wines from Alex Craighead, made in Jen's hometown of Nelson, New Zealand. This is a blend of Viognier, Pinot Gris, Pinot Blanc and Sauvignon Blanc, with the grapes spending time on skins and in amphora. Serious, yet sultry. Think stonefruit, peach blossom, passionfruit.
DNU Partida Creus SP Subirat Parent Blanco
Country: Spain / Penedes
Colour: White
Grape: Malvasia
Year:2018
Winemakers Massimo and Antonella make the most of the vivid, tropical aromatics this variety offers, which is matched by a palate that's typically energetic and we can only describe as being truly Partida Creus-ian.
Baglio Antico Bianco IGP Cataratto NL
Origin: Sicily, Italy
Vintage: 2019
Grape variety: Cataratto
Orange wine made from organic Catarratto in western Sicily. Made with three days maceration on skins, this has a lovely golden colour with aromas and flavours of russet apples (with the skins) and red plums. An excellent introductory orange wine.
Vaira Vincenzo BIANCO
Origin: Molise, Italy
​Vintage: 2019
Grape variety: Falanghina & Trebbiano
Golden and slightly cloudy in the glass, this medium bodied white blend has lots of character. Aromas of stone fruit, yellow apples and plums open up to a complex palate of minerals, tannin, gooseberries and crunchy fruit. Give it a decent amount of air to let it expand into its full expression.