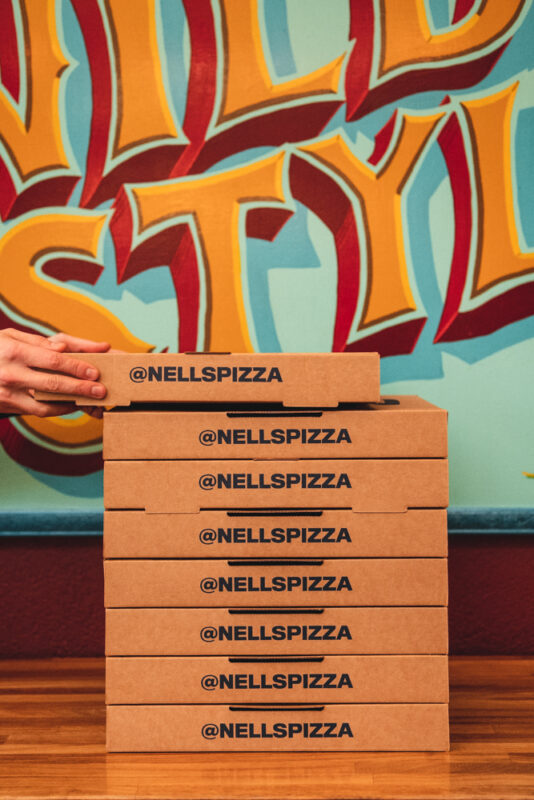 22″ Pizza to your door – Nell's Pizza Massive Deliveries
Our 14″ pizzas are available through Deliveroo, but unfortunately, our 22″ pies are a little bit too big for their drivers. However, we're here to help – Massive Deliveries for South Manchester. Place an order with us, and 22″ Nell's Pizzas will be delivered to your door in time for dinner.
You'll find faves such as the 'Do You 'Roni, Honey' the 'Vegan Deluxe', 'Cacio e Pepe' and the classic 'Original Cheese' – and you can even go half and half, or order a whole one each… whatever you fancy.
*MASSIVE DELIVERIES ARE AVAILABLE FROM DECEMBER 4TH*
If you want our famous 22in pizzas, delivered to your door with all the trimmings,  and provided that your door is in Chorlton, Whalley Range, Old Trafford, Didsbury or Stretford, you can place your order on massivedeliverieschorlton@nellspizza.co.uk or by calling 0161 881 8596. Orders can be placed up to two hours prior and slots are limited.
Massive Deliveries are available 5pm – 8pm, Tuesday to Sunday, minimum order £40.
Nell's Pizza kitchen is open Tuesday – Friday 4pm to 9pm, and Saturday – Sunday 12pm to 9pm for walk-ups, collections, and deliveries, with no minimum spend.
Menu (Click to jump to section) Pizza Garlic Bread Dips Ice Cream Sandwiches Drinks Bundles Wine Natural Wine Soft Drinks
22″ Pizza
ORIGINAL CHEESE (v) Crushed tomato, mozzarella blend, parmesan, evoo – £22
MARINARA (ve) Good tomato, good oil, sliced garlic, good oregano. No cheese. – £16
CACIO E PEPE Black pepper cream, mozzarella blend, pecorino – £24
HAWAIIAN Mozzarella, smoked cheese, forza sauce, Littlewoods Butchers ham, roast pineapple, green chilli, chilli honey. – £30
UPSIDE DOWN MARGHERITA (v) Mozzerella blend, marinara sauce, basil oil, fresh basil, parmesan. – £24
GREENS Roast garlic cream, chilli, smoked lancashire, fior de latte, seasonal greens, parm. – £26
VEGAN DELUXE (ve) Marinara base, artichokes, marinated peppers, red onion, garlic, 'vegan'duja'. – £28
CHEESE & ONION PIE (v) Roast garlic cream, mozzarella, Lancashire cheese, burnt onion, chives, parmesan – £28
VEGANIC (ve) Mushrooms, roast garlic cashew cream, chilli, forza win sauce, thyme. – £24
SAUSAGE & PEPPERS House marinated peppers, house sausage, mozzarella blend, chives. – £30
DO YOU 'RONI HONEY? Cobble Lane Pepperoni, nduja, crushed tomato, mozzarella blend, chilli honey. – £30
ORIGINAL SAUSAGE MATERIAL Crushed tomato, mozzerella, house sausage, pepperoni, jalapenos, house fermented chilli. – £30
MARINARA PLUS (ve) Marinara base, finished with chopped black olives, breadcrumbs, basil oil, fresh basil. – £22
GARLIC BREAD (13″)
CBGB Garlic Bread Cheese, butter, garlic, bread. And chives. – £6
VGB Vegan Garlic Bread Roast garlic cashew cream, slice garlic, garlic oil, chives – £6
PGB Primo Garlic Bread Roast garlic cream, mozzarella, smoked cheese, sliced garlic, black garlic ketchup, chives. – £9
DIPS
House Chilli Sauce – £2
House Marinara Sauce – £2
Garlic & Herb Dip – £2
ICE CREAM SANDWICHES
Salted Caramel (v) – £4.5 Chocolate layers top and bottom, Cheshire Farm vanilla ice cream w/ vanilla pod, salted caramel.
Cookies & Cream (v) – £4.5 House dark & white choc cookie, Cheshire Farm vanilla ice cream w/ vanilla pod.
Drinks Bundles
4 x Augustiner Helles Lager 5.2% 500ml – £18
4 x Fruh Lemon Radler 2.5% 500ml – £10
4 x Schofferhoffer Grapefruit 2.5% 500ml – £10
4 x Hogans Cider (either Classic Perry 5.4% 500ml or Killer Sharp 5.8% 500ml) – £18
4 x Pomona – My Rose Has Left Me IPA 6.5% 440ml – £20
European Bundle – 1x Augustiner Helles, 1x Orval, 1x La Chouffe, 1x Saison Dupont – £18
4 x Timmermans (choose from Peach, Strawberry, Raspberry) – £18
Wines
White Calaveras Vino Blanco 13% – £15
Turtle Bay Sauvignon Blanc 12.5% – £20
Janelas Antigas Vinho Verde 11.5% – £18 Red
Calaveras Vino Tinto 11.5% – £15
Le Jardin Cabernet Sauvignon 12.5% – £18
Bio Bio Merlot 13% – £20
Softs/Low Alcohol
Any four for £10
Booch & Brew – Ginger & Lemon Kombucha 330ml – £4
Booch & Brew – Original Kombucha 330ml – £4
Booch & Brew – Yuzu Lemonade Kombucha 330ml – £4
Sparkling Water 330ml – £1.50
Steep Soda – Hibiscus Lemonade 330ml – £3
Steep Soda – Lime & Cucumber 330ml – £3
Steep Soda – Orange 330ml – £3
Erdinger, Alkoholfrei Isotonic Wheat Beer, 500ml – £3
Veltins Alcohol Free 330ml – £3