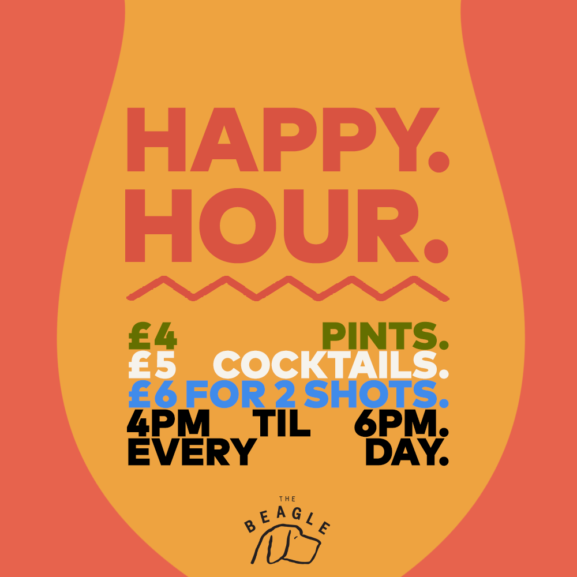 HAPPY HOUR
4pm-6pm every day
PLUS ALL DAY MONDAY
£4 pints
£5 cocktails
2 for £6 shots
Get ready to have The Housemartins in your head, as it is Happy Hour again – from 4pm to 6pm every day we're dishing out FOUR POUND pints, FIVE POUND cocktails, and two shots for SIX POUNDS. What's more, we've curated a Happy Hour specific cocktail list, exclusive to those glorious two hours when everything is a bit cheaper, and the world is that little bit brighter. Of course, we'll have Nell's Pizza available throughout too – see what's on the drinks menu to go alongside it below:
£4 PINTS
Beagle Pale Ale
Beagle Lager
£5 COCKTAILS
Jalisco Mimosa
Olmeca Reposado Tequila, Pirani Prosecco DOC, Peach Bitters, Apple Juice
Rum + Raisin
Havana Especial, Kahlua, Pedro Ximenez sherry, Chocolate Bitters
Clover Fizz
Beefeater, Morador Rosado, Giffard Sirop Raspberry
Magic Carpet Ride
Absolut, Aperol, Giffard Sirop Rhubarb
Garden Party
Beefeater, Belvoir Elderflower Cordial, Sirop Passionfruit, Folkington's Light Tonic
2 for £6 SHOTS
Olmeca Blanco
Luxardo Sambuca
Jamesons Whiskey
Jagermeister
£15 BOTTLES OF WINE
House Red and House White
£20 BOTTLES OF PROSECCO
There's not much more to say about that one really. House Prosecco, by the bottle, £20.
One of everything please barkeep. We'll see you soon.