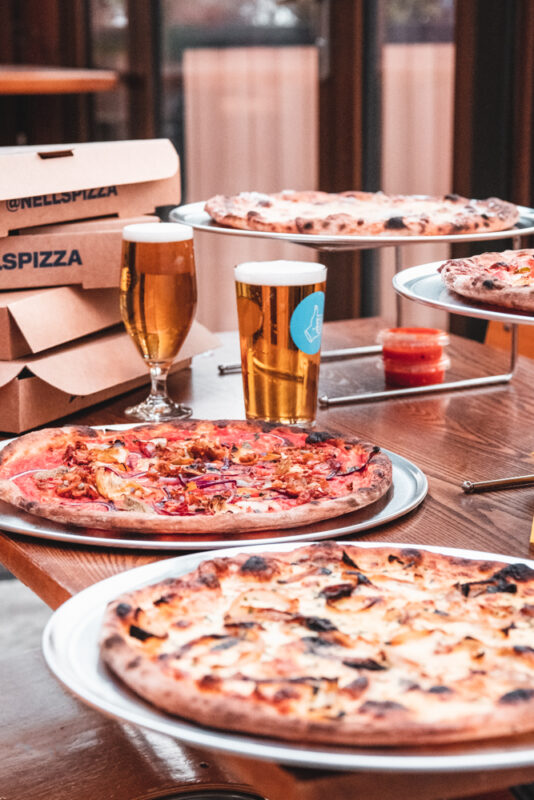 Nell's is, quite simply, about the best dough and the best ingredients, treated with care and attention. The dough is slow-fermented over 36 hours to allow for the perfect combination of strength for folding and lightness for enjoyment. They use 100% British organic flour from Shipton Mill, local cheese sourced from the Crafty Cheeseman, British meat from Littlewoods Butchers and charcuterie from London based, Cobble Lane Cured. A big part of the drive behind Nell's was to create a food business which was more gentle on the environment. Nell's is an environmentally friendly model, using less power, creating less waste, using less meat and using local and responsible British suppliers. Find out more.
Our slice selection changes day to day depending on what we're feeling (check our app for the latest), but our full menu includes the 22″ pizzas that have made Nell's a firm favourite. Want dessert? We also serve Nell's Ice Cream Sandwiches.
See the Nell's Pizza menu for The Beagle in PDF format here.
NELL'S PIZZA
22″, selected varieties by the slice
14″ / 22″
ORIGINAL CHEESE (v)
Crushed tomato, mozzarella blend, vegetarian 'parmesan', evoo.
£9.5 / £22
MARINARA (ve)
Good tomato, good oil, sliced garlic, good oregano. No cheese.
£8 / £16
MARINARA PLUS (ve)
Marinara base, finished with chopped black olives, breadcrumbs, basil oil, fresh basil.
£10.5 / £22
UPSIDE DOWN MARGHERITA (v)
Mozzarella blend, marinara sauce, basil oil, fresh basil, vegetarian 'parmesan'.
£10.5 / £24
GREENS (v)
Roast garlic cream, chilli, smoked Lancashire, fior de latte, seasonal greens, vegetarian 'parmesan'.
£13 / £26
VEGAN GREENS (ve)
Roasted garlic cashew cream, vegan n'duja, seasonal greens, evoo.
£13 / £26
CHEESE & ONION PIE (v)
Roast garlic cream, mozzarella, Lancashire cheese, burnt onion, chives, parm.
£13 / £28
VEGAN DELUXE (ve)
Marinara base, artichokes, marinated peppers, red onion, garlic, vegan'duja.
£14 / £30
VEGANIC (ve)
Mushrooms, roast garlic cashew cream, chilli, forza win sauce, thyme.
£11.5 / £24
CACIO E PEPE
Black pepper cream, mozzarella blend, pecorino
£11.5 / £24
HAWAIIAN
Mozzarella, smoked cheese, forza sauce, Littlewoods Butchers ham, roast pineapple, green chilli, chilli honey.
£14.5 / £30
DO YOU 'RONI HONEY?
Cobble Lane Pepperoni, n'duja, crushed tomato, mozzarella blend, chilli honey.
£14.5 / £30
ORIGINAL SAUSAGE MATERIAL
Crushed tomato, mozzarella, house sausage, pepperoni, jalapenos, house fermented chilli.
£14.5 / £30
All pizzas available in 22″ half & half format, prices available via our app.
GARLIC BREAD (13″)
CBGB Garlic Bread (v)
Cheese, butter, garlic, bread. And chives.
£6
VGB Vegan Garlic Bread (ve)
Roast garlic cashew cream, slice garlic, garlic oil, chives
£6
PGB Primo Garlic Bread (v)
Roast garlic cream, mozzarella, smoked cheese, sliced garlic, black garlic ketchup, chives.
£9
DIPS
ANCHOVY HOLLANDAISE*NEW*
A restaurant classic, reimagined by Nell's – perfect for dipping, smothering, whatever else.
CHILLI HONEY*NEW*
The one we've been asked for most of all – the chilli honey used on our pizzas, now available as a dip.
GARLIC & HERB DIP
A classic – it is all in the name.
HOUSE CHILLI SAUCE
Our house chilli sauce, using fermented chilli. One for the heat-seekers.
HOUSE MARINARA SAUCE
Nell's own marinara sauce, perfect for finishing those crusts.
JALAPENO & LIME CREMA*NEW*
To try it is to love it. Jalapeno, lime, and crema – not spicy, but packed with flavour.
JALAPENO HOT SAUCE*NEW*
A fresh, jalapeno-forward version of our hot sauce.
TRUFFLE MAYO*NEW*
For lovers of truffle, and of mayonnaise. Made to our own secret recipe.
VEGAN RANCH*NEW*
Ranch dressing, fully vegan, packed with flavour. A staff fave.
£1.5 each
Follow Nell's on Instagram or follow our usual social channels to stay updated.
nellspizza.co.uk
Photos by Joe White.
See our vegetarian & vegan menus.
---
Here's what people have been saying about Nell's Pizza recently
Coming from NYC, I can definitely say this has the best nyc pizza in Manchester!! Amazing slice of cheese, pepperoni, and greens!!!
RB, September 2020, *****
The best substantial slice of heaven. Best beer, best pizza, Ledgeville right here.
BG, October 2020, *****
Pizzas were amazing! Great value for a 22 inch!
MP, October 2020, *****

Come for the pizza, stay for the…pizza
MH, October 2020, *****

Get the 🍕 pizza you won't regret it
MB, October 2020, *****
Amazing pizza! The Cheese and Onion pizza is delicious. The garlic bread with black garlic is also really tasty. 100% recommend.
RG, November 2020, *****
Fab pizzas. Cheese and onion pie….. Wow
Love the Nells pizza, they do the best vegan pizza I have ever had. You can get pizza by the slice which is cool and it's New York style rather than neapolitan which you get everywhere. Thin crispy pizza and great drink selection, what more could you want?
MR, November 2020, *****
Fantastic pizza. Very different flavours. Great for vegans
DA, October 2020, *****