The Beagle is a neighbourhood favourite, and we're able to cater for pretty much any dietary choice (we do great vegetarian and vegan food), requirement or allergy – if you're unsure of anything, just ask at the bar and we'll do our best to answer answer any questions. Read the nice things people have been saying about us here, or sample some of our customer reviews below.
DOWNLOAD THE COMMON & CO APP FOR *FREE* HERE TO GET 25% OFF FOOD ALL THROUGH JANUARY, AND £2.50 CREDIT JUST FOR SIGNING UP AS WELL AS MUCH, MUCH MORE!
Click the menus below to big 'em up…
We serve food every day we're open (Tuesday – Sunday), right up until 10pm
After drinks? See our drinks menu here.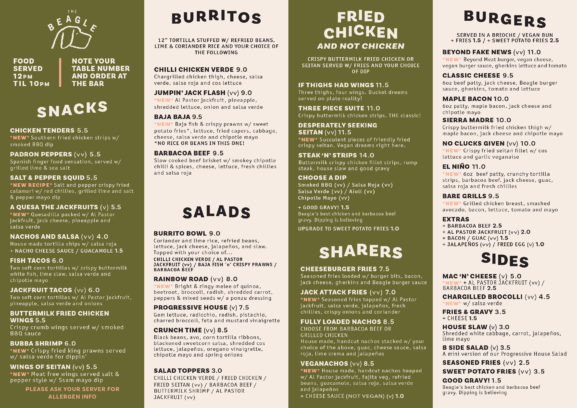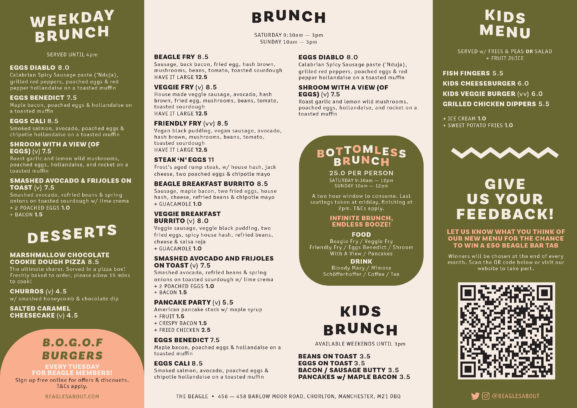 What our customers have been saying of late…
Excellent, just what I've been looking for! Great beer and spirits selection, really chilled vibe and attentive staff.
– RC, *****, October 2019
Great place to have breakfast. The quality of the food is top notch, some of the best sausages I've had in a long time. The space is cozy but still comfortable with enough space for even a good sized group. Service was quick and efficient.
– ML, *****, October 2019
This restaurant gives amazing service as well as yummy meals. My favourite place around town. The food came out fast and the rates were reasonable. Recommended.
– HD, *****, December 2019
Beautiful food, great service. Lovely place. Reasonably priced for Chorlton. A lot of the menu was adaptable for Gluten free.
– L, *****, January 2020
With excellent food choice and delectable decor, it's difficult to explain just how nice the restaurant is. With Front of house that make you feel welcome and food that makes you feel wonderful, it's one of my personal favourites for meetings.
– JM, *****, January 2020
To book a table please email: bookings@beaglesabout.com or call 0161 881 8596.