CHRISTMAS at THE BEAGLE
December 2018
We are serving up Christmas dinners at The Beagle throughout December 2018. We shall have full two course or three course dinners to cater to your Christmas party plus a buffet menu for a more finger food based celebration. Here is our full Christmas offering. Click it to big it!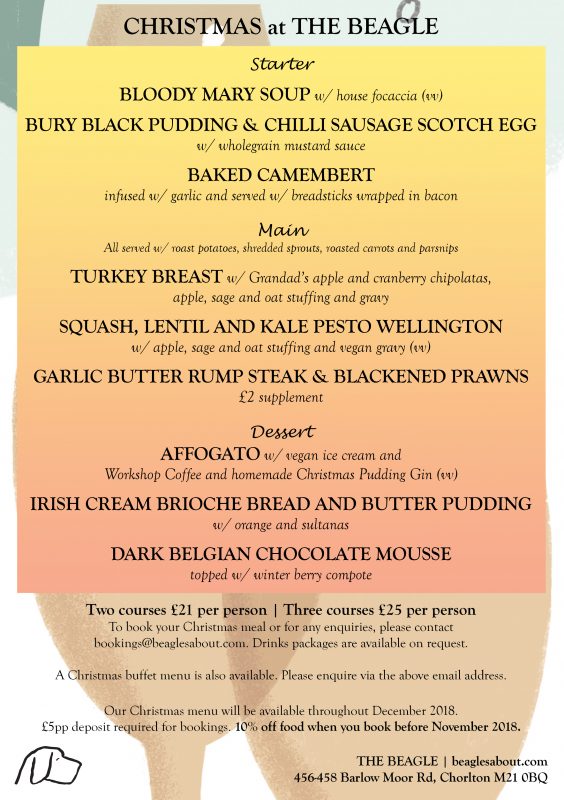 We are also offering 10% off your food bill when you book before November 2018. For any enquiries or to book your dinner please contact us HERE. 

NORTH TAKEOVER THE BEAGLE
Wednesday 3rd – Sunday 7th October 2018
IMBC Fringe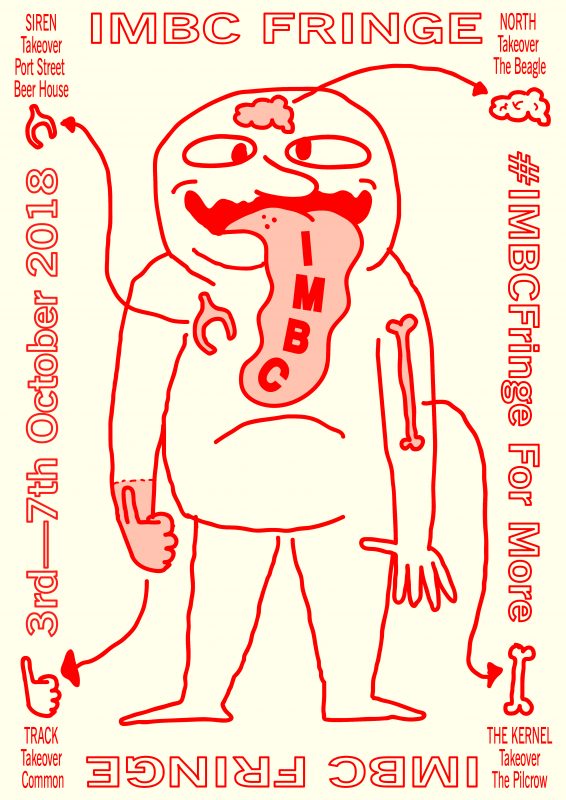 The great NORTH BREWING CO of Leeds takeover The Beagle for a whopping five days with cask, keg and cans galore – North classics and specials. Expect all the fun of the fair. This is happening as part of the IMBC 18 Fringe. Fun times incoming.

TACO THURSDAY
Every Thursday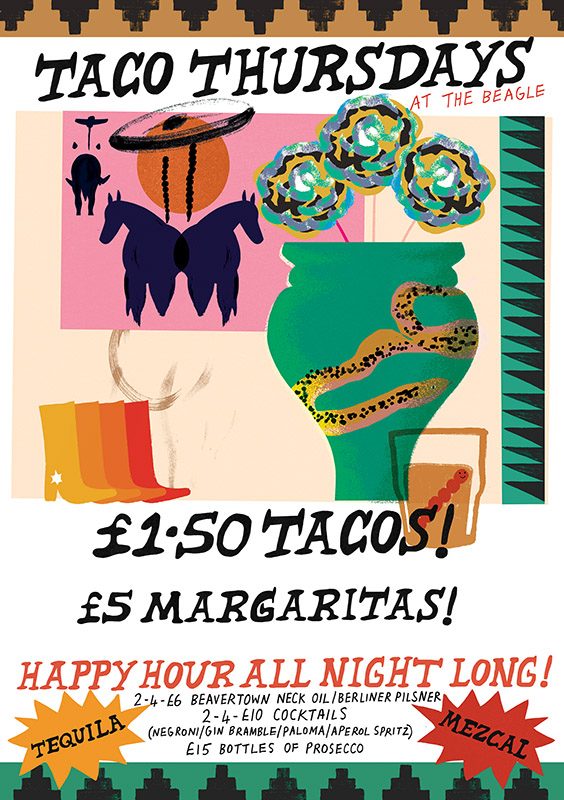 Fire offers every gosh darn Thursday!
*£9.95 per person, no sharesies! Limited places are available at any one time. We will operate a one in/one out policy to the deal in busier times e.g. a table of four taco eaters bow out then a table of four can take over their mantle. Please enquire at the bar regards any questions. Bring your eating pants.
Heavenly coley & chorizo fish cakes. Joined by spring onion, garlic and parsley in the medley. These crispy crumb darlings are complimented by a spiced cranberry dip and rocket on the side.
—
—
*PAST EVENTS* *PAST EVENTS* *PAST EVENTS*
Up In Smoke at The Beagle
November 3rd – 29th 2015

Tis the season to be smoky! The nights are drawing in, the wiz bangs are in the air. The fire snaps, crackles and pops. To celebrate one of our favourite months of the year (at least in our top 12) we are pairing November with some smoky, warming specials. We'll keep the bonfire burning long after November 5th. Come down to The Beagle throughout November and smoke it up.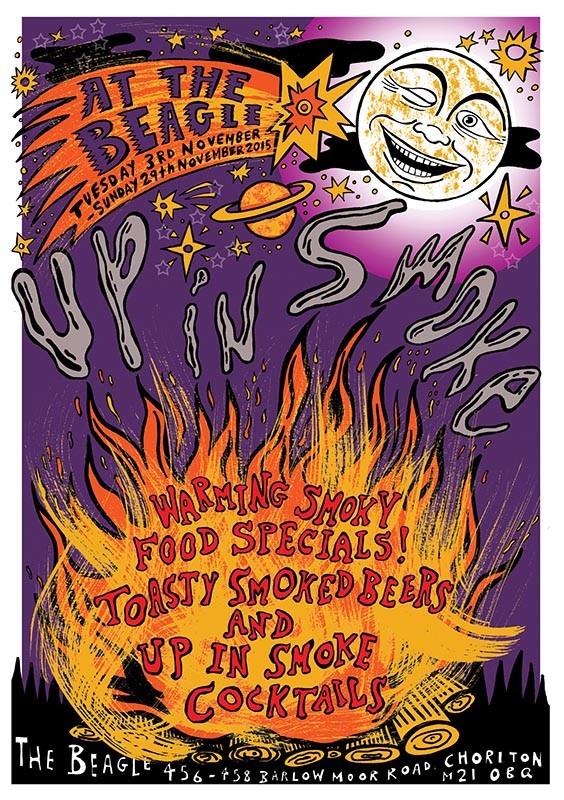 Artwork by Bryony Jackson
—

The Beagle on Deliveroo
Immediate Chorlton area! You can now get The Beagle straight to your door in piping hot food form. We are ecstatic to be involved with the good people at Deliveroo, check out the bevy of Beagle goodness that you can order online HERE.
As if that wasn't enough, those outside of the catchment area – or indeed those within, but who just fancy going off-piste- you can now order food for collection directly through The Beagle. Just give us a ring & pre-order or come have a drink & order that burrito to takeaway!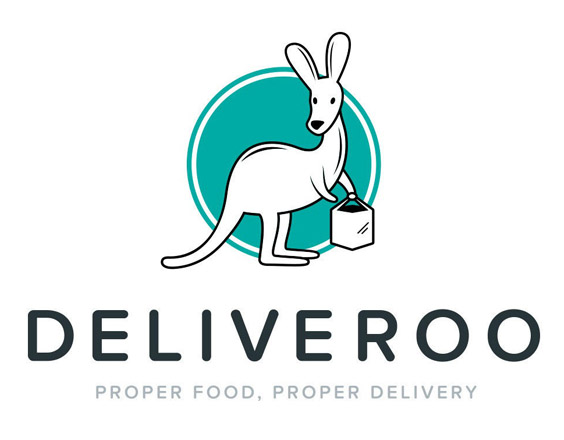 ******************* PAST EVENTS *******************
******************* PAST EVENTS *******************
******************* PAST EVENTS *******************
******************* PAST EVENTS *******************
DAY OF THE DEADFEST
Mexican specials month Thursday 1st October – Sunday 1st October 2015
Following on from our Summerfest & Back 2 School specials, we are excited to introduce DAY OF THE DEADFEST at The Beagle. A month long celebration of all things Mexicana. We're already heavily Mex-inspired here, chez Beagle, but we always relish going deeper. Our kitchen have come up with some absolutely storming offerings so very much kudos to them, you're gonna have a good time eating 'em! There's some mean drink options this month too. Fully check it out below…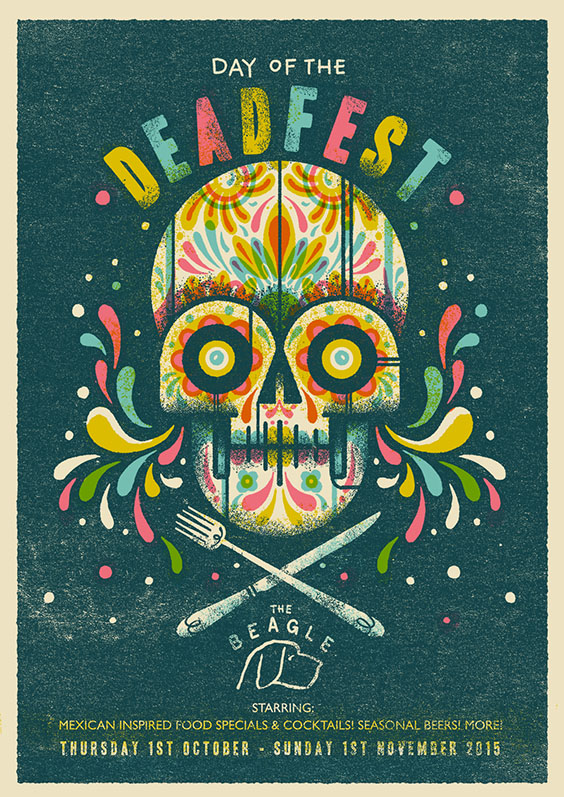 Food Specials
SCREAMING STEAK TORTA
Carne Asada Steak piled high with avocado, pico de gallo, chipotle mayo, salsa verde & shredded lettuce. An incendiary Mex take on a steak sandwich. All the fun of a burrito fashioned into a seeded sub roll. Colour me impressed.
CHILLING CRABOCADO TOSTADAS
A chillingly beautiful ballad of crab & avocado slung high upon two crunchy corn tortilla wheels. Wonderfully complimented by red chilli, pico de gallo, red pepper, chipotle mayo & shredded lettuce.
FIENDISH FRIES
Smouldering fries stacked with Carne Asada Steak, melted mont jack cheese & finished with salsa verde. Fries with stuff on party at mine!
DEVIL'S POCKETS
Picante perfectly blistered stuffed ancho chillies. Full to the brim with chorizo mince, charred corn, black beans, salsa verde & complimented by a spritz of Lancashire cheese (Traditionally Mexican…ahem)
KILLER MARGARITA CHEESECAKE
What's one better than cheesecake? Margarita cheesecake. Crunchy cookie base with classic cream cheese body spiked with Tequila, Grand Marnier & lime.
Naturally flavoured Mexican soft drinks. Choose from Mexican Cola, Mango, Lime or Guava.
The last precious drops of Summer Wine's annual Summer classic. Drink it in. Tropical IPA.
Bottled US-style lager from Copenhagen master brewers. Only one of the highest rated lagers around right now!
German style golden lager from Pennsylvania. The definition of grip it & rip it thanks to Sly Fox's "top off" can design. Drinking a can of lager never felt so good.
Citrus aromas & ginger spice to this Japanese take on a German Hefeweizen.
—
DAY OF THE DEADFEST
Coming October 2015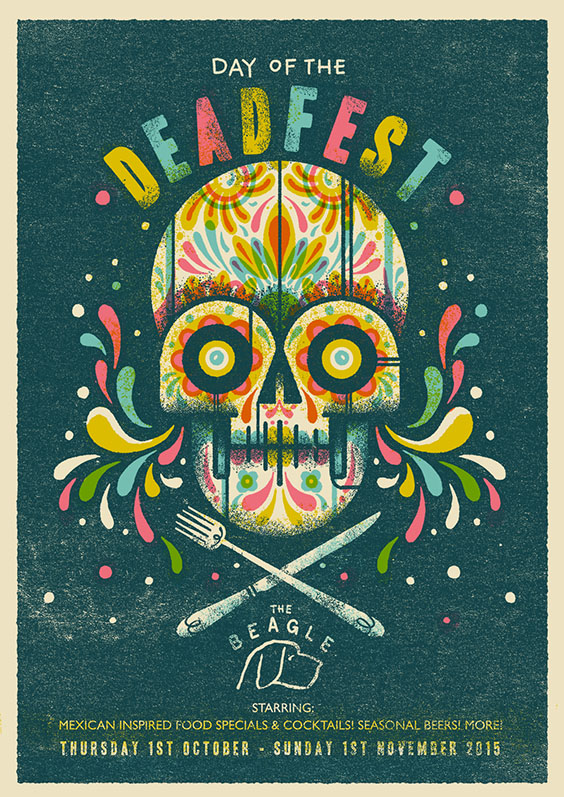 Super great poster by Drew Millward for our forthcoming month of Mexican specials. Check back soon for further details on that. Meanwhile, I hope y'all enjoying the Back 2 School specials – SEE BELOW! They run 'til Wednesday 30th September 2015.
—
BACK 2 SCHOOL at The Beagle
Tuesday 1st September – Wednesday 30th September 2015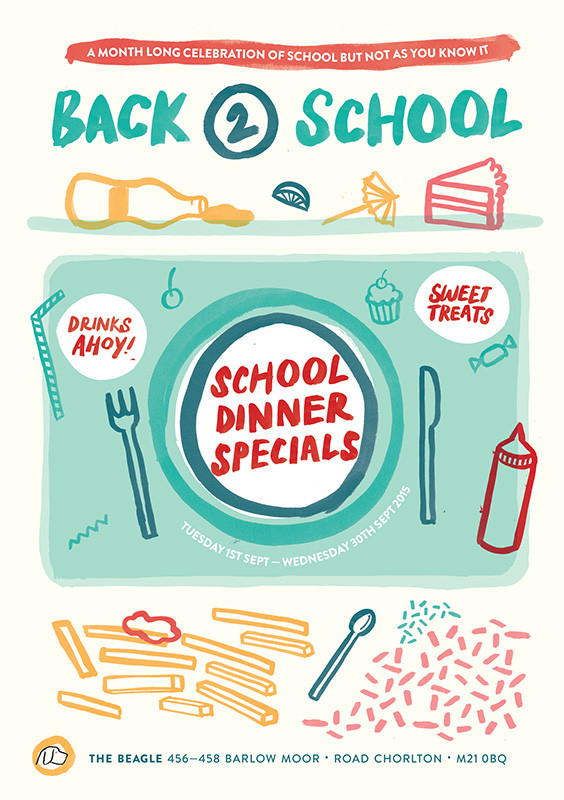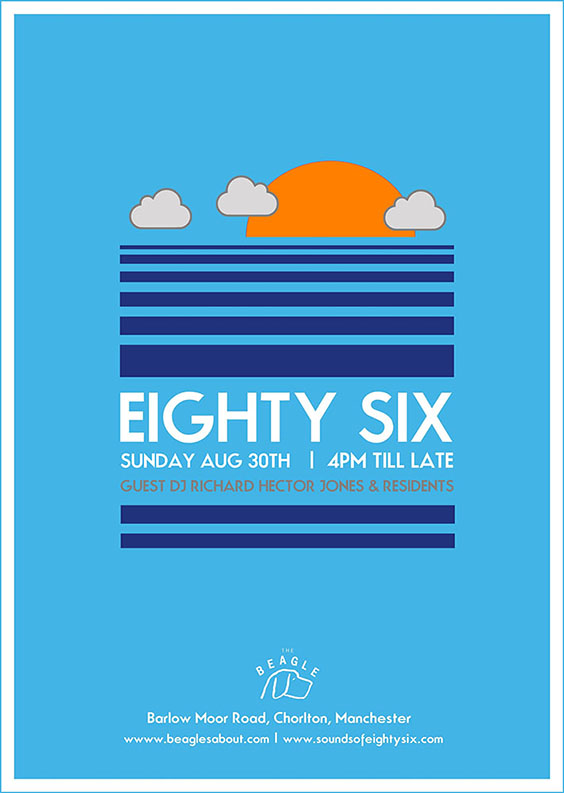 Eighty Six Bank Holiday Sunday Bonanza
Good time boys, Eighty Six, return to their home town as heroes…as always, with this, another bank holiday Beagle spectacular. All of your favourite Eighty Six spinners will be there, alongside guest selector Richard Hector Jones. The fun starts from 4pm, Sunday August 30th. And as always, entrance will be free. A fitting bookend to our sun soaked (sometimes) Summerfest.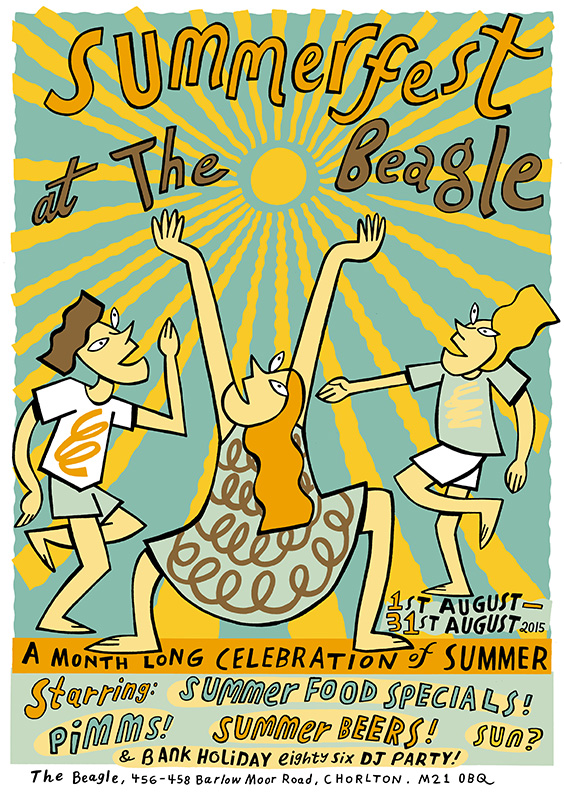 SUMMERFEST at The Beagle
To celebrate the sun…wherever it is, on Saturday 1st August 2015 we launch SUMMERFEST into the ether. A month long celebration featuring food specials, sun-paired drinks & culminating in a DJ party from good time connoisseurs, the Eighty Six collective.
Here's what's coming up on the SPECIALS BOARD…
CHEESEBURGER TACOS
Flour tortillas stacked with ground beef, salsa roja, jack cheese & lettuce. You had me at Cheese Burger Tacos.
VIVA LA SUMMERFEST!
The festive season is well and truly round the corner we have it fully covered for those venturing out of the city centre. Running alongside our much celebrated menu, which recently earned us a place in The Manchester Evening News' Top Ten Gastropubs in Greater Manchester, we'll be serving festive food specials throughout December and warming your insides with hot mulled wine and cider.
From Thursday 4 December our sun-trap terrace will be made-over as an enclosed winter haven with cosy seating, heaters, blankets and festive decor featuring weekly performances from local choirs, including Northern Quarter Boys Choir and Manchester She Choir. The Beagle will run extended opening hours over the Christmas period opening on Christmas Eve and Boxing day as well as offering a complimentary apéritif to table bookings of 8 or more throughout the whole month of December.
To book a table email bookings@beaglesabout.com or call 0161 881 8596.
Monday 22 December: 2pm – midnight
Tuesday 23 December: 2pm – midnight
Wednesday 24 December: 12pm – 10.30pm
Thursday 25 December: Closed
Friday 26 December: 4pm – 1am
Saturday 27 December: 10am – 1am
Sunday 28 December: 10am – midnight
Monday 29 December: 12pm – midnight
Tuesday 30 December: 12pm – midnight
Wednesday 31 December: 12pm – late
Thursday 1 January: Closed
Friday 2 January: 2pm – midnight
Saturday 3 January: 10am – midnight
Sunday 4 January: 10am – midnight
____________________


____________________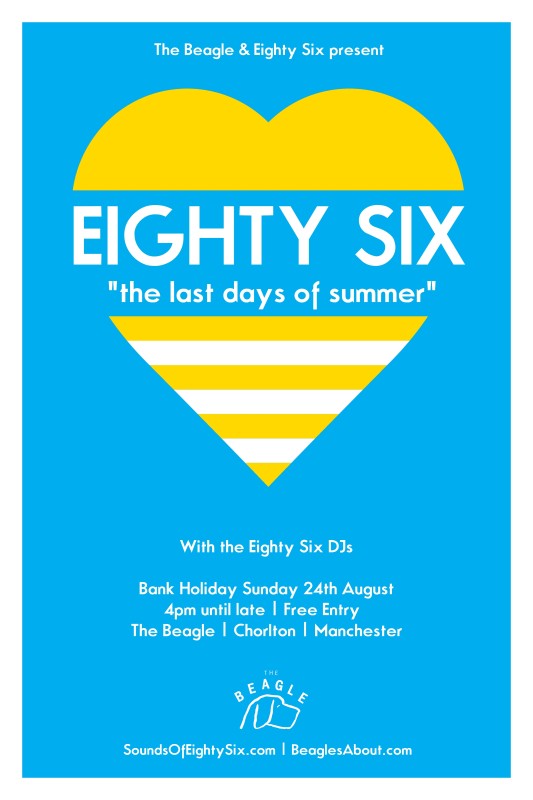 Sunday 24th August / 4pm until late – FREE
If you're making plans for the last bank holiday Sunday of the summer, we'd love you to join us as Eighty Six return to The Beagle in Chorlton. Starting from the mid afternoon the resident DJ's of Eighty Six will be providing the perfect late summer soundtrack on the terrace. Come along and join us and hopefully the sun will be out to accompany the fine food, music and drinks as we raise a glass to the last days of summer! Eighty Six are a collective of friends (Jif, Jeff O'Toole, Rob Bright and TC) who met through a love of music. They've hosted nights in various bars across Chorlton and have a monthly night at the Outlaws Yacht Club over in Leeds. The boys' also present the Sounds of Eighty Six podcast; a musical ramble which is available to listen to now via their blog. www.soundsofeightysix.com
____________________

Sunday 25th May / 4pm until midnight – FREE
Eighty Six and Chorlton Arts Festival present Shawn Lee (live) J-Walk (live and DJ) & 86 residents. We're really proud to have Shawn Lee, one of our favourite artists playing with us. Shawn is an amazing musician and we love it all from his latest Electric Peanut Butter Company, his collaboration with AM, his stint alongside The Superimposers and his Ping Pong Orchestra to name but a few. Shawn is taking time out from playing with Kelis in her backing band to perform this one off show for us. Also, we've managed to persuade Martin Brew to perform as J-Walk for the first time in a long, long time in support of his new second album which is coming out on Wonderful Sound this spring. The time it took The Stone Roses to release their second album is nothing compared to the 12 years it's taken Martin. It's going to be well worth the wait! Supplying music in between the bands will be Jeffo, Jif, Rob Bright & TC of Eighty Six. Eighty Six are a collective of like minded lads who met through a love of music. We've hosted nights for the past six years in various bars in Chorlton and now also have a monthly night at the fantastic Outlaws Yacht Club in Leeds. Rob Bright from Bugged Out has recently joined the Eighty Six ranks which certainly keeps the other residents on their toes. We'll be playing some laid back tunes to accompany the fine food and drink in The Beagle
____________________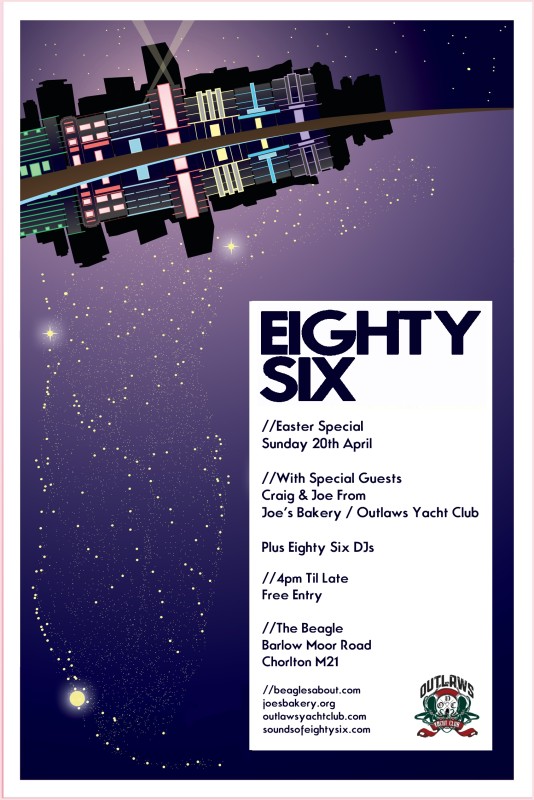 Sunday 20th April / 4pm until midnight – FREE
It's our first 'party' of 2014 and who better to host it than our best bros Eighty Six. Jeff O'Toole, Jif, TC and Rob Bright will be gracing us with a stupendous Easter Sunday shindiggery. Not content with going it alone they have invited some friends along from over the Pennines, Joe & Craig from 'Outlaws Yacht Club' will be joining them. As well as running the finest bar in Leeds, they're also great DJs too and we're really pleased and proud to have them over. Joe and Craig were last in Manchester following Justin Robertson at The Electrik's End of Year Riot where they played an absolute blinder. They don't just play records either, they also make their own in their Joe's Bakery Band. You're in for a right treat.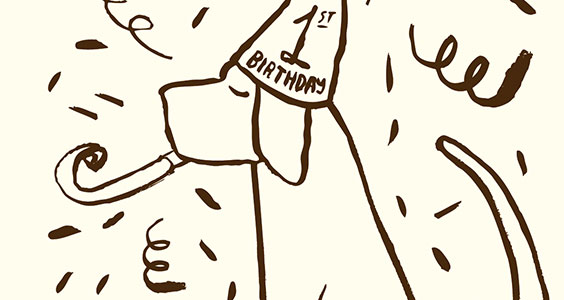 The Beagle – 1st Birthday Bash
Thursday 14th November 2013 / 7pm – 11pm Complimentary drinks and snacks* from Margo & Rita DJ musics by: Jeffo & TC from Eighty Six. * first come, first served, whilst stocks last – please arrive early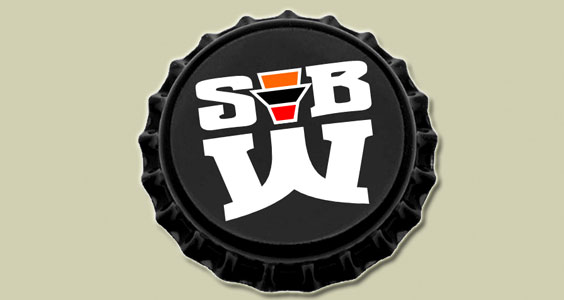 Meet The Brewer with Summer Wine
Monday 2nd September 2013 / Doors at 7pm – Event starts at 7.30pm £8 advance – from the venue or call 0161 8818596 Summerwine Brewery in their own words : "Since our inception on a commercial scale in 2008 we have evolved as a brewery immeasurably. The brewery has moved up several gears in the past 12 months & is now growing at an alarming rate! We as a team have grown with the brewery. Started in 2008 with Directors James Farran, Andy Baker & Meyrick Kirk the brewery now has a fulltime drayman, a head brewer, a managing director & soon to be further additions to the team. We are a brewery with an extreme passion & a strong identity, our beers are unapologetically flavour forward in nature, hop & malt laden beers that challenge today's modern beer lover. Beers with heart, soul & raging personality. In the coming years we plan to continue to grow by fervently pushing the boundaries of what is possible when brewing beer, to excite you the deserving beer connoisseur who should settle for nothing less than than beers that excite & ensare your senses. We invest heavily in our beers with LOTS of the very best ingredients, why settle for beers that don't?" https://www.summerwinebrewery.co.uk/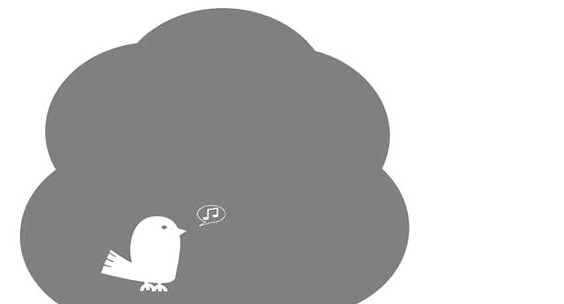 Eighty Six Bank Holiday Beagle
Sunday 25th August / 4pm – midnight (free) feat : James Holroyd (Begin/Back to Basics/Bugged Out) Duncan James Sime (Red Deer Club) Rob Bright (Bugged Out) Andrew Jif Jefferson (Eighty Six)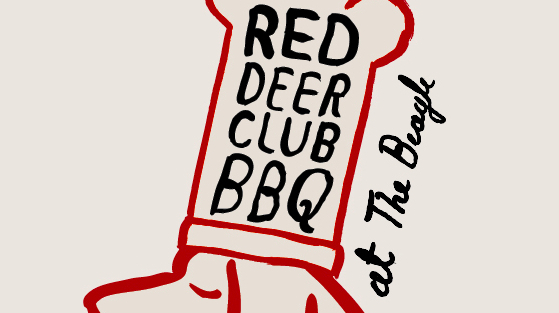 Red Deer Club BBQ
Saturday 24th August / 1pm – late (Free entry) Manchester's 'finest folk label', Red Deer Club return for another dose of all day action from four amazing bands and a roster of esteemed DJS, all for free. / Food – supplied by Guerrilla Eats / Live Racing Glaciers – A 5 piece band from Macclesfield, UK. They seem to write music mostly about rivers and the nighttime. Samandtheplants – Inspiring acid/psych folk outfit who create otherworldly folk music reminiscent of tripped-out film soundtracks such as The Wicker Man and Valerie & Her Week of Wonders. Suttree – Shamelessly derivative folk shambles. Rachel Hillary – 1960s influenced fairy folk. DJS – Red Deer Club and friends.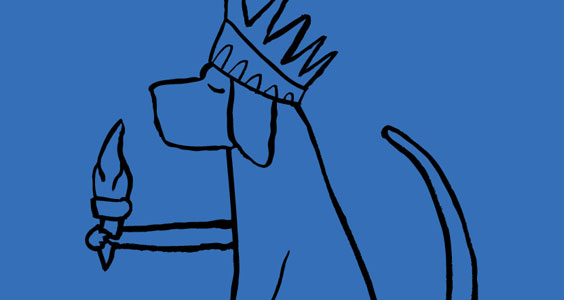 American Beer Festival 2013
Tuesday 25th June – Sunday 7th July Taking inspiration from our stateside cousins we proudly present to you an American tap take over featuring the following breweries : Stone, Sierra Nevada, Ska, Brookyln, Maui, Flying Dog and MORE! We will also be including American influenced beers from here there and everywhere. Throughout the festival food will be supplied by Fire & Salt BBQ Co., Margo & Rita, Honest Crust, Dirty Dogs and Mother Clucker Chicken, expect some tasty USA themed treats. Saturday 29th June from 1pm until 8pm – FREE 1pm : DJS Live : 4.30pm : Spring King 'surf pop rhythms' 5.30pm : Crazy Horse Meat 'playing the songs of Neil Young' 6.30pm : Walk 'sequencer blues' 7-9pm : DJs DJs before, inbetween and after Goff, Nick Ainsworth, White Pepper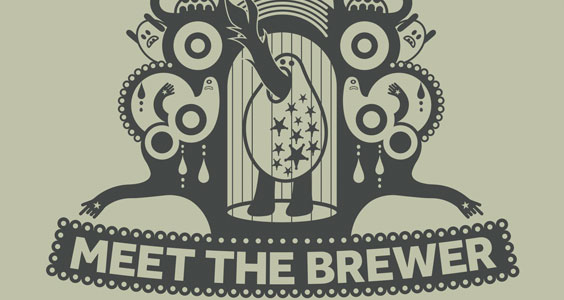 Meet The Brewer with Magic Rock
Monday 3rd June / Doors at 7pm – Event starts at 7.30pm – SOLD OUT Brewery info : Magic Rock Brewing Co. is the result of two people's passion for beer. Richard Burhouse aided by head brewer Stuart Ross were inspired to start the brewery by their love of great beer and the burgeoning U.S craft beer scene in particular. At Magic Rock we are committed to making a full range of modern, flavourful, hop forward & 'big' beers using the best available ingredients and techniques for drinkers unwilling to compromise on flavour. This uncompromising attitude runs through all our beers, where we seek flavour and complexity whilst striving for balance and drink-ability. www.magicrockbrewing.com @MagicRockBrewCo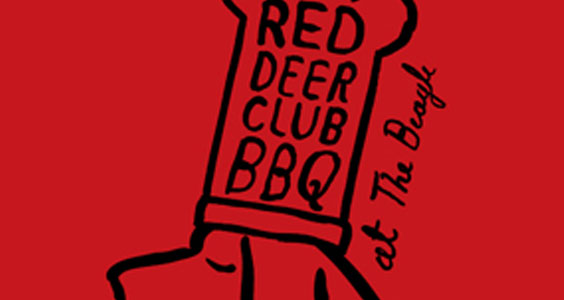 Red Deer Club BBQ in association with Chorlton Arts Festival
Saturday 25th May / 12pm – 8pm / FREE Manchester's favourite 'folk label' Red Deer Club brings the first ever live outdoor stage to The Beagle, expect a capricious collection from the label roster and some very special guests. / Food – The Beagle will be presenting a very special BBQ for the Saturday session! BBQ menu download HERE / Live – The finest selection from the North West, a musical feast in it's own right! Running order for the day: 3pm / Songs For Walter 4pm / Literature Thieves 5pm / Aidan Smith 6pm / All We Are / DJs – Jeff Plant, Rob Bright and Red Deer Club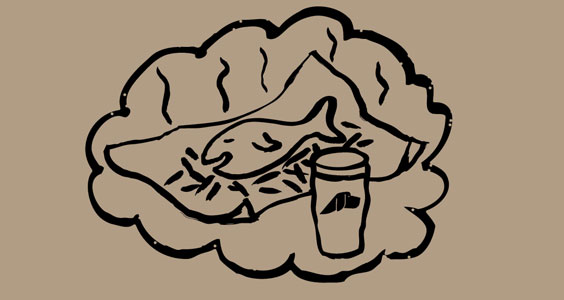 Chippy Tea
Tuesday 30th April 2013 / 6pm – Three courses for £20. The Beagle's tribute to the cornerstone of British society that is the chippy tea, the meal that has simultaneously fuelled this nation of industry, clogged it's arteries and been a fine use of spare news print. A selection of tarted up chip shop classics will cross your path with chippy tapas for starters, the main fishy event (veggie alternative available) with tea and biscuits for afters. To book a table please ask our friendly staff for more details or call us on 0161 881 8596.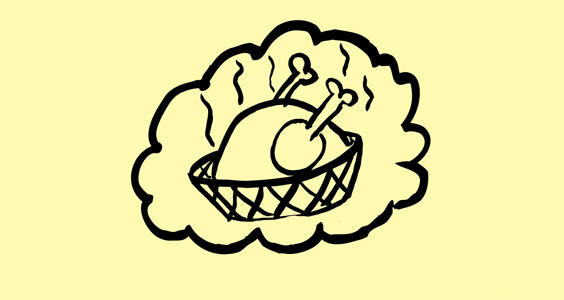 Chicken In Your Basket
Tuesday 26th February / – SOLD OUT In the first instalment of our regular events calendar we are venerating the good ol' chicken. Cooked three ways and served in a basket to share, a passing nod to that pub classic, all washed down with some hand picked beers. For afters we'll be be turning our hand to classic ice cream desserts, 1980s style. Again this will be plonked in the middle of the table for you and yours to dive in to. Come down in a group and get your share on. Two courses with accompanying beers for £20 You can have the chicken.