Rich & Copp's Big Beagle Quiz
Monday 6th April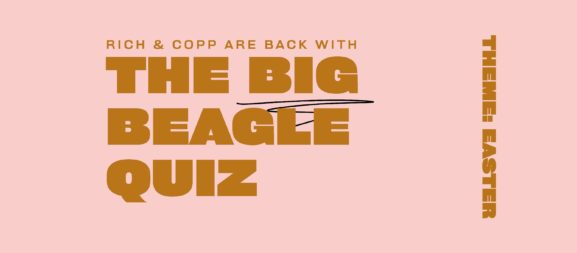 7pm – late
£1 entry
The quiz for people who don't do quizzes, is back…omg
Your hosts, RICH & COPP are heading back, with the easter bunny and some Jäger in tow.
HAWKSHEAD CASKOVER
Thursday 13th February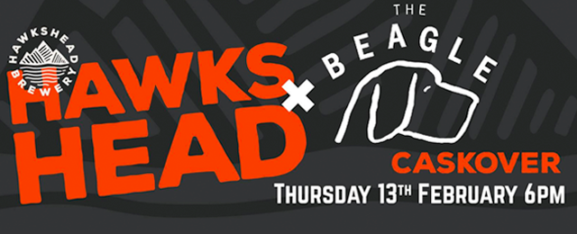 Hawkshead are heading to the beagle to take over 4 cask lines to showcase their delicious, highly hopped, casky beers!
We love beers, we love Hawkshead, we love cask, it just made sense.
January is the longest month in the world!
Its a month that lasts a decade, its the month that never ends and we have all tried to put our best foot forward with new-year- new-me resolutions, dry January, veganuary, the list goes on.
To celebrate getting through this marathon of a month we are throwing a TWO DAY LONG party, complete with samples of our upcoming new food menu, cheap as chips cocktail specials, the launch of the Beatnikz x Chorlton Beer Mile Collab, 2 for a fiver shots, DJs and plenty of fancy sans alcohol options for those of you that want to carry on seeing clearly now the rain is gone
– FREEEEE NEW MENU FOOD SAMPLES (while stocks last!)
– Launch of beatnikz x chorlton beer mile collab!
– £5 COCKTAILS
– BOMBARD GROOVE DJing
The Beagle Presents, All The Trimmings 
This Christmas season The Beagle shall be hosting a month long series of arty, crafty workshops, where, attendees can learn to make, stitch and mend all while getting merry on Christmas cocktails. Wednesdays @ 7pm – tickets below: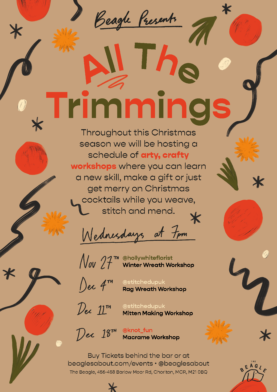 27th November: Winter Wreath Workshop with Hollie White
Florist, Hollie White, will be be guiding you through the changing of seasons with a winter wreath making workshop! Join us for an evening of floral artistry; get your hands dirty and craft it out over a festive cocktail or two, using foliage and dried flowers to create the perfect addition to your festive decor.
Each participant will get to take home their handmade floral wreath. All materials included.
Get your tickets here:
www.holliewhite.co.uk/events/beagleworkshop
4th December: Rag Wreath Workshop with Stitched Up 
Create your own sustainable and contemporary indoor wreath using 100% reclaimed fabric. Learn the art of rag rugging and embellish your wreath with recycled coloured felts and patterned fabrics, ribbons and festive trimmings – all while enjoying some festive refreshments! 
All materials provided but you're more than welcome to bring your own fabrics if you would like to use something special.
Get your ticket here: 
https://www.ticketweb.uk/event/rag-wreath-workshop-the-beagle-tickets/10058065
11th November: Mitten Making Workshop with Stitched Up 
A great introduction to up cycling your wardrobe! Stitched up will be showing you how to create a cosy pair of mittens out of an old jumper. A great workshop for last minute homemade gifts. 
Get your ticket here: 
https://www.ticketweb.uk/event/mitten-making-workshop-the-beagle-tickets/10058075
18th December: Macrame Plant Holder Workshop with Kat 
Kat from Knot Fun will be guiding you through the knots and twists of a 70's style macramé plant holder. Beginners and nimble knotters equally welcome. All equipment provided.
Get your ticket here: 
Beagle Blockbusters Halloween Special presents
THE 'BURBS
Big Screen Showing
Sunday 27th October 2019
7pm-late
Free entry. Booking advised.
For our Halloween rendition of our Beagle Blockbusters we will be showing the cult horror comedy The 'Burbs – lets get weird!
Book a table to reserve your vantage point via bookings@beaglesabout.com.
Come prepared for hair raising refreshments and a chance to see Suburban life in a new light as we follow Ray's harebrained mission to unravel the mysteries next door…
Artwork by Hannah Valentine.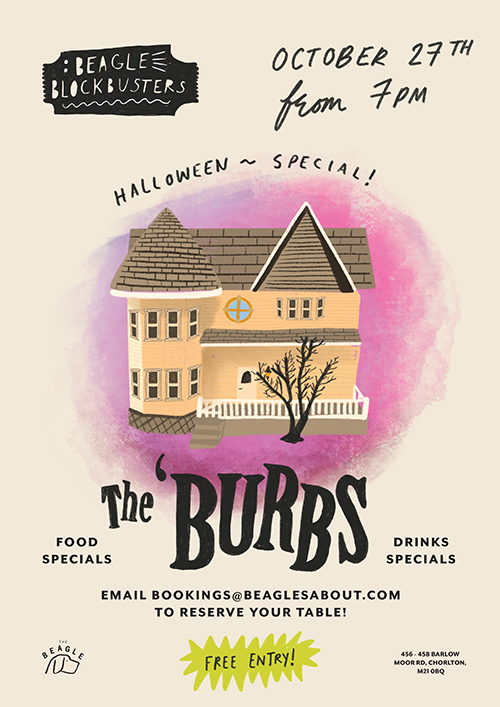 A VERY BEAGLE CHRISTMAS
December 2019 
Hold your Christmas party at The Beagle this December with a full sit down Christmas menu OR a bitesize party buffet. Check out our full offering here::: A Very Beagle Christmas – Menu Information Pack or get in touch for more information.
*Please note that sadly due to licensing restrictions we won't be showing the rugby World Cup semi-finals this weekend (26th / 27th October) but will still screen the final on Sat 2nd Nov.
We at The Beagle have decided to get up at the crack o' dawn and screen the Rugby World Cup for ya. You're welcome, egg chasing fans. Don't settle for a Stella with yer scrums, treat yourself to the finest craft beer from here to Japan.
11.45am Thu 26 Sep – England v USA
9.00am Sat 5 Oct – England v Argentina
9.15am Sat 12 Oct – England v France
8.15am Sat 19 Oct – Winner Pool C (possibly England) v Runner up Pool D, or
8.15am Sun 20 Oct – Winner Pool D v Runner-up Pool C (possibly England)
9.00am Sat 2 Nov – Final
Email bookings@beaglesabout.com or info@portstreetbeerhouse.co.uk to reserve your table.
P.S. We're only showing England games for now, but stay tuned for updates.
(We will open 30 minutes before 8-9am fixtures)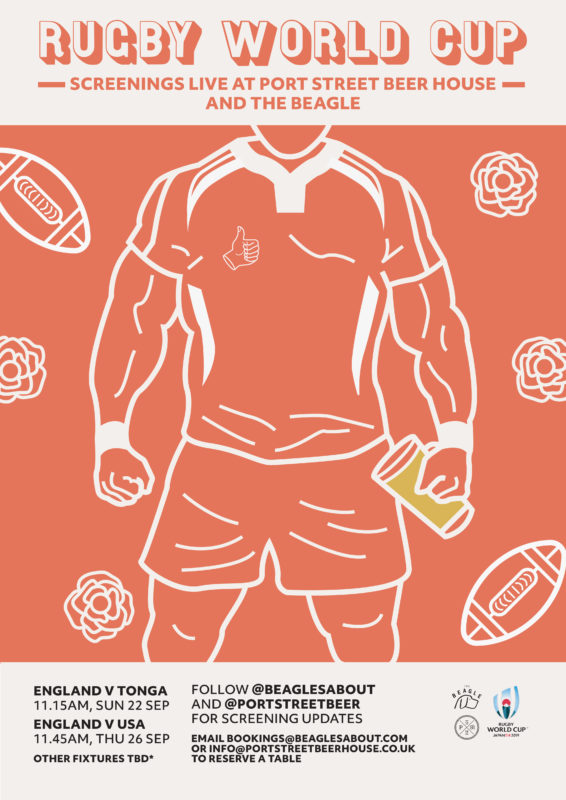 —
BEAGLE HAPPY HOUR!
—
WHAT DO YOU THINK OF US?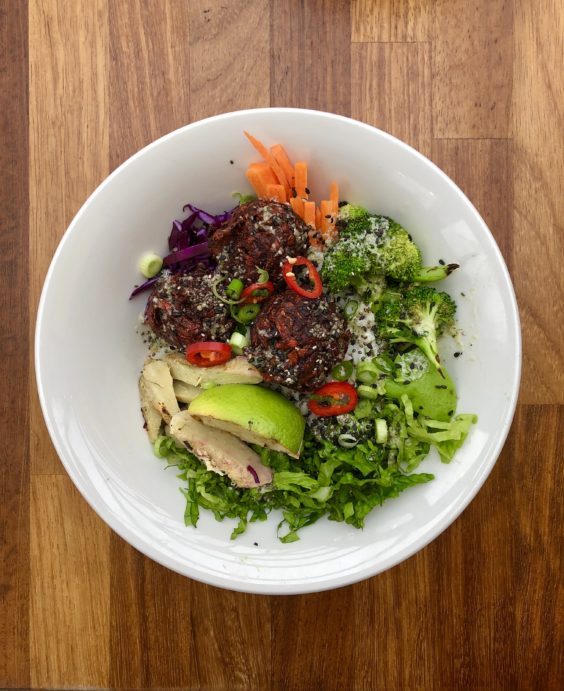 WIN A £50 BAR TAB!
We want to know what you think! We are looking to revamp the food menu at The Beagle but firstly, we would like to hear what YOU think.  Fill out our food menu survey for the chance to win a £50 bar tab. The winner will be chosen at random and announced shortly after the survey closes on 28th February 2019.
What do you want to see on our new menu?
—

TACO THURSDAY
Every Thursday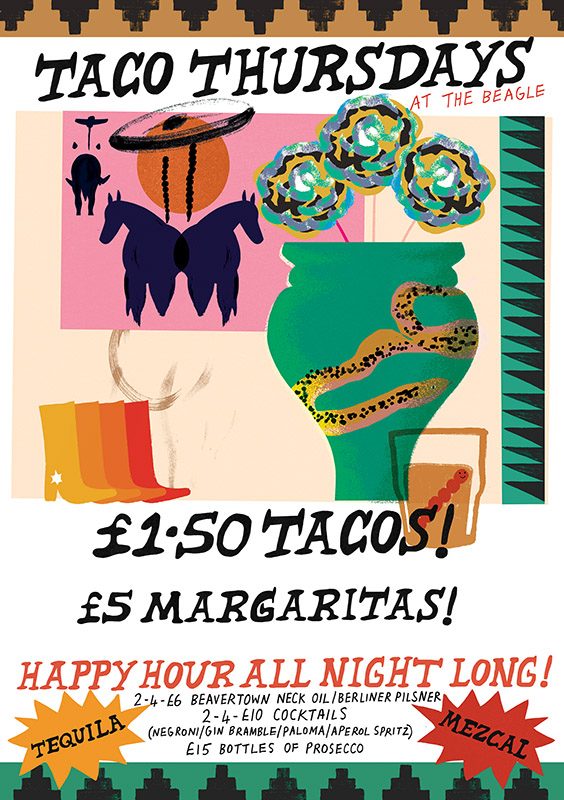 Fire offers every gosh darn Thursday!
£1.50 Tacos!
£5 Margaritas!
Happy Hour all day long!
Gosh! All offers in motion from opening at midday. Poster by the don, Lucy Sherston.
—
NOW OPEN FROM MIDDAY!
Tuesday-Friday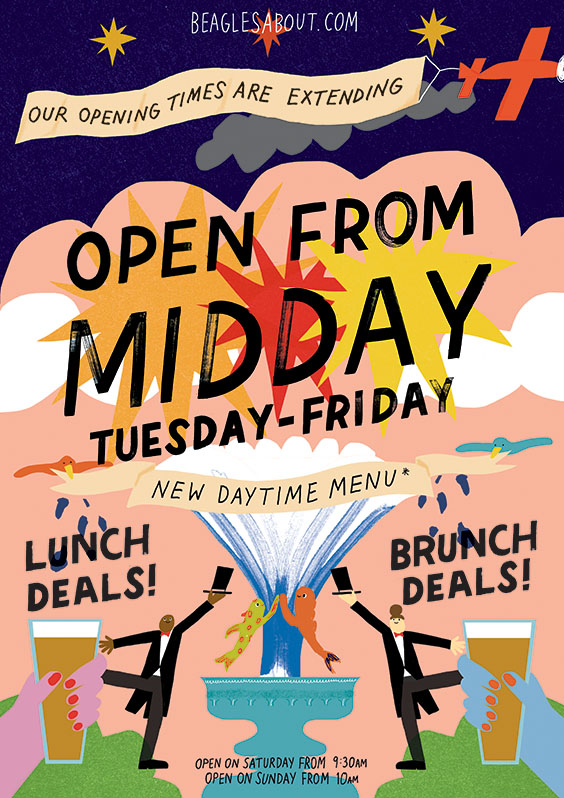 Huzzah! We have extended our opening times during the week and we are now open Tuesday-Friday from 12pm. At weekends we are open Saturday from 9.30am and Sunday. Not only that but we're doling out unlimited cups of Workshop filter coffee, yours for £2.50. Come park your butt. Poster artwork by Lucy Sherston.
—
BOTTOMLESS BRUNCH
every Saturday and Sunday / 10am-12pm
£25 per person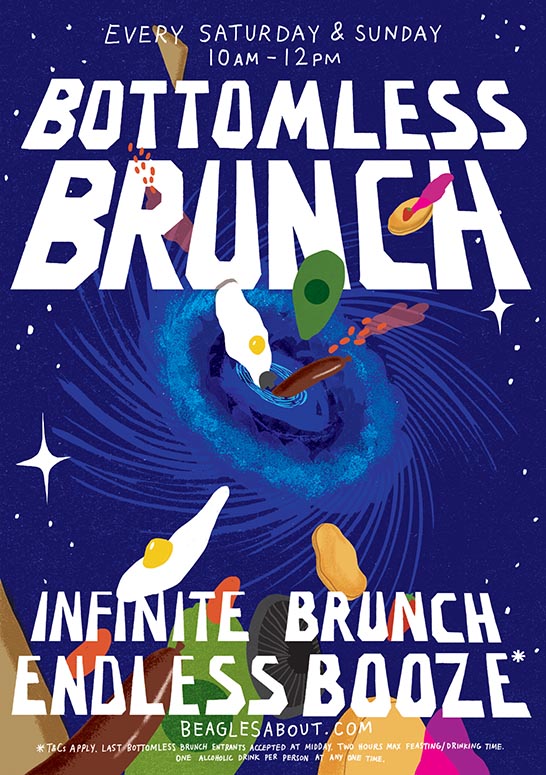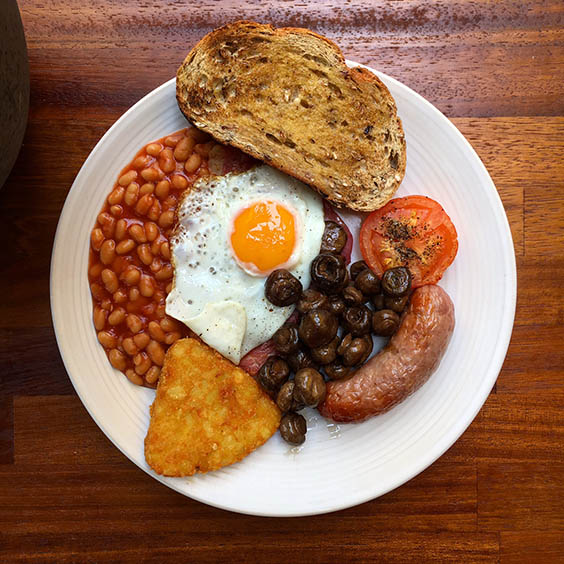 Infinite brunch, endless booze. Two hours of morning intake awaits. Choose from the below…
Food
BEAGLE BREAKFAST
Sausage, bacon, fried egg, mushrooms, hash brown, beans, tomato, toast
VEGGIE BREAKFAST (v)
Veggie sausage, avocado, fried egg, mushrooms, hash brown, beans, tomato, toast
EGGS BENEDICT
Toasted muffin, honey roasted ham, poached eggs, hollandaise
EGGS 'n' SHROOMS (v)
Toasted muffin, wild mushrooms, poached eggs, hollandaise
AMERICAN PANCAKES
Fruit / Maple Bacon / BOTH
BLOODY MARY
MIMOSA
SCHÖFFERHOFER GRAPEFRUIT RADLER (draught)
TEA / COFFEE
Terms and conditions apply! Last Bottomless Brunch entrants taken at 12pm, last service at 2pm. £25 per person. Drink and eat responsibly.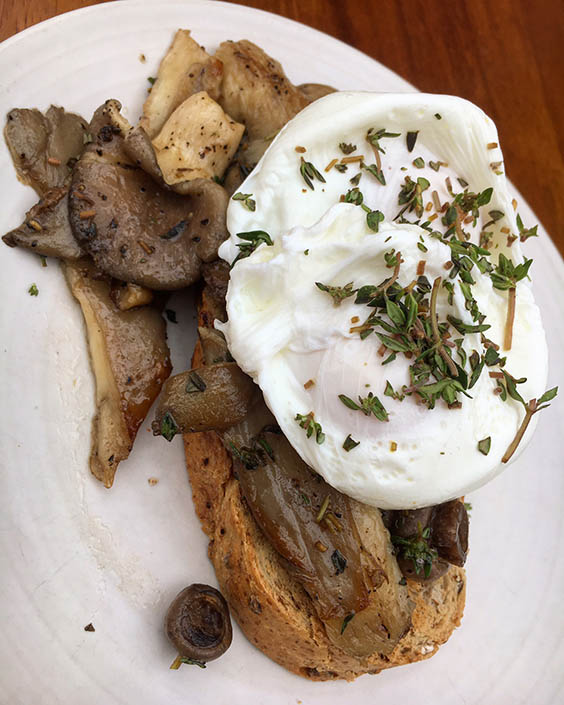 Bottomless Brunch artwork by Lucy Sherston.
—
BOGOF BURGERS
Every Tuesday / Super Special Membership offer
Join us from 4pm every Tuesday where you'll be gifted with BOGOF powers on producing your Beagle membership card. Not got one? Easy. Sign up HERE!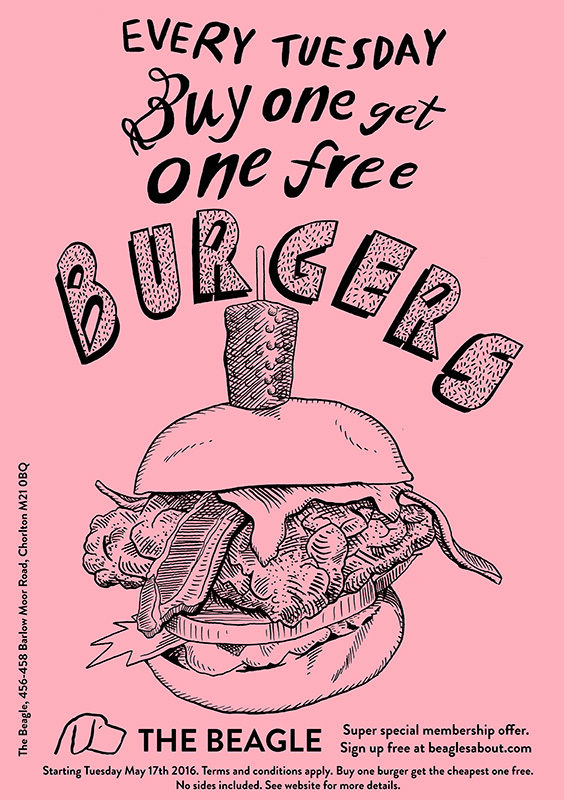 *** PAST EVENTS ****** PAST EVENTS ****** PAST EVENTS ****** PAST EVENTS ****** PAST EVENTS ***
INDY MAN BEER CITY AT THE BEAGLE
Indy Man Beer City is alive! Get a taste of the best festival in beer with our #IMBCity fringe events at The Beagle this week…
Thursday 3 Oct, midday-late
Salford's fave sons Pomona Island take over our taps with their latest and greatest, plus live music from Americana folk duo Campbell & Jaquet from 7pm 🎶
Saturday 5 Oct, midday-late
We welcome local heroes Squawk Brewing Co. for handpicked hits on cask and keg. Come try their latest crop!
Download the IMBC App for full fringe event listings.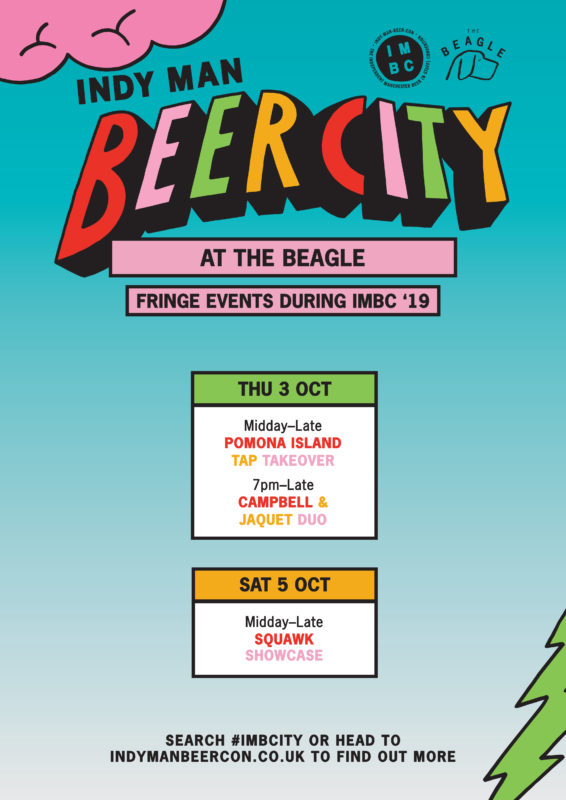 BEAGLE BLOCKBUSTERS PRESENT: JURASSIC PARK
Big Screen Showing
Sunday 22nd September 2019
6pm-late
Free entry. Booking advised.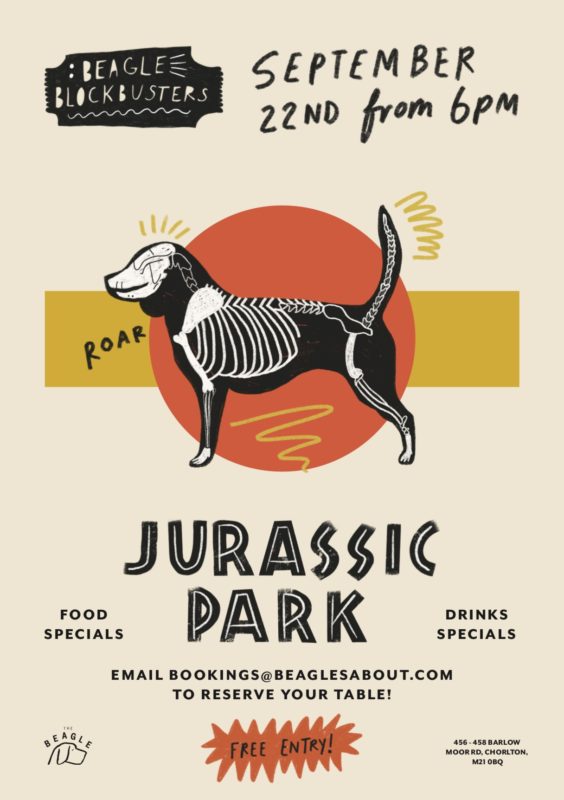 We are showing the seminal Jurassic Park on our big screen at The Beagle. Book a table to reserve your vantage point via bookings@beaglesabout.com. Expect ample refreshment opportunities and big ol' dinosaurs. Artwork by Hannah Valentine. 
BEAGLE BOOZE BONANZA!
Thursday 8th August 2019 | 7pm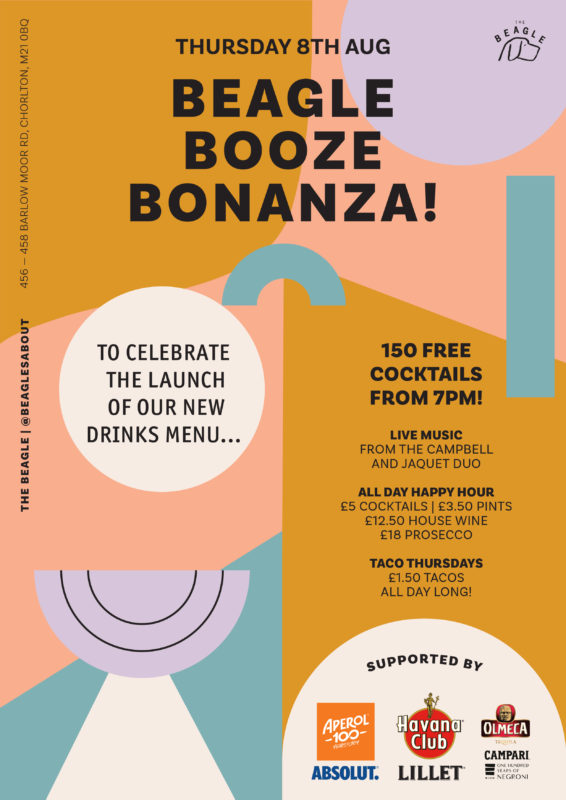 To celebrate the launch of our new drinks menu we are having a bit of a party. Zone in on 150 FREE COCKTAILS (if you're lucky), all day happy hour (if you're keen), and £1.50 tacos (if you're hungry). On Thursday 8th August we will honour our new menu offering with the following headliners…

150 FREE COCKTAILS!
For the first people to the bar from 7pm
ALL DAY HAPPY HOUR!
£5 cocktails | £3.50 pints | £12.50 house wine | £18 prosecco
TACO THURSDAY!
£1.50 Tacos All Day Long
Beagle Booze Bonanza is supported by Pernot Ricard and Campari.
Artwork by Hannah Valentine.
—
Outside of our drinks menu launch you can now sample our latest drinks offering with bargain prices during HAPPY HOUR Tuesday—Sunday 4—7pm.
Check back every Thursday for the legend of Taco Thursday where we offer up crowd favourite Fish Tacos and Jackfruit Tacos alongside one-off specials from just £1.50 a taco. Tacos, the perfect sidecar to your drink of choice.
MATTER Group Exhibition
9th November 2017 – 9th August 2018
The Beagle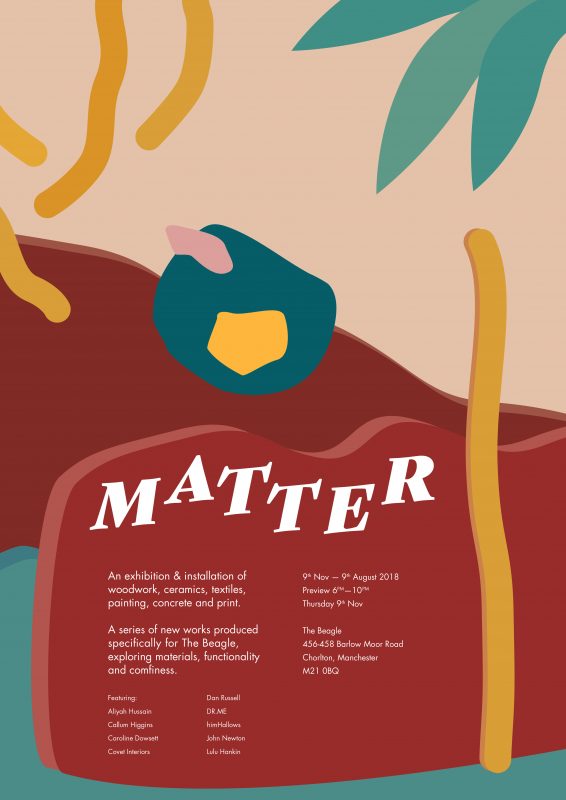 An exhibition and installation of woodwork, ceramics, textiles, painting, concrete and prints at The Beagle.
A series of new works produced specifically for The Beagle, exploring materials, functionality and comfiness.
Featuring:
Aliyah Hussain
Callum Higgins
Caroline Dowsett
Covet Interiors
Dan Russell
DR.ME
himHallows
John Newton
Lulu Hankin
Poster by John Newton.
THE EXORCIST FILM SCREENING
Halloween at The Beagle
Wednesday 31st October | 8pm – late
Free entry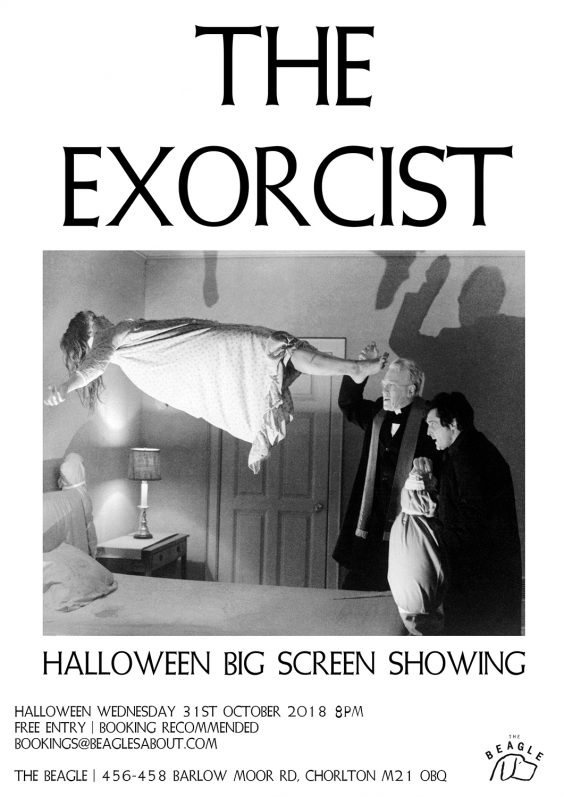 Holy guacamole! We're showing the 1973 horror classic THE EXORCIST on Halloween on the big screen at The Beagle.
Usually speaking in tongues, levitating and projectile vomiting are frowned upon at The Beagle for one spooky night we'll make an exception…
Food 'til 10pm and booze 'til late!
Booking ahead is encouraged to secure your spot. Please email bookings@beaglesabout.com.
NORTH TAKEOVER THE BEAGLE
Wednesday 3rd – Sunday 7th October 2018
IMBC Fringe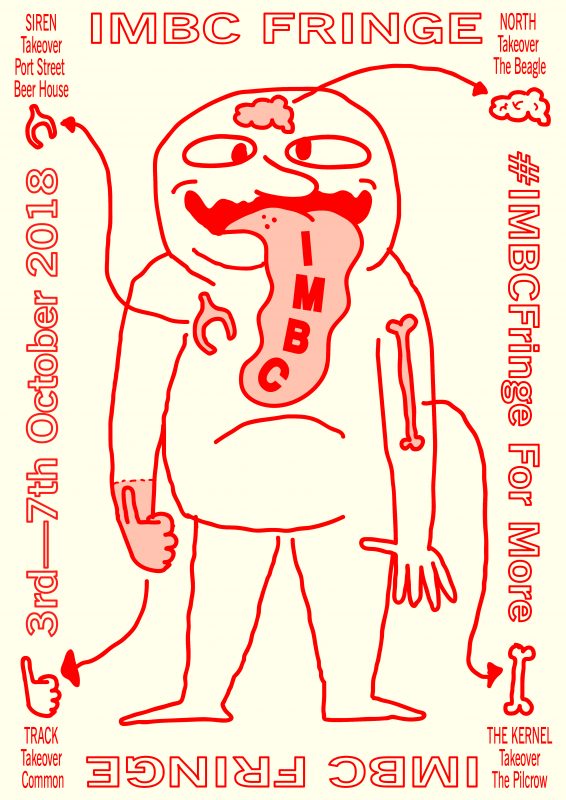 The great NORTH BREWING CO of Leeds takeover The Beagle for a whopping five days with cask, keg and cans galore – North classics and specials. Expect all the fun of the fair. This is happening as part of the IMBC 18 Fringe. Fun times incoming.
WRAY & NEPHEW CARNIVAL WEEKENDER
Saturday 11th and Sunday 12th August
Over Carnival weekend we are serving up food and drink specials all weekend and we've got a special Saturday night party with Katbrownsugar – Manchester musician and DJ who has shows on the reg on Legacy FM, Unity Radio and MCR Live. Drop in and try out our Wray & Nephew cocktail specials and delectable Jamaican inspired food specials.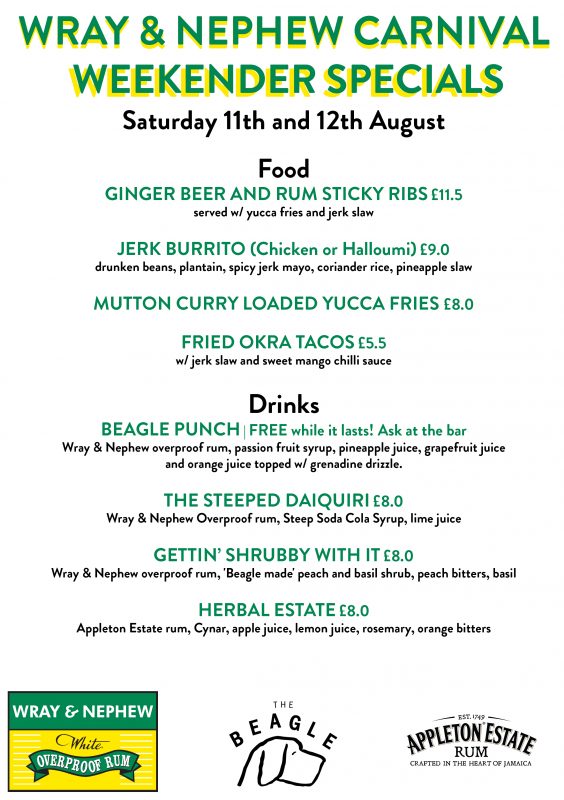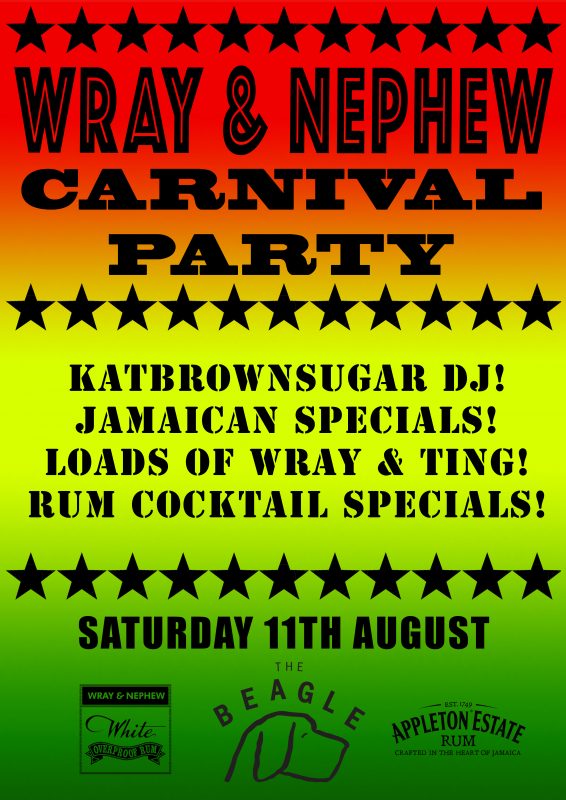 CIDER TASTING
with Hogan's Cider
Wednesday 1st August 2018
£5adv. tickets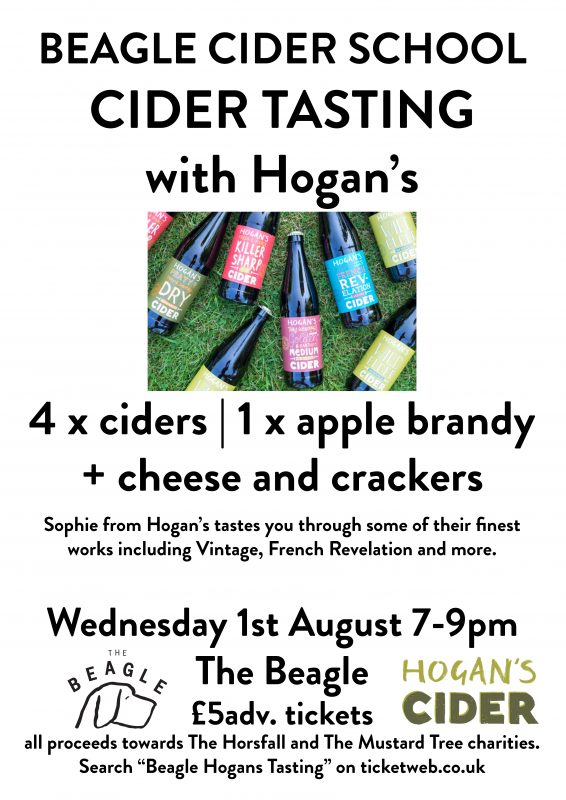 We are joined by Sophie from Hogan's Cider (Birmingham) for a special cider-centric evening. Enjoy a host of Hogan's Cider, from the rare to the sublime, alongside cheese and crackers and even an apple brandy. All ticket sale proceeds go to The Mustard Tree homelessness charity and The Horsfall charity helping young people with stress.
Tickets are available HERE.

HOTDOGS 'N' BEER
with Stone Berlin
Wednesday 27th June 2018 | 7pm-9pm
£12 adv.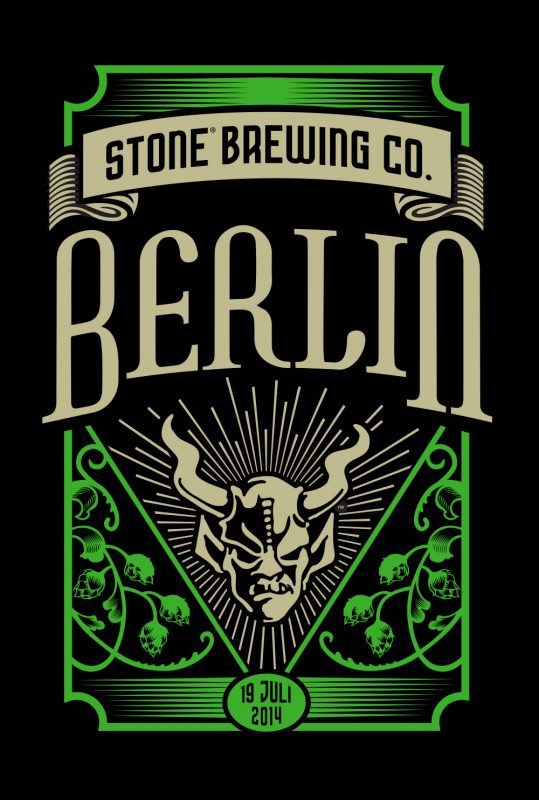 We are joined by Will France of Stone Berlin for a special evening of beer and hotdogs! Will will be chatting you through the following Stone Berlin drops…
GO TO IPA
WHITE GHOST BERLINER WEISSE
TANGERINE EXPRESS
SCORPION BOWL
XOCOVEZA
Food will be provided courtesy of a special Stone Berlin infused Beagle Bratwurst! Veggie options are available. Xocoveza, Stone's Mocha Stout, will be paired with ice cream.
Don't miss this chance to get some top drawer beer education with Stone Berlin.
Tickets are available at £12 HERE and they include all of the above.
INDY MAN BEER CON 2018
Ticket Launch // 6pm
The Beagle
free entry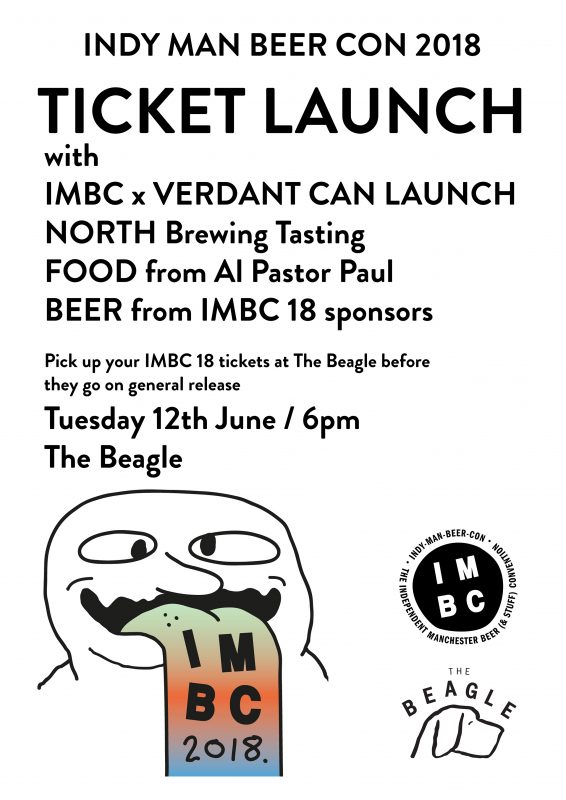 Bag your ticket for the coveted IMBC 18 festival (4th-7th October, Victoria Baths) two hours ahead of the general release sale at The Beagle.
At this event we will be launching the IMBC x Verdant collaboration, ARMBANDS, an east meets west coast pale ale. There will be a host of beers on tap from this year's IMBC sponsors AND look out for a free pop-up tasting with NORTH Brewing.
—
CLOUDWATER TAP TAKEOVER
Thursday 29th April 2018 / free entry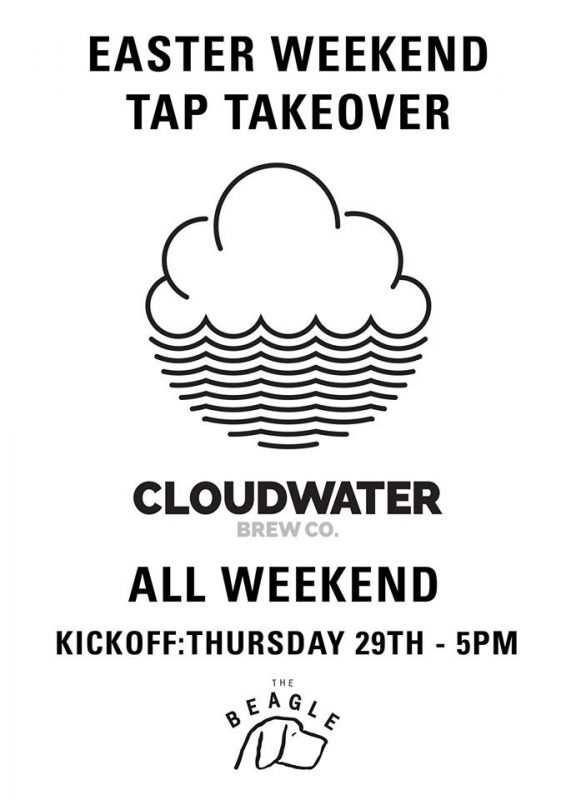 This Easter Weekend we are proud to have RateBeer's SECOND BEST BREWERY IN THE WORLD taking over our bar!
The tap take over will last all weekend launching at 5PM on Thursday the 29th.
Beers confirmed so far! :
Pompettes (Cloudwater x Brasserie du Mont Salève) 8.3%
Speyside Black Forest Stout 12%
Spirit Animal Elderflower Loquat (Cloudwater x Jester King) 4%
Barrel & Ardi (BA Loral & Ardi) 9%
DDH IPA Enigma Chinook 6.5%
IPL Vic Secret Ekuanot 6%
DIPA Enigma 8.5%
DDH Pale Enigma Ekuanot 5.5%
A Tool For Conviviality (Cloudwater x Half Acre) 10%
EASTER WEEKEND HAPPENINGS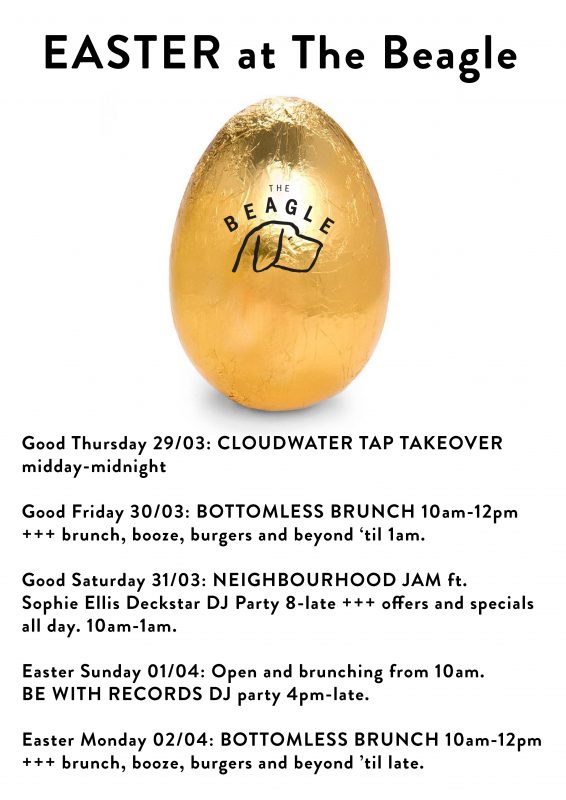 Alongside our Cloudwater Tap Takeover exploits we also have the above unfolding. We're here and firing on all cylinders Good Friday and Easter Monday so do pay us a visit.
Sophie Ellis-Deckstar returns to The Beagle for a pop masterclass on Saturday 31st March 8-late as part of our Neighbourhood Jam happenings.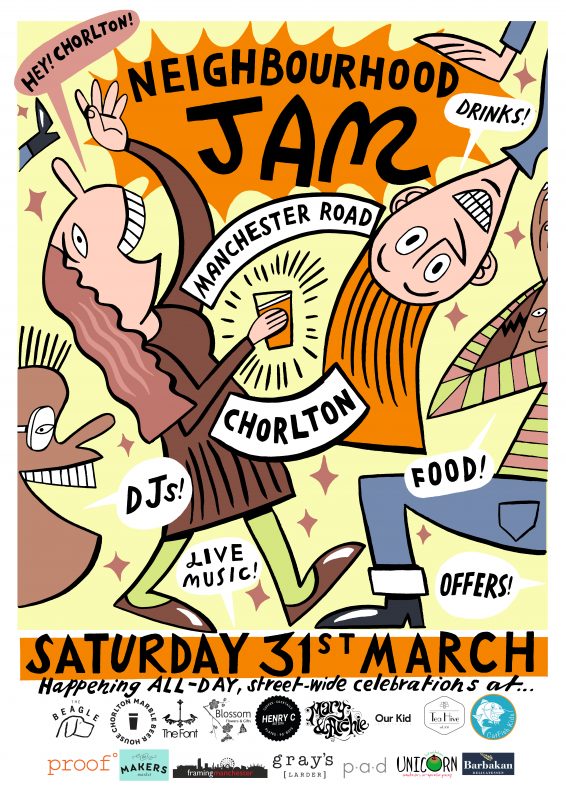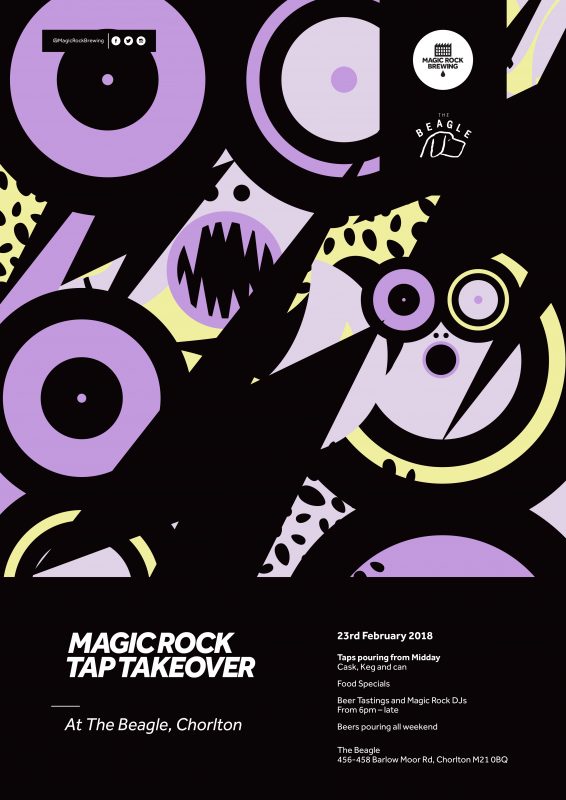 MAGIC ROCK TAP TAKEOVER
Friday 23rd February 2018 / Midday-late
The Beagle / free entry 
Honoured to be joined by the excellent Magic Rock of Huddersfield for an evening of special beers and full coverage across keg and cask.
Beers will be on from midday as well as Beagle special food pairings but tune in from 6pm for…
Free special beer tastings with Magic Rock!
+++
Magic Rock DJs
+++
Magic Rock food specials on until 10pm!
Beer list…
KEG
SAUCERY / session IPA 3.9%
SALTY KISS / gose 4.1%
HIGHWIRE GRAPEFRUIT/ Grapefruit West Coast Pale 5.5%
COMMON GROUNDS / Coffee Porter 5.4%
BROTHER CHUCKER / IPA 6.7%
SMALL VOICE / Session IPA 4.3%
FANTASMA / IPA 6.5%
BA BEARDED LADY DESSERT EDITION / Imperial Stout 10.5%
SOUR PASSION / Passion Fruit, Mango, Lime Sour 4.7%
CASK
INHALER / Juicy IPA 4.5%
RINGMASTER / Pale Ale 3.9%
HIGH WIRE / West Coast Pale 5.4%
RAPTURE / Red Ale 4.6%
Free pop-up tastings of Louche Cerise and Bearded Lady from 6.30pm…
MEET POMONA ISLAND / NZ IPA LAUNCH
Friday 16th March 2018 / 6pm-late
The Beagle / free entry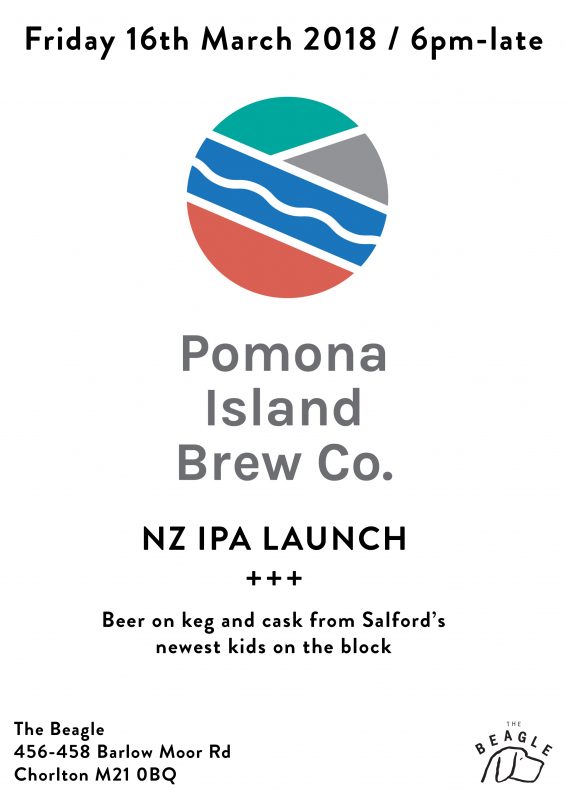 We are excited to be joined by Pomona Island at The Beagle for an evening of fresh beers from one of the newest local breweries. Pomona Island, operating out of Salford's Media City, have been drawing a lot of attention since their inception in late 2017 on the back of some great cask and keg beers.
Expect a spread of Pomona Island pouring on cask and keg, and we will also be launching Pomona's NZ IPA.
Line-up coming soon. Here's what Pomona Island have to say about themselves…
"Pomona Island Brew Co is a collaboration between Gaz (formerly Marble), James (formerly Tempest – last year's Scottish brewery of the year) and Nick and Ryan (The Gas Lamp). Nick, Ryan and Gaz are long-time friends as well as enjoyers and purveyors of great beer. James has come on board, and journeyed the not inconsiderable distance from Scotland to Salford, to be the head brewer. You'll be able to find our beer shortly in the Gas Lamp, of course, but hopefully all over Manchester, Salford and the North West. We've got some big, hop-forward American style pales for starters, but expect a big range of both progressive and traditional styles.
The name is inspired by the Island that bridges the cities of Salford, where we're based, and Manchester. We always hoped it would be returned to its former glories as a park, but it's being developed and they're changing the name so we thought we'd keep it alive (steal it!)"
CLAY JEWELLERY WORKSHOP with Aliyah Hussain
Wednesday 31st January 2018 / 6-8pm
£25 per person / bookings in advance only
JOIN ALIYAH HUSSAIN, JEWELLERY DESIGNER AND VISUAL ARTIST FOR A CLAY JEWELLERY WORKSHOP AT THE BEAGLE IN CHORLTON.
On this workshop you will be taught coiling and tubing techniques that you will use to make the shapes that will form the main part of at least two unique necklaces. You will also learn decorating techniques such as marbling and terrazzo effect.
We will be using polymer clay, which is a versatile and durable material that comes in a huge range of bold bright colours and is perfectly adaptable for jewellery making. Once you have made your pieces you can then take them home to bake in your own oven.
Ticket price includes all materials used during the workshop.
£25 per person
Wed 31 January 2018
18:00 – 20:00
Limited places so book fast! Tickets available HERE.
For more of Aliyah's work: http://ahussainjewellery.co.uk/workshops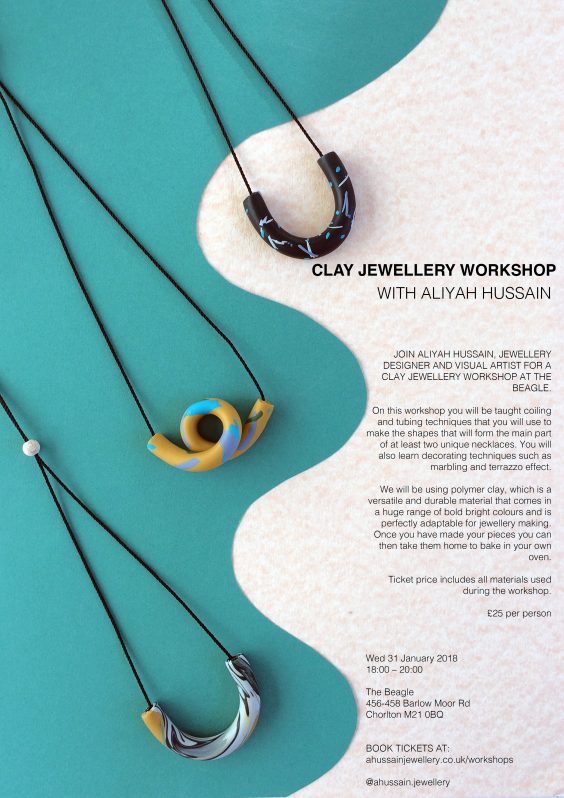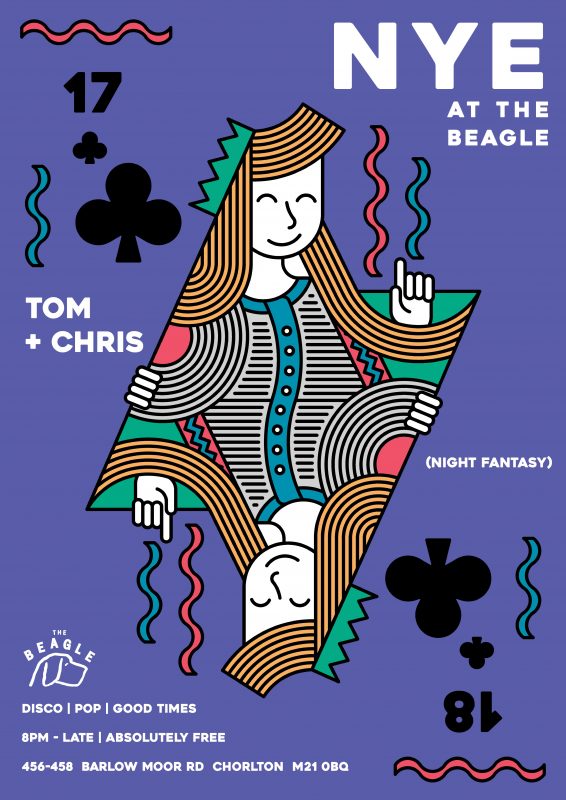 Pop-pickers assemble! Have we got a disco party for you this New Year's Eve! Fun time DJs Night Fantasy (Tom and Chris) swing down to The Beagle to guide you through NYE in the best way possible.
Free entry all night long, we'll be here 'til late doors so come down with your friends and welcome in that big new one.
Open all day from 10am. Partying hard from 8pm. Come get some!
Facebook event page HERE.
FESTIVE OPENING TIMES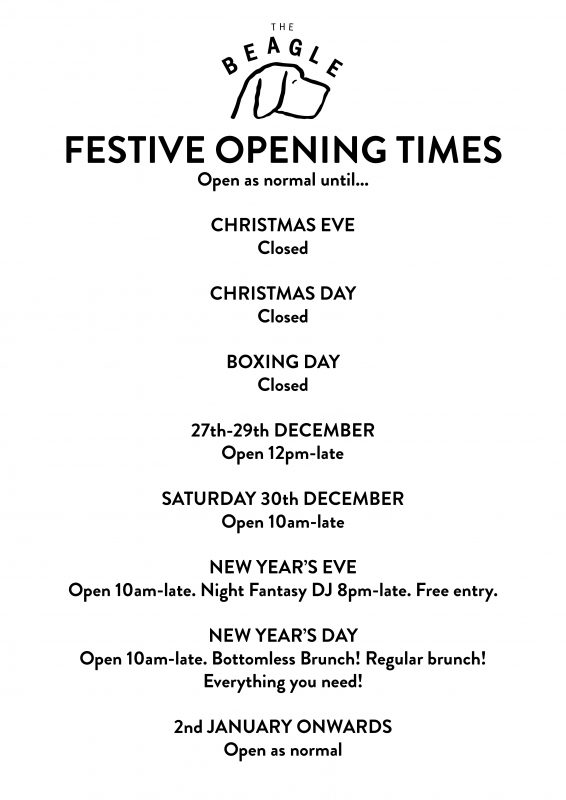 CHRISTMAS AT THE BEAGLE
December 2017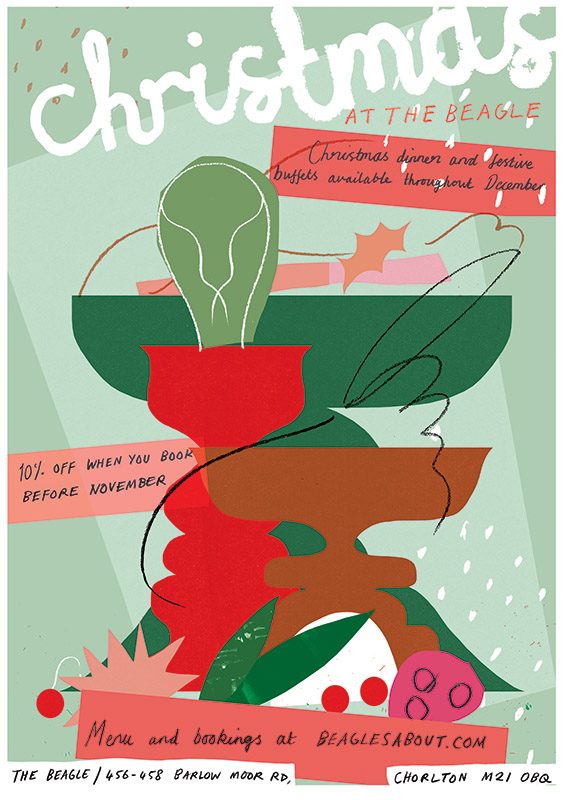 We are doing Christmas dinners at The Beagle! Two course ones! Three course ones! Book in for your Christmas party. 10% off if you book before November. We're also doing Christmas buffets if you fancy a little festive finger food action.
Book ahead in person at the bar or contact us on bookings@beaglesabout.com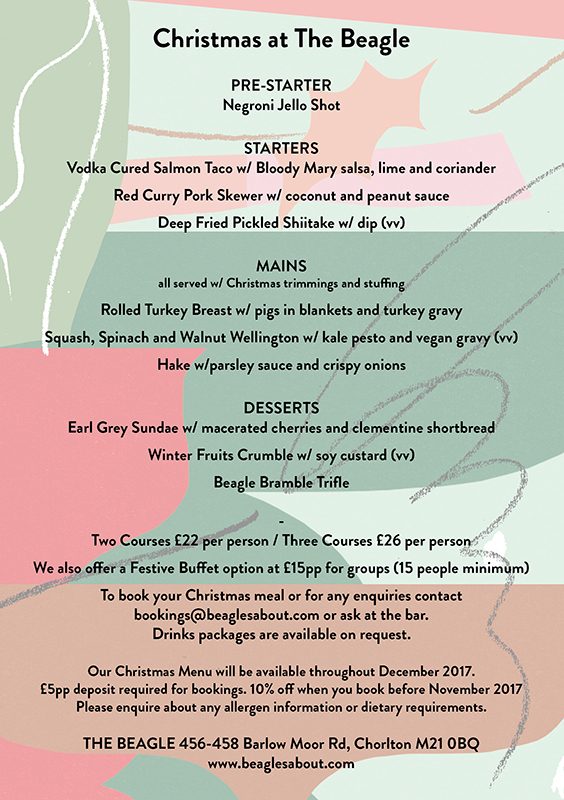 NEIGHBOURHOOD JAM at THE BEAGLE
Saturday 16th December 2017 / all day long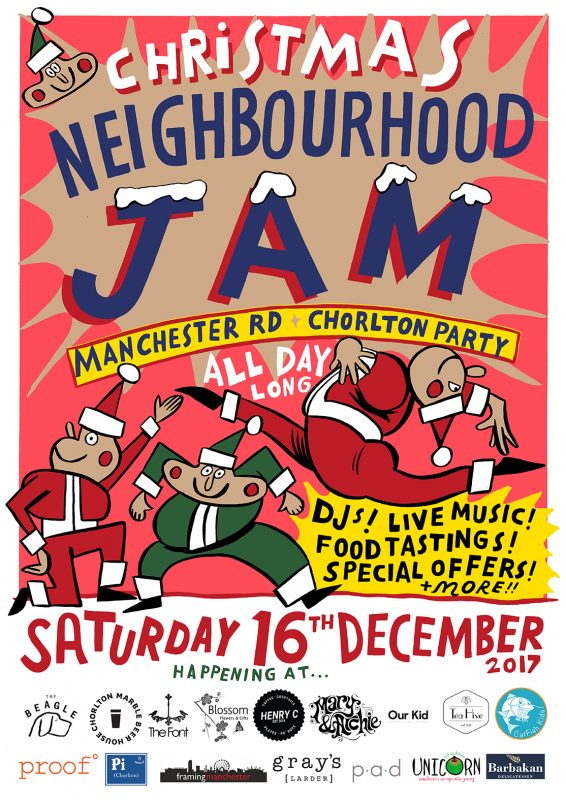 Neighbourhood Jam is a street-wide celebration of the great independent Chorlton businesses on Manchester Road. CHRISTMAS Neighbourhood Jam is coming up this Saturday and it promises to be an absolute banger. Facebook event page HERE and here is what we're laying on at The Beagle…
BEAGLE PALE UNLOCKED!
For one day only we are unlocking Beagle Pale (our seminal 4% Summer Wine house pale ale) as an option on our Bottomless Brunch menu. That's right! For £25 per person, you can drink endless Beagle Pale within a two hour window. Bottomless Brunch starts on Saturday at 10am. Last seatings are taken at Midday. From the point that you start you have TWO HOURS to indulge. Make momma proud. Infinity brunch, endless booze.
EXTREME BLOODY MARYS!
Extremely festive Bloody Marys, that is. Expect such lunacy as pig in blanket toppers, Port floats. That kind of jazz. We're still in the lab working on what exactly is possible but we're looking to push the limits. Special Bloody Marys will be available all day long.
CHRISTMAS COCKTAILS AND MULLED WINE / CIDER OFFERS!
Say no more.
NORTHERN QUARTER BOYS CHOIR!
The world famous NQBC hit the Beagle at 9pm to serenade you with Christmas classics, Backstreet Boys, and things of that nature. Insert festive cheer here.
Come play to win this Saturday 16th December, Chorlton!
BUXTON TAP TAKEOVER
Friday 1st December 2017 / Midday-Midnight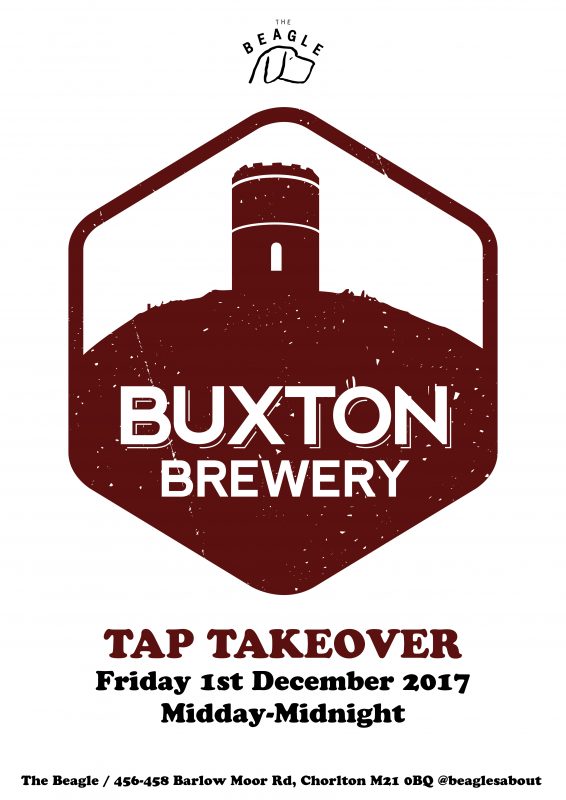 One of the best breweries around comes to Chorlton for one of our biggest tap takeovers of the year. Line-up coming soon…
THE BEAGLE 5th BIRTHDAY
Friday 17th November 2017 / 8pm-late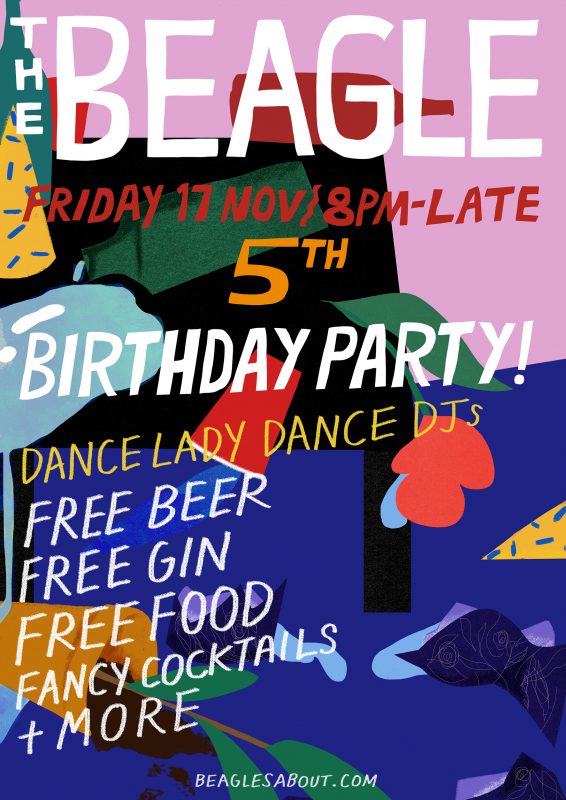 We are FIVE YEARS OLD! I know, I don't look it. You are invited to our birthday party FEATURING…
FREE BEER!
FREE GIN!
FREE FOOD!
FANCY COCKTAILS!
+++
DANCE LADY DANCE DJs!
Issa party up in this BEEP! Come down from 8pm for the truest birthday windfall. Friday night fans rejoice!
Facebook event page HERE.
Artwork by Lucy Sherston.
Common Knowledge presents
THE SIMPSONS: TREEHOUSE OF HORROR QUIZ
Thursday 19th October 2017 / 8pm-late / free entry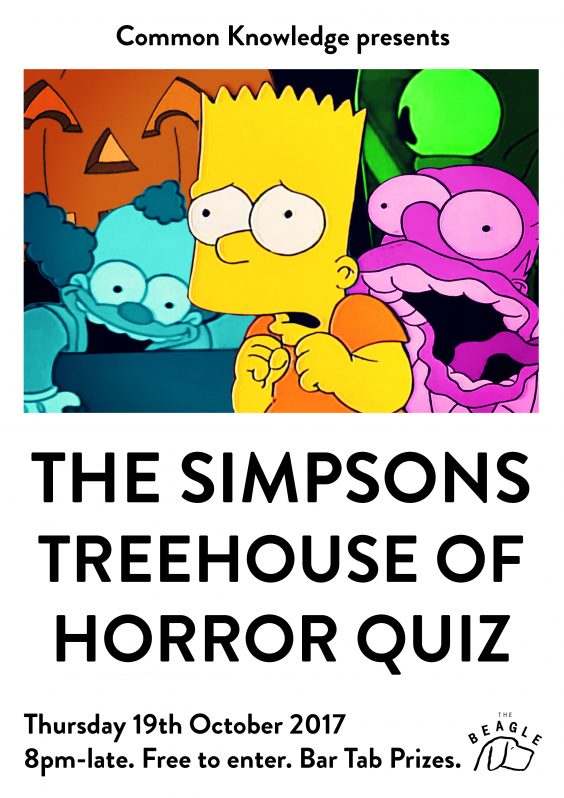 Simpsons heads take heed. Common Knowledge are back at The Beagle with another Simpsons banger. This time a Treehouse of Horror pre-Halloween special. Come on down for Simpsons fun. Free to enter as ever, with bar tab prizes. Yeah man.

RED WILLOW TAP TAKEOVER
Friday 8th September / Midday-Midnight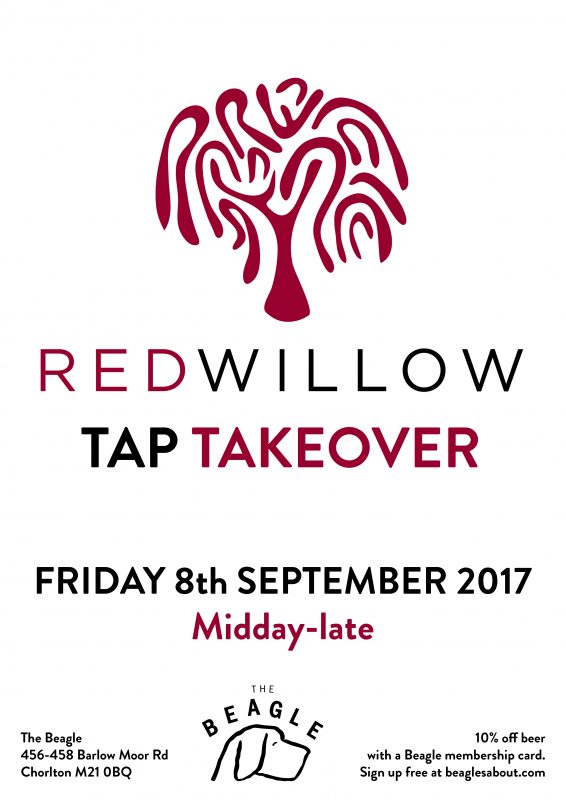 The kings Red Willow come to The Beagle for an emphatic Friday night tap takeover across cask and keg. Come down and enjoy the sweet sweet yield. Much endorse! Facebook group HERE.

THORNBRIDGE BAR TAKEOVER
27th September – 1st October 2017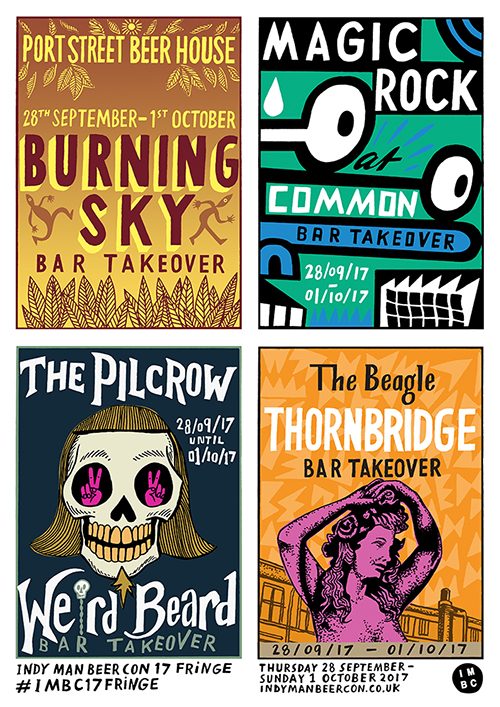 The excellent THORNBRIDGE takeover the Beagle for five whole days during Indy Man Beer Con as part of the IMBC 17 fringe. Expect cask and keg ahoy.
To kick things off we've got a special Thornbridge part on Wednesday 27th September where we'll be launching our collaboration cask ale with Thornbridge and dishing out free tacos from 8pm. There'll be a meet the brewer opportunity and Thornbridge beers galore with free beer samples. Free beer, free tacos? What's not to love?
GARTH MARENGHI'S DARKPLACE QUIZ
Thursday 3rd August 2017 / 8pm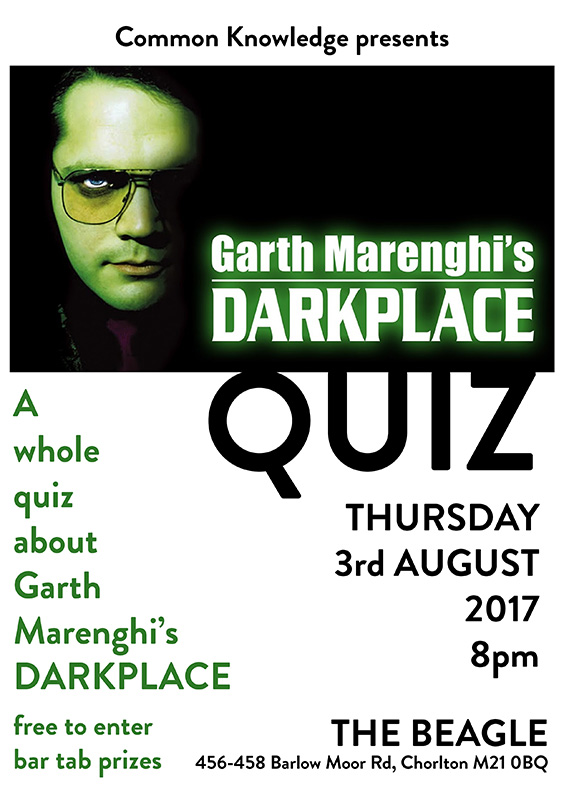 A whole quiz about Garth Marenghi's Darkplace say whaaaaat. Come down and engage, Marenghi fans! 8pm start. Free to enter, bar tab prizes. Facebook event page HERE.
DJ 'n' DUNCAN
Saturday 15th July 2017 / 8pm-late / free entry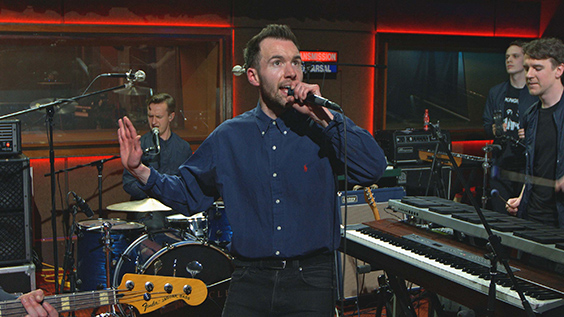 Dutch Uncles' Duncan joins us in the winner's circle for another towering evening of DJ fortitude. Come down and swing your pants. Photograph from Low Four.
WIMBLEDON SPECIALS
Throughout Wimbledon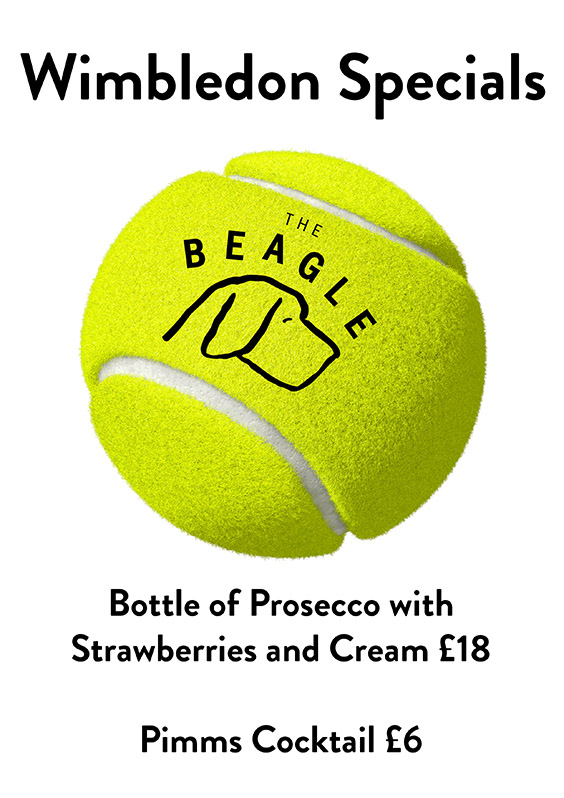 How old are you? 40, love.
THE SIMPSONS QUIZ
Thursday 20th July 2017 / 8pm – late
Free entry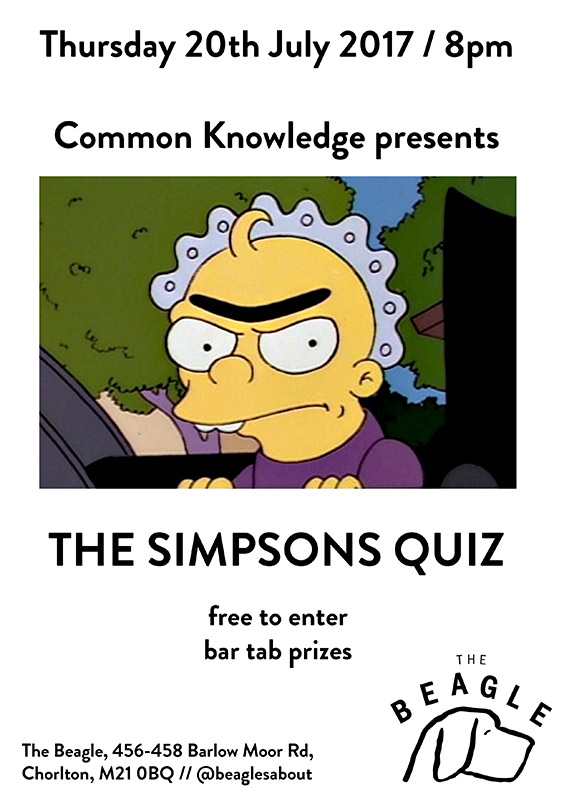 A glorious bumper quiz on all things SIMPSONS. Presented by our quiz lords, Common Knowledge. Free to enter as always, bar tab prizes. Come down and flex your Springfield muscle.
IMBC 17 TICKET LAUNCH
Wednesday 24th May 2017 / 6pm
The Beagle
Join us for your first chance to buy tickets to Indy Man Beer Con 2017. This Wednesday 24th May at The Beagle you will be able to purchase ADVANCE tickets from 6pm ahead of the general IMBC 17 website release sale at 9pm. Advance tickets are limited to four per person per session.
To celebrate the ticket launch we will be pouring free halves of Beavertown Neck Oil until the keg runs dry PLUS we will be dishing out FIFTY free tacos from IMBC vendors, Al Pastor Paul. Arrive early to avoid disappointment.
Alongside the above we will also have a very IMBC friendly beer selection across our taps featuring the very first Northern Monk Patron's Project beer alongside their latest AND beers from 2016 Thirsty Games winners, Fiveclouds.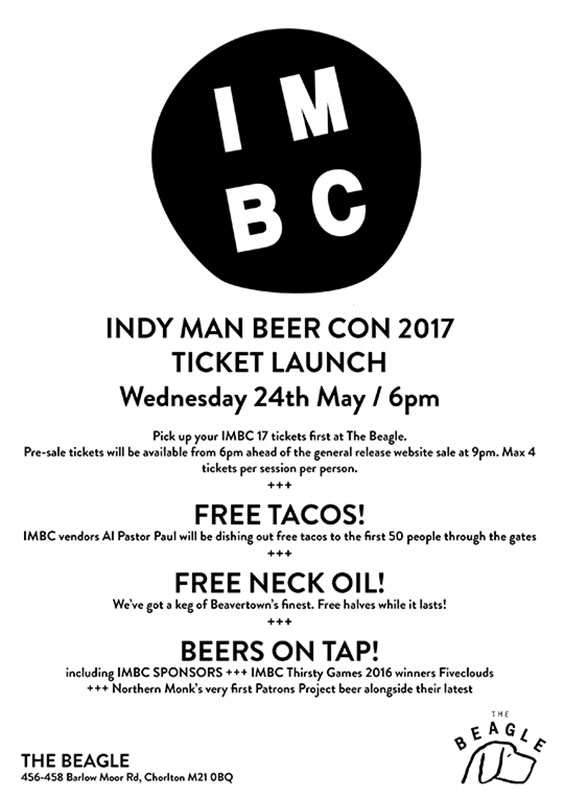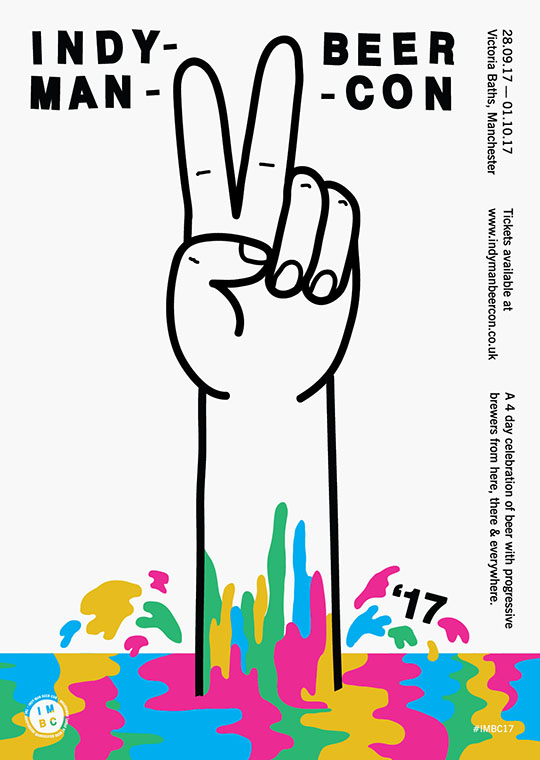 GIN VS. THE WORLD
Thursday 25th May 2017 / 7-9pm
Free tasting
Join us for a totally free drinks tasting at The Beagle hosted by Amathus Drinks. Think gin is king? There's going be to some serious contenders to the throne. Taste your way through three non-gin and tonics alongside one gin and tonic (just for perspective) and vote for your favourite. We will stock the victor as a special for the immediate future. It's all to play for!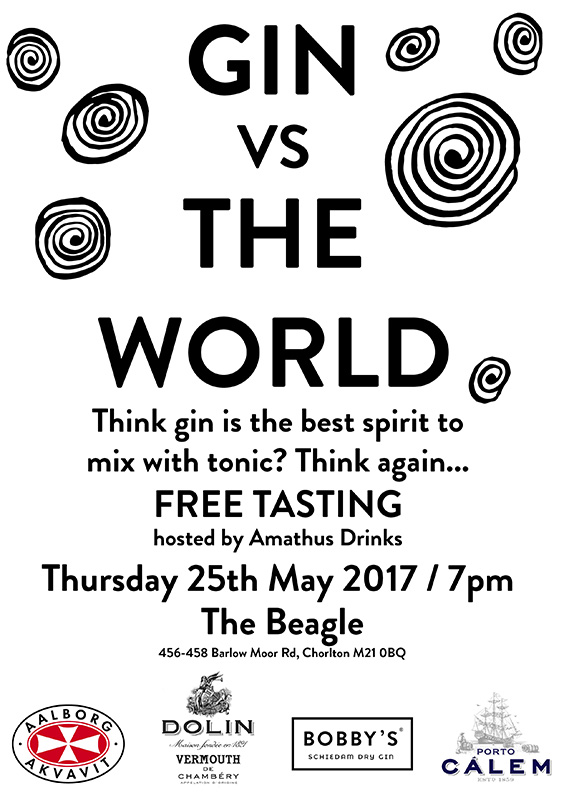 MAGIC ROCK TAP TAKEOVER
Tuesday 25th April 2017 / 5pm-late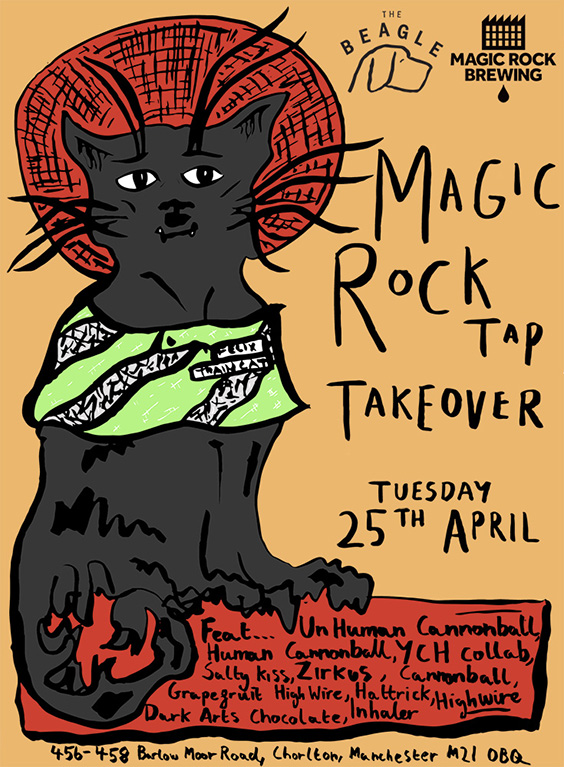 We are honoured to welcome Huddersfield trailblazers Magic Rock to Chorlton for our biggest tap takeover of the year.
Featuring across cask and keg…
Un-Human Cannonball
Human Cannonball
Cannonball
Salty Kiss
Zirkus
YCH collab
Grapefruit High Wire
Hat Trick
Dark Arts Chocolate
Inhaler
High Wire
Artwork by Wil Judkins featuring Huddersfield train station's resident moggie. Felix, Le Chat Hudds!
UNIVERSAL CHICKEN SOUP
Saturday 29th April 2017 / 8pm-late / DJ Party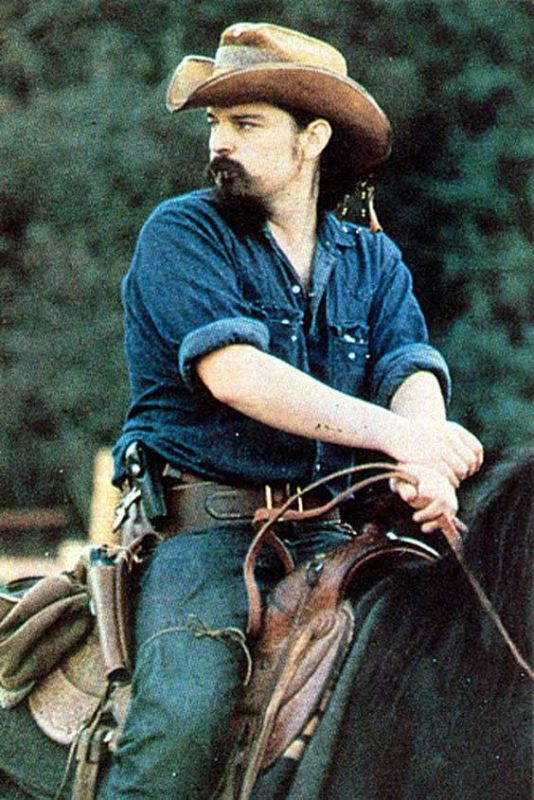 Nick and Devrinna return to The Beagle to dish up another deep pan edition of Universal Chicken Soup, the DJ arm of Golden Lab Records. Expect the finest in mellow and soaring outsider and insider psychedelia. Pick a pew, lay back and wait for Universal Chicken Soup to summon you up offa it.
HANGIN OUT IN SPACE WITH PATRICK RYDER
Bank Holiday Sunday 30th April 2017 / 6pm-late / DJ Party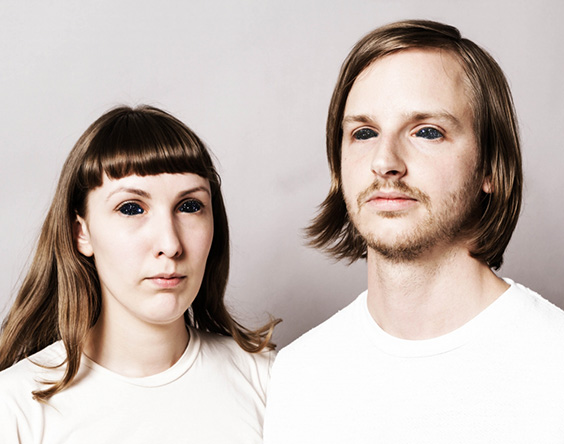 Stuart and Katy of Hangin Out in Space lock horns with Patrick Ryder (Piccadilly Records) to bring you a Sunday seance of cosmic disco, spaced-out Balearic, nebulous house and all the black holes inbetween. Come down and revel, infinitely. Listen to Katy's recent mix on NTS HERE!
Thursday 13th April 2017 / 7-9pm
FREE EDINBURGH GIN TASTING

Free gin tasting with Edinburgh Gin, duh. This is a must attend. Come down and get the skinny on Edinburgh Gin and taste their range.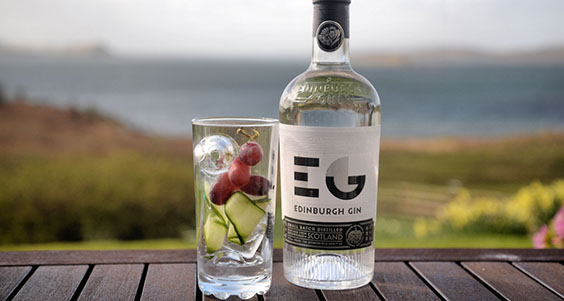 NEIGHBOURHOOD JAM
Saturday 15th April 2017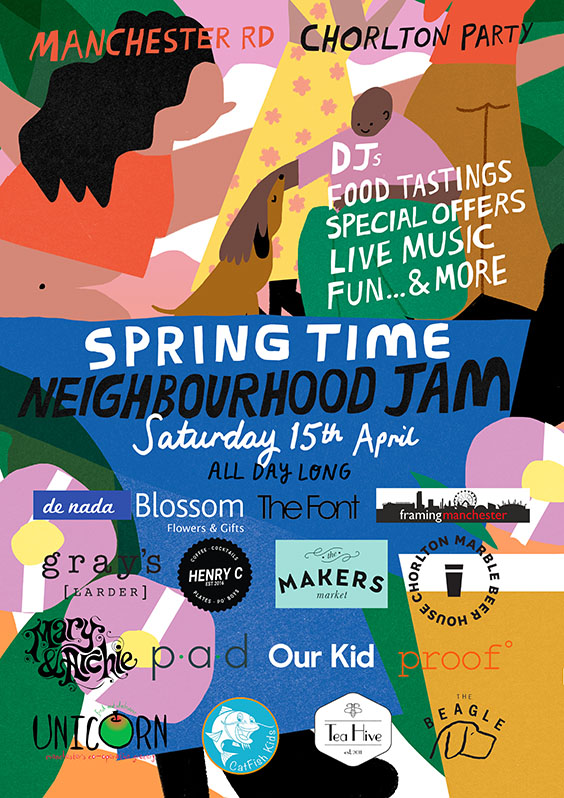 THIS SATURDAY! Our Spring time edition of Neighbourhood Jam!
Bigger, better and bolder than ever before. Neighbourhood Jam returns to Manchester Road for an all-encompassing melee of special happenings across the below venues. Expect DJs, live music, pop-up food happenings, BBQs, and more. Pop on in and try 'em all!
The Beagle 
Pi
Font
Barbakan 
Mary & Archie
Marble 
Proof
Our Kid
Unicorn
p.a.d
Proof
Tea Hive
The Makers Market
Henry C
Blossom
De Nada
Framing Manchester
and MORE!
For Neighbourhood Jam we're laying on THIS…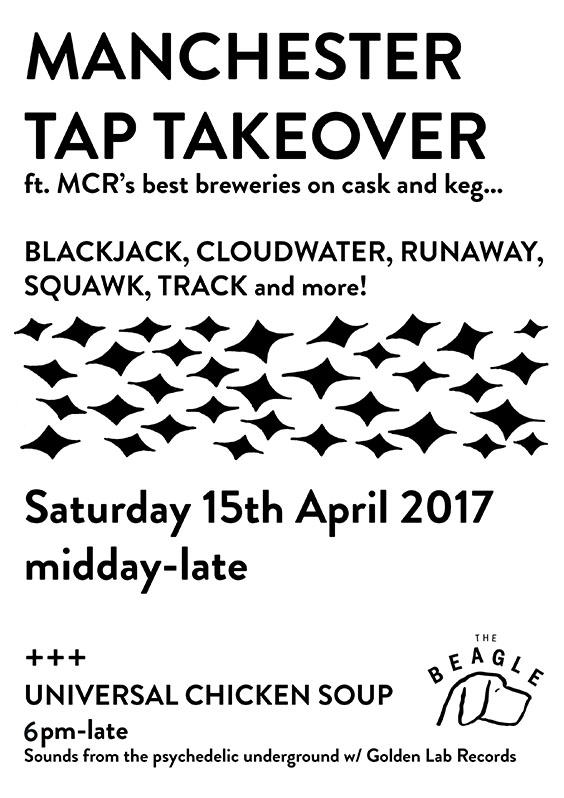 Come get that good stuff, egg chasers!
Easter Sunday 16th April 2017 / 4pm-late
EIGHTY SIX / DJ PARTY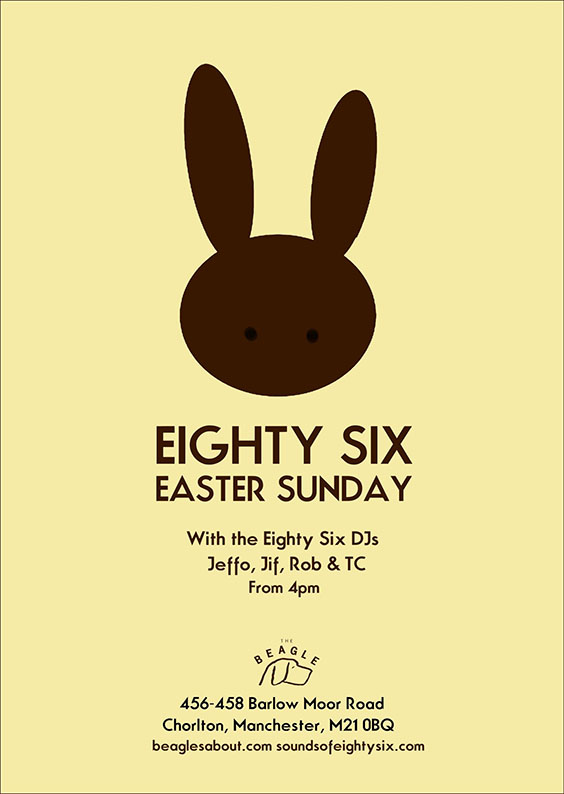 The Beagle favourites, Eighty Six, return to The Beagle for a Bank Holiday tour de force for the first time in what seems like yonkers. Join Jeff O'Toole, Jif, Rob, and Tom Clarke for a smooth sailing trip into the chocolate abyss. Essential sounds for a super horizontal Sunday. Not only that but we will be serving the following for one day only…
Easter Sunday 16th April 2017 / midday-late
ROAST DINNERS
Roast potato seekers take heed. We are serving up roast dinners from midday for an Eggs-clusive Sunday happening chez Beags. Come board the good ship gravy boat.
SOPHIE ELLIS-DECKSTAR
Saturday 11th March 2017 / 8pm-late / DJ PARTY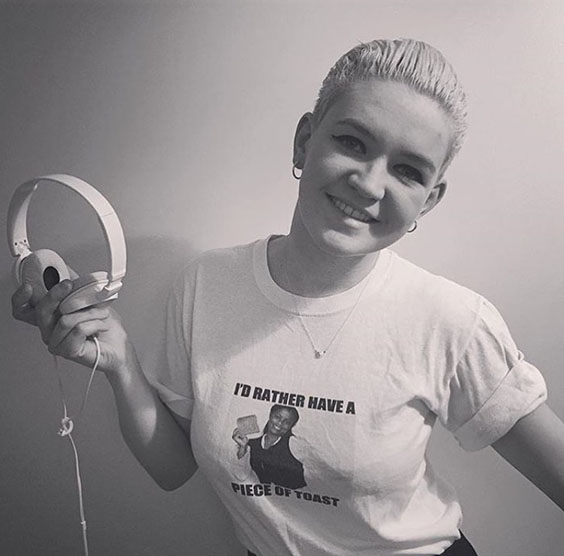 The triumphant Sophie Ellis-Deckstar (of PINS fame) returns to The Beagle for another poptastic Saturday night spinning all those seminal 90s and 00s R'n'B and pop nuggets. Come down and revel.
DJ 'N' DUNCAN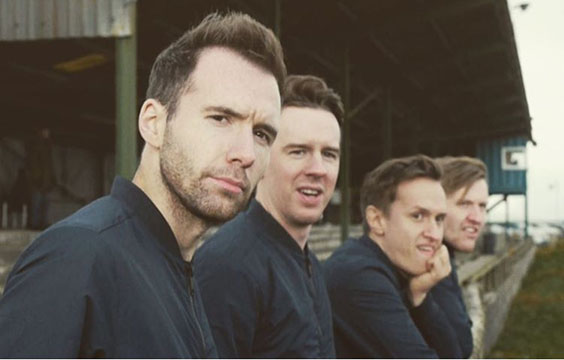 Dutch Uncles man, Duncan, returns to summon the spirit of Saturday night chez Beags with his award winning mix of stone cold classics and snake charmers. Will he play Mambo no.5?
MEAT MARCH
A month of specials celebrating the produce of WH Frost
1st-31st March 2017
HOT DOG
Beef bratwurst tucked up in a brioche sub roll w/ fried onions, lime coriander, sweetcorn relish, and a lil bit of parmesan. On my wurst behaviour.

SURF 'N' TURF
Turf: soy, chilli, ginger, and garlic marinated hanger steak. Surf: salt and pepper king prawns. Served w/ onion rings and chipotle mayo. Holy moly.

DUCK GYRO
Confit duck leg w/ hoisin chilli sauce, aubergine purée, cucumber, and spring onions. Served ready to roll on a flatbread.

RIBS
Sticky pork belly ribs marinated in Coca~Cola and soy. Falling. Off. The. Bone.

W H Frost Butchers Ltd is Chorlton's finest butcher and we reckon Manchester's finest purveyor of game. When Beyonce and Drake came to town they hit up Frost's to feed their entourage, so if it's good enough for them…
Find Frost's at 12-14 The Square, Chorlton, and use them for all your meat needs.
Artwork by John Broadley
ROOSTERS CASKOVER
Tuesday 7th – Sunday 12th March 2017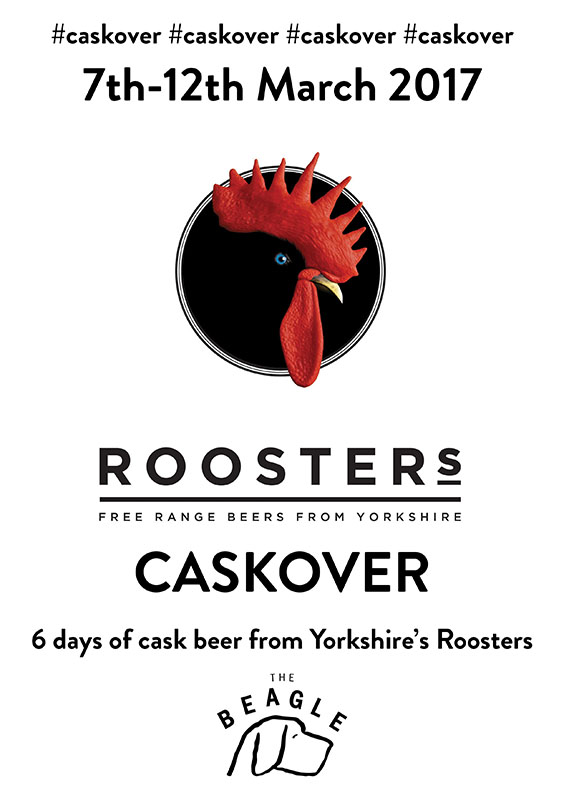 Yorkshire's Roosters come to The Beagle with an immaculate haul. Expect to find Roosters beers taking over our cask lines throughout the week. All the fun of a tap takeover with all the fun of cask beer.
DOWN THE RABBIT HOLE MAD HATTER TAP TAKEOVER
Wednesday 29th March 2017 / 4pm-late
Bonkers tap takeover from Liverpool's finest, Mad Hatter. Full line-up soon…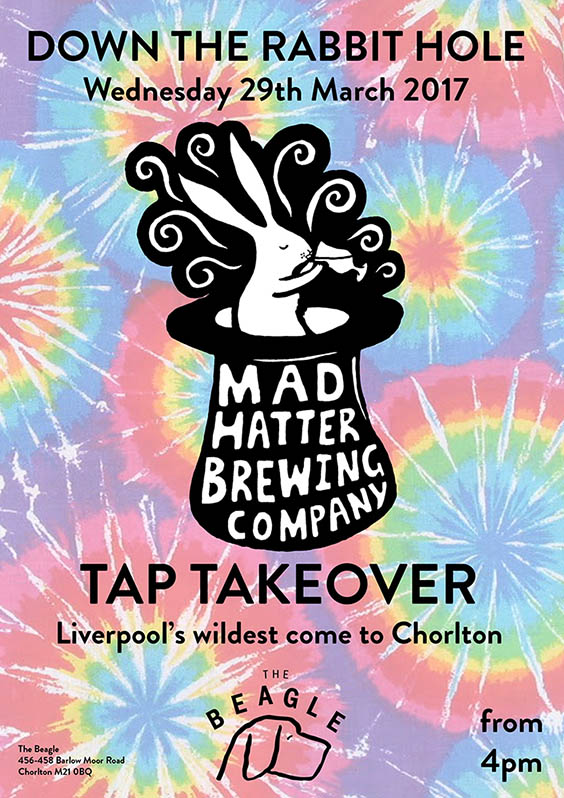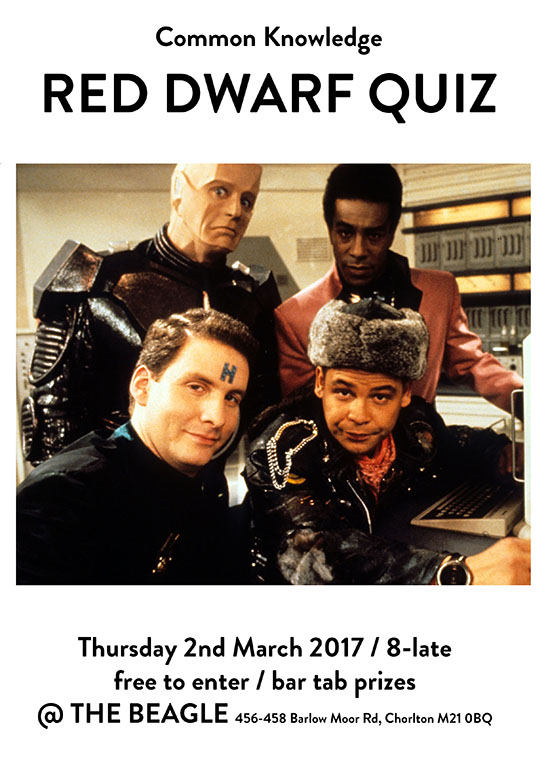 WIPER AND TRUE TAP TAKEOVER
Wednesday 1st March 2017 / 4pm-late / free entry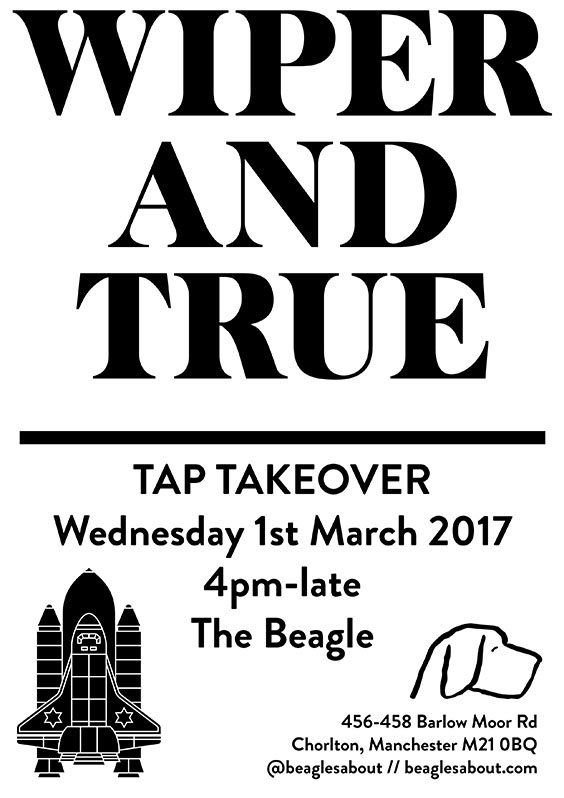 Bristol's Wiper & True come to Chorlton with their grade A selection of cask and keg. The line up will be full bodied and relentless. Here ya go…
KEG
COLUMBUS / Amber Ale / 5.3%
Single hopped with the US hop Columbus. Rich, sweet malts combine with notes of plum, black pepper and a hint of liquorice.
RED ORANGE / Amber Ale / 5.2%
Rich malts, bright orange citrus. Brewed with fresh orange zest.
QUINTET / IPA / 6.5%
Motueka, Mosaic, Ahtanum, Comet and Simcoe hops unite to create a beer of immense character, flavour and depth.

KALEIDOSCOPE / Pale Ale / 4.2%
Single hopped, exploring the magnificent Mosaic hop. Sharp citrus, blueberry and resinous pine.
SMALL BEER / Small Beer / 2.7%
Tropical fruits and soft berries with a gentle bitter finish.
CASK
RYE MILD / Mild / 4.8%
Gooseberry and peach aromas pair with rich, sweet malts and a note of peppery rye.
MILK SHAKE / Milk Stout / 5.6%
A rich, velvety and satisfying Milk Stout abundant with chocolate and vanilla. Contains lactose.
FAKE INDIE NIGHT
Friday 3rd March 2017 / 8.30-late / free entry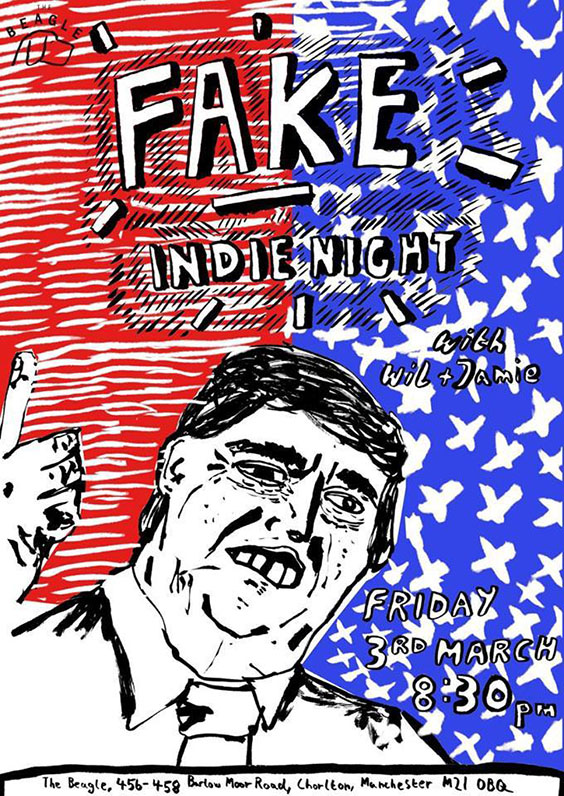 STAND ALONE BANGERS. LOST GIANTS. YR NEXT NEW FAVE BANGERS, A LIL SUTTIN OUT OF THE BLUE AND MORE!
Standing upon a mighty wall of people playing Indie, Alternative, Punk, UK Pop-Punk, Post-Hardcore and all them other genres that go along for the past however many years. Have a boss beer and listen to some perfectly plucked picks.
Artwork by Wil Judkins
PATRICK RYDER
Saturday 4th March 2017 / 8-late / DJ PARTY
Piccadilly Records boss hog, Patrick Ryder, scoots down to The Beagle for a rare DJ outing. Co-pilot of Soup Kitchen's Cruisin', Patrick saddles up Chorlton-side for the immaculate selection.
GOOD EATIN'
February 2017 specials at The Beagle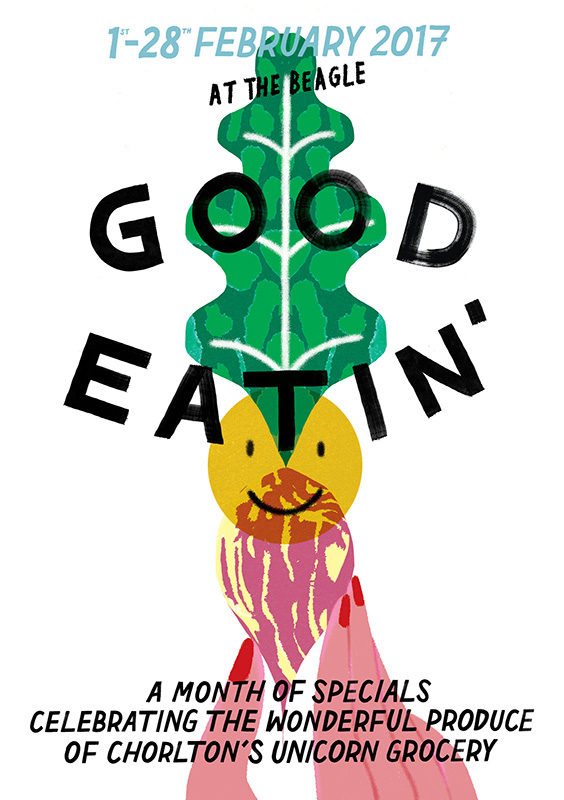 For February we are highlighting the EXCELLENT produce from our Chorlton neighbours, Unicorn Grocery. See below for the line-up…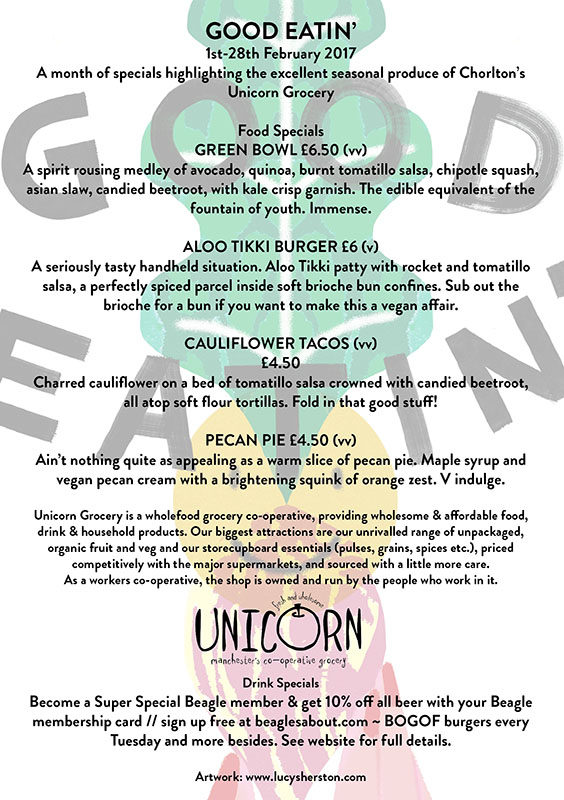 Artwork by the fabulous Lucy Sherston.
DUNCAN WALLIS
DJ PARTY
Saturday 11th February / 8-late / free entry
Duncan Wallis, of our very own Common Knowledge and hitmakers Dutch Uncles, takes to the DJ plinth this Saturday night for the immaculate DJ Party. Expect pop nuggets and off kilter jilters. Great to have Duncan down for this. Fire it up, my gosh.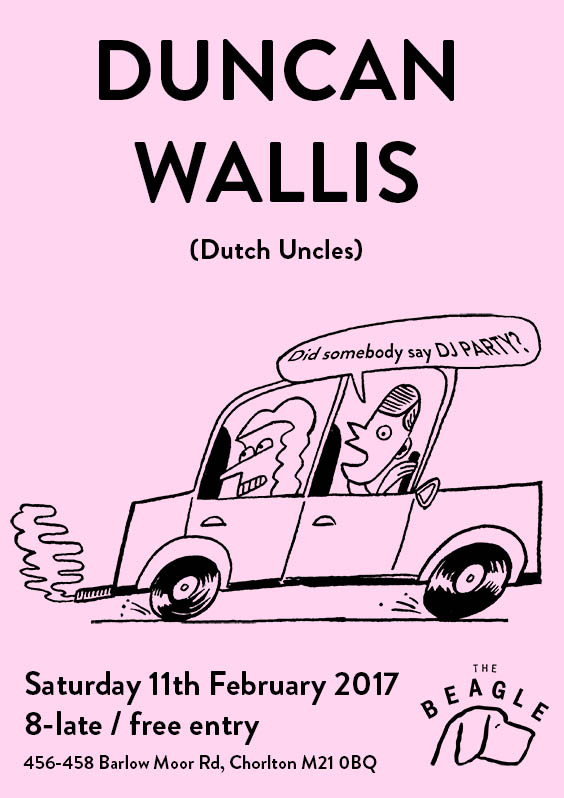 ILKLEY CASKOVER
7th-12th February 2017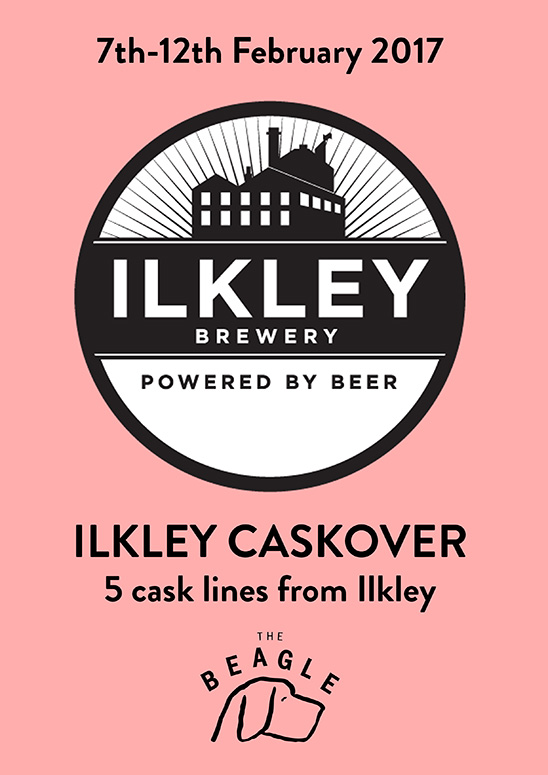 Join us for our third caskover of the year with West Yorkshire's Ilkley. You know the script by now. We have five cask lines and we'll be filling them throughout 7th-12th February with 100% Ilkley brews. Beer list coming soon…
SOPHIE ELLIS-DECKSTAR
Saturday 4th February 2017 / 8-late / free entry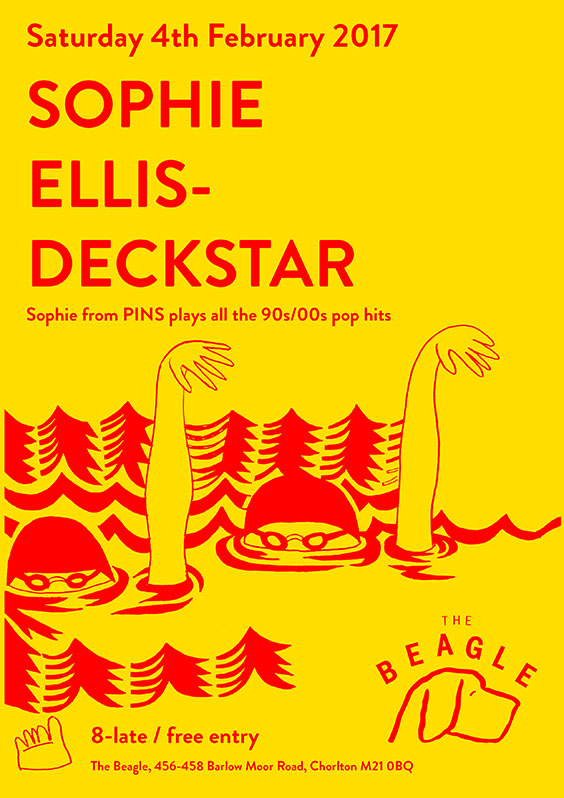 Sophie from PINS returns to the Beagle after slaying NYE 2016 with her choice array of 90s/00s pop nougats. Witness Sophie returning to the hallowed plinth once more for a timeless party. Weeeeee! Sophie Ellis-Deckstar in the haus!
GONE FISHIN'
Seafood Specials
Thursday 5th January – Tuesday 31st January 2017
Highlighting the excellence of our local Chorlton fishmongers, Out of the Blue, our chefs have cherrypicked their beauteous seafood offering and fashioned some spangly new January specials. If you've not been to Out of the Blue then please make it down to Wilbraham Road, just round the corner from us, and check it out. Special recommends go to Beagle staff lunchtime favourite, the OOTB sushi selection. V excellent. Here's what we're dishing up throughout January…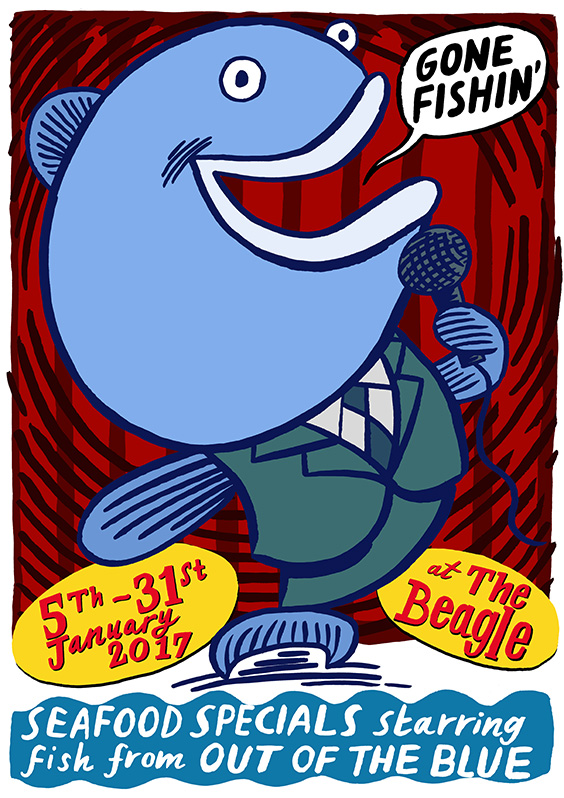 Seafood Specials 
COLEY POZOLE
Traditional herbaceous, rich, and picante Mexican stew with tomatillos and coley fillet. Garnished with sliced radish, red chilli, and coriander.
CRAB TOSTADA
Crab stacked corn tortilla with guacamole, jalapeños, pico de gallo, lime mayo, and shredded lettuce. Zingy fresh mouthfuls aplenty.
THAI GREEN MUSSELS
All the fun of mussels with all the fun of Thai Green Curry. Negotiate a mound of shell clad mussels and mop up the spring onion and red chilli flecked Thai broth with slices of toasted tiger loaf. Comprehensive!
POPCORN COCKLES
THE ultimate deep fried beer snack. Crunchy cockles with a bright caper aioli. Shovel in these hot salt and vinegar delights.
Gone Fishin' artwork by David Bailey
Don't forget it's A THIRD OFF food throughout January 2017. Flash that Beagle members card for discount.
THE PENGEST MUNCH
January 2017 Special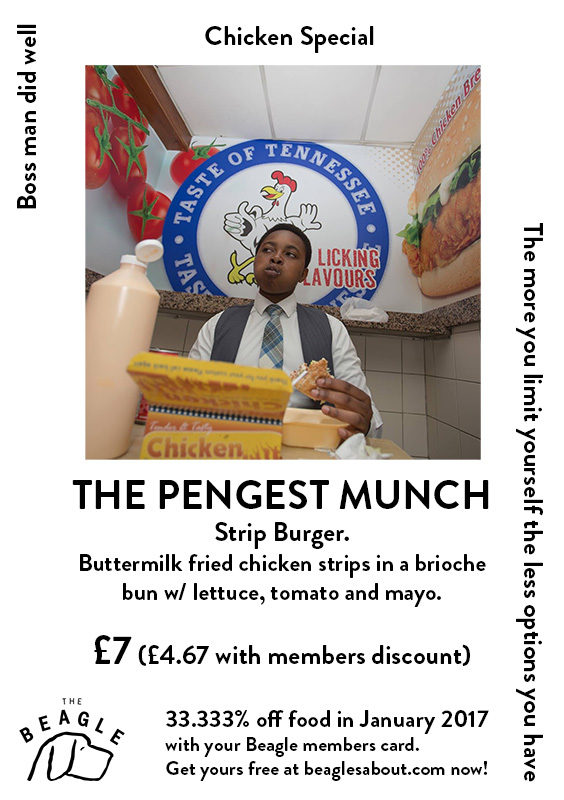 As a tribute to the one and only Chicken Connoisseur we've only gone and thwacked a STRIP BURGER on our specials menu. Come down and give it a whirl. We wanna know your rating. Pick up the buttermilk chicken stripped PENGEST MUNCH while you can.
UNIVERSAL CHICKEN SOUP
Saturday 28th January 2017 / 8-late / free entry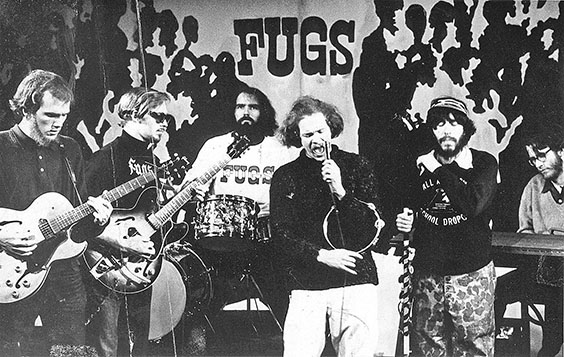 Celebratory sounds from the psychedelic underground
Garage punk, avant rock, country-psych and funkadelia dance floor jammers from the '60s, '70s, '80s and beyond.
Join us for our first DJ foray of the new year with Universal Chicken Soup hosted by Nick Mitchell (Golden Lab Records / Desmadrados Soldados de Ventura). NM will keep you gripped with the inside track on the outer realm. Stompers, contemplators, drifters, the whole kit and caboodle. Muchos endorse! Ain't no party like a DJ party.
THORNBRIDGE CASKOVER
Tuesday 17th – Sunday 22nd January 2017
Bakewell craft masters, Thornbridge, take over all five of our cask lines for a fully formed CASK takeover. You might wanna make it down on Wednesday 18th January at 8pm for a FREE special bottle tasting with Thornbridge's Meghan Waites. Come down and reap the rich rewards.
Here's what we'll be motoring through from Thornbridge on cask…
BLACK HARRY / dark fruity ale 3.9%
COLORADO RED / red ale 5.9%
POLLARDS / coffee milk stout 5%
WILD RAVEN / black IPA 6.6%
JAIPUR / IPA 5.9%
LUMFORD / new world pale ale 3.9%
LORD MARPLES / bitter 4%
JAYWICK / American pale ale 4.8%
WILD SWAN / white gold pale ale 3.5%
BROTHER RABBIT / golden ale 4%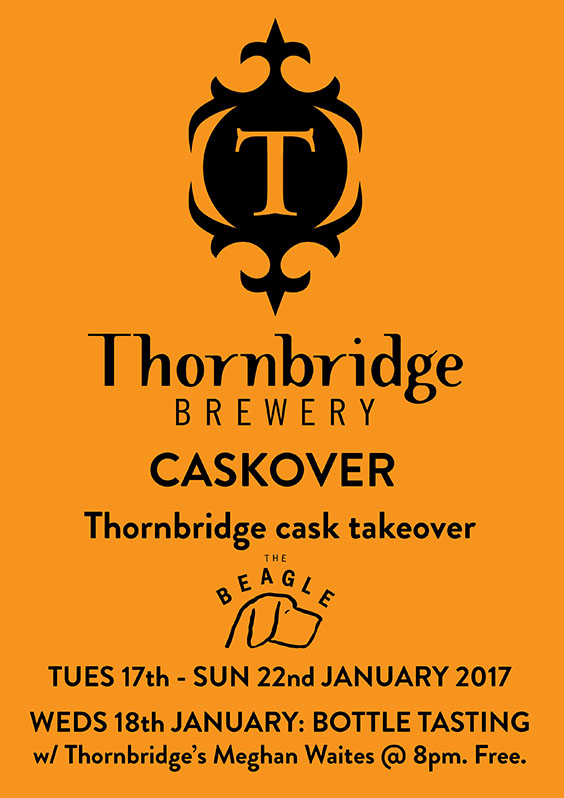 COMMON KNOWLEDGE BIRTHDAY SPECIAL
Thursday 19th January 2017 / 8pm – late
Duncan and Beckie are back to host their first pub quiz of the year at The Beagle. It's a Birthday special because Duncan has been kicking it in the Common Knowledge host chair for ONE year (and Beckie soon after). Expect questions on firsts…and seconds..as well as party games galore.
Free to enter / bar tab prizes.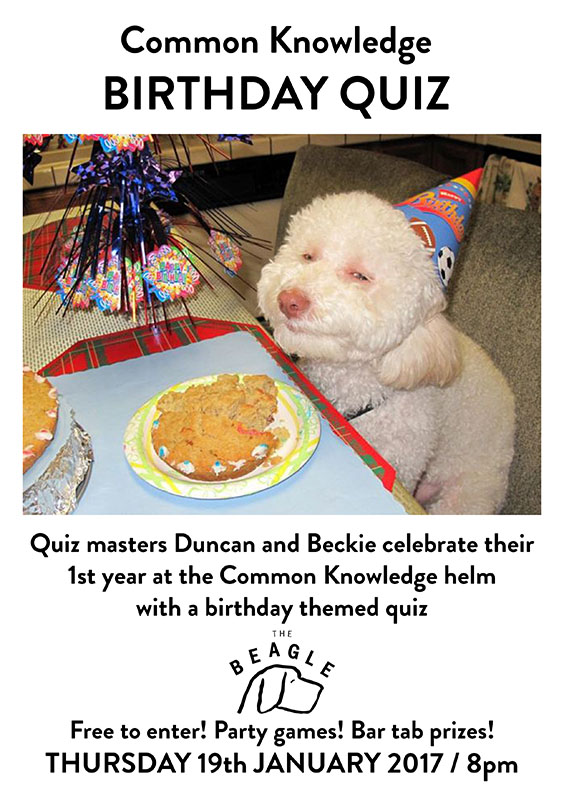 NORTH BREW CO CASKOVER
Week commencing 3rd January 2017

We welcome the excellent North (Leeds) to Chorlton to takeover our five cask lines. Start the new year with a bang. BANG!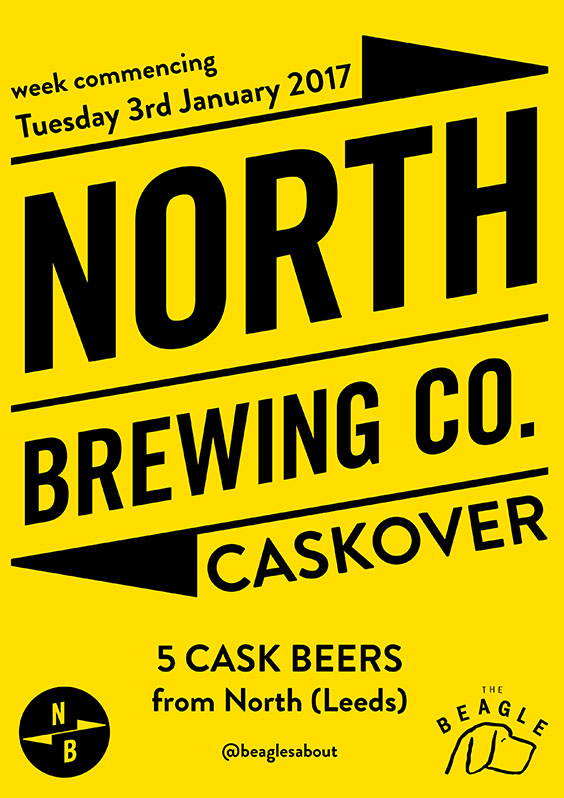 CAFÉ DEL CHORLTON
Sundays at The Beagle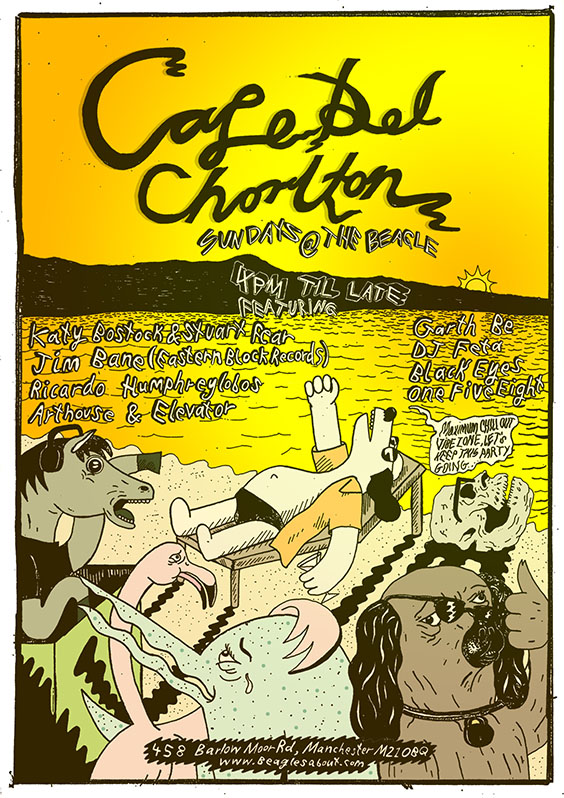 Best poster in my life by the sensational Dylan Hughes. Every Sunday at The Beagle we keep the weekend alive one DJ at a time. Join us from 4pm every Sunday and soak it up. Here's who is on the horizon…
Sunday 13/11/16 ~ RICARDO HUMPHREYLOBOS
Sunday 20/11/16 ~ BLACK EYES
Sunday 27/11/16 ~ DJ FETA
Sunday 4/12/16 ~ JEFF O'TOOLE
Sunday 11/12/16 ~ JIM SPRATLING
Sunday 18/12/16 ~ GARTH BE
CHRISTMAS BOOKINGS
at The Beagle
We are dishing up two and three course Christmas menus at The Beagle throughout December 2016. See the menu below. Bookings and enquiries can be made by emailing us. Strictly yummers.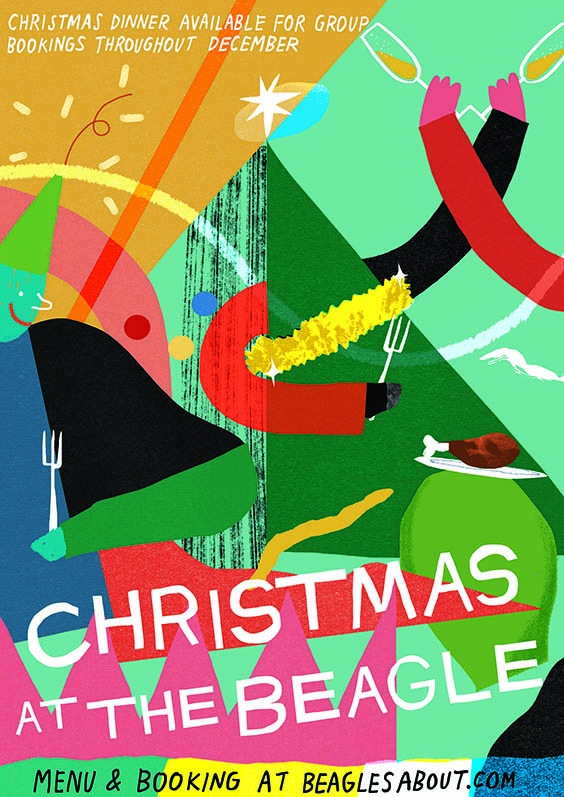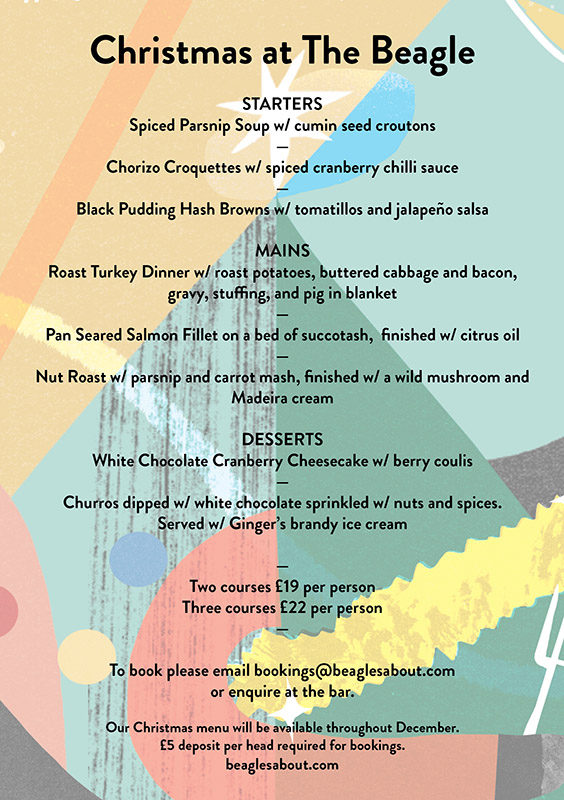 Artwork by Lucy Sherston
NYE AT THE BEAGLE
w/ SOPHIE ELLIS-DECKSTAR (PINS)
Saturday 31st December 2016 / 9pm-late
Fire it up, new year fans. We've only gone and got Sophie from PINS to play some records for you to see in 2017.
Join us at The Beagle for some top drawer 90s/00s pop nougats from SOPHIE ELLIS-DECKSTAR's bag of tricks.
Free entry and we'll be here 'til late. Come and relax to the max (or max to the max) with some grade A pop supplements.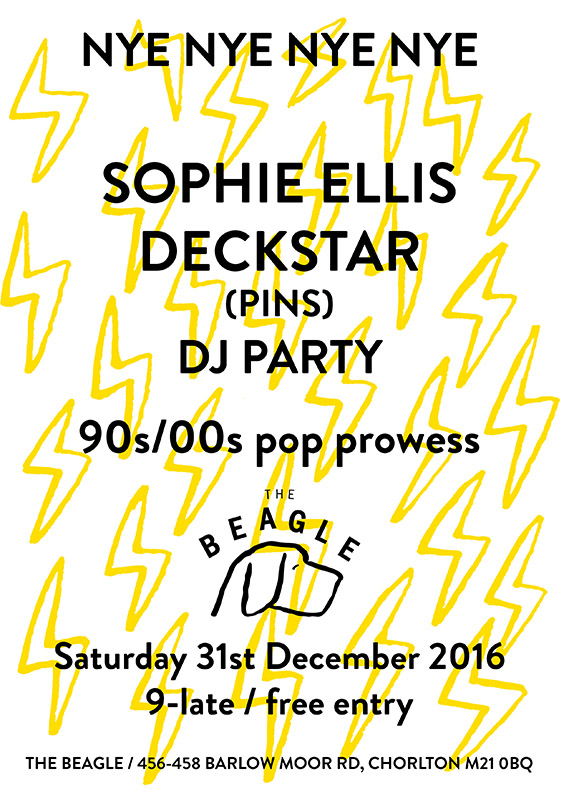 NORTHERN MONK TAP TAKEOVER
Wednesday 14th December 2016 / from 4pm-late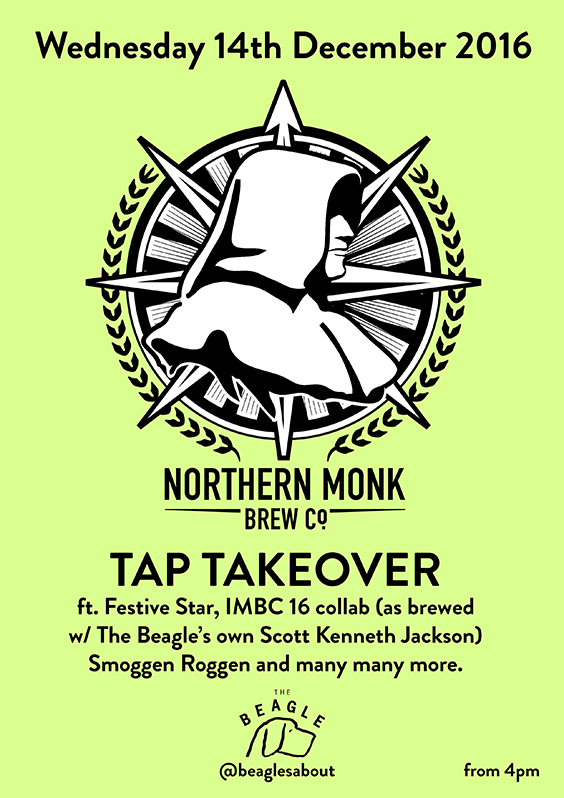 Leeds heroes Northern Monk (Leeds) make the trip across the pennines to Chorlton to take over our taps in style. Talking SEVEN keg lines and FIVE cask. There's an appearance from Northern Monk's Christmas beer, Festive Star, as well as a host of other Northern Monk favourites and cult smashes. Don't miss it…
CASK
ETERNAL 4.1%
ETERNAL BELGIAN 4.1%
TRUE NORTH 3.7%
NEW WORLD IPA 6.2%
NORTHERN STAR MOCHA PORTER 5.9%

KEG
ETERNAL 4.1%
NEW WORLD IPA 6.2%
HEATHEN 7.2%
FESTIVE STAR 5.9%
BOMBAY DAZZLER 4.8%
WAPENTAKE 6%
YEAST 9%
COMMON KNOWLEDGE CHRISTMAS QUIZ
Thursday 15th December 2016 / 8pm-late / free entry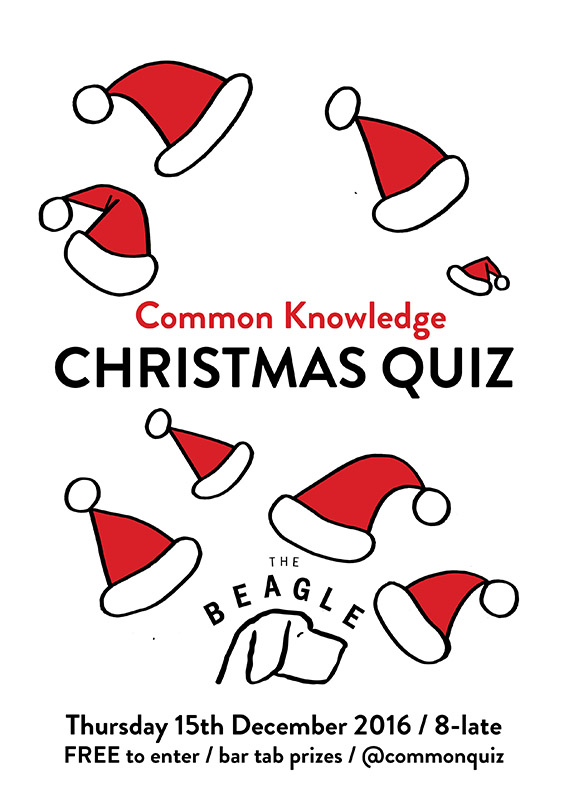 Crack a window would ya!? It's getting a LIL Christmas in here.
Snowballs, mistletoe, xbox one, glitter, ceremony, pork pie for breakfast, asleep at 3pm, bloated, gasping for air, sinking, drinking, thinking. It's all in a Christmas day's work, baby.

We celebrate the most famous day of the year by laying on a Christmas centric quiz. The films of Christmas, the music of Christmas, the toys of Christmas. You name it, Christmas features. It'll be there. There'll even be a mince pie tasting round. Can you even imagine? 

Come down and soak up the tinsel, Chorlton. Free to enter, bar tab prizes.
ODDBOD ART MARKET
NEIGHBOURHOOD JAM
Saturday 17th December 2016 / 11am-6pm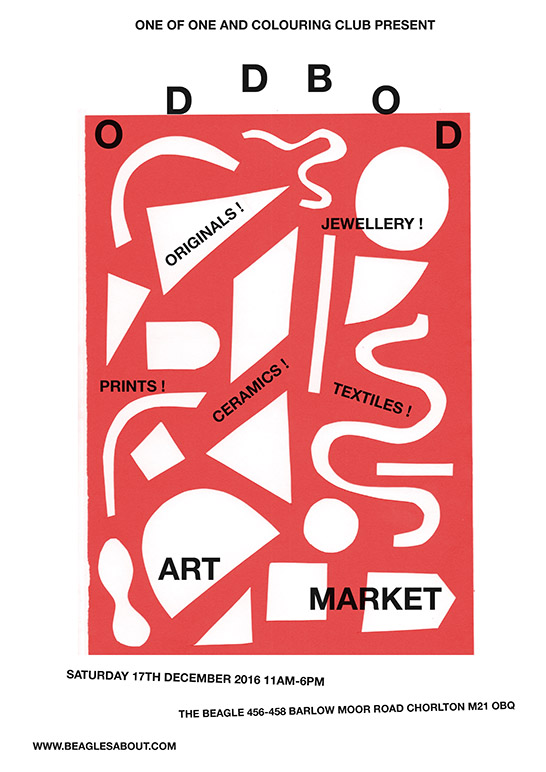 As part of our Christmas Neighbourhood Jam Chorlton-wide offering, we are housing at The Beagle a very special event for all you Christmas chasers and art enthusiasts…
ONE OF ONE and COLOURING CLUB mesh minds to bring you the OddBod art market at The Beagle. Celebrating experimentation and adventure the OddBod art market will host a curated selection of local artists, designers and makers whose work is exciting and unique. There will also be a Colouring Club table for all you pensmiths to ink lyrical.
There will be original artwork, prints, ceramics, jewellery, zines, comics, textiles and MORE from…
Emily Tilzey
DR.ME
Studio Up
Bryony Jackson
Amy Marsh
Kim Thompson
Stina Puotinen
Caroline Dowsett
Mariel Osborn
Aliyah Hussain
OddBod will be a showcase of the experimental, the avant stocking filler, the original artwork and a general haven for all yon creative embracers.
BRING CASH, SPEND HARD, BROWSE HEAVY.
DJs on the day will take the shape of NICK MITCHELL (Golden Lab Records) 2pm-7pm and BIG PEACE (Generic Greeting) 7pm-midnight.
Keep up to date with OddBod visuals from the stallholders that will be in attendance on Saturday HERE.
Check out what our neighbours are up to on the Christmas Neighbourhood Jam facebook page HERE.
—
ONE OF ONE host themed and curated pop up shops in Manchester and Salford, where all items in the shop are a one off unique item.
—
Colouring Club meet up in Common (and occasionally The Beagle) on the last Wednesday of every month for illustrating, colouring and hanging out. They're on sabbatical for 2k16 but catch them back firing it up in 2k17 at Common.
—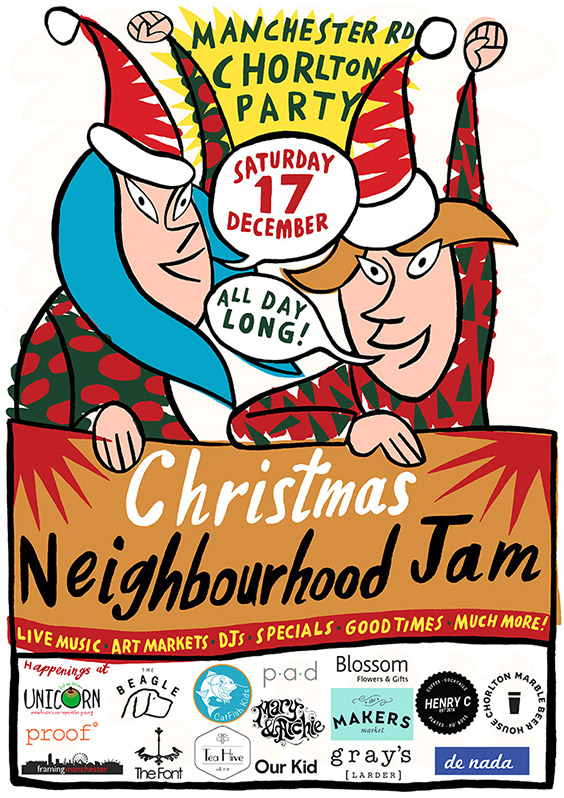 OddBod poster by Aliyah Hussain
Christmas Neighbourhood Jam poster by David Bailey
HOME ALONE
Big screen FREE screening
Saturday 10th December 2016 / 3pm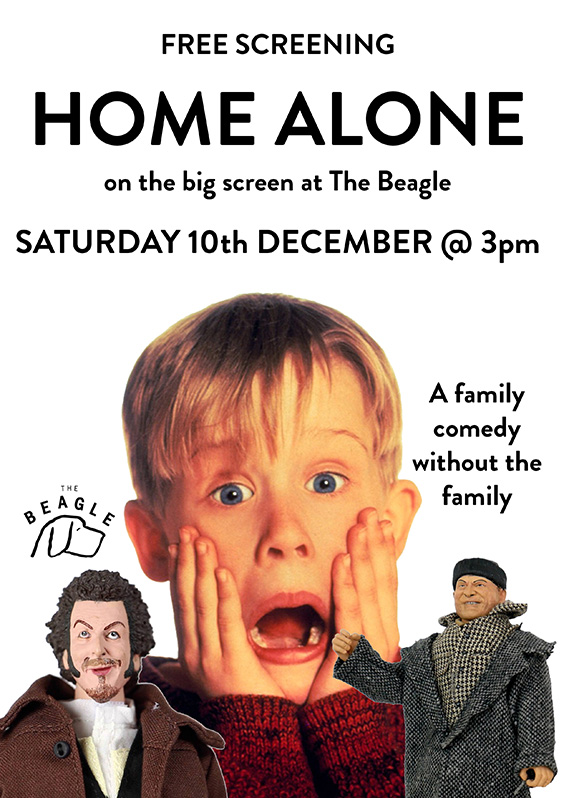 Is what it says on the tin. We're showing one of the greatest Christmas films of all time on our big screen. Roll up and watch it from 3pm this Saturday!
TRACK CASKOVER
Tuesday 6th – Sunday 11th December 2016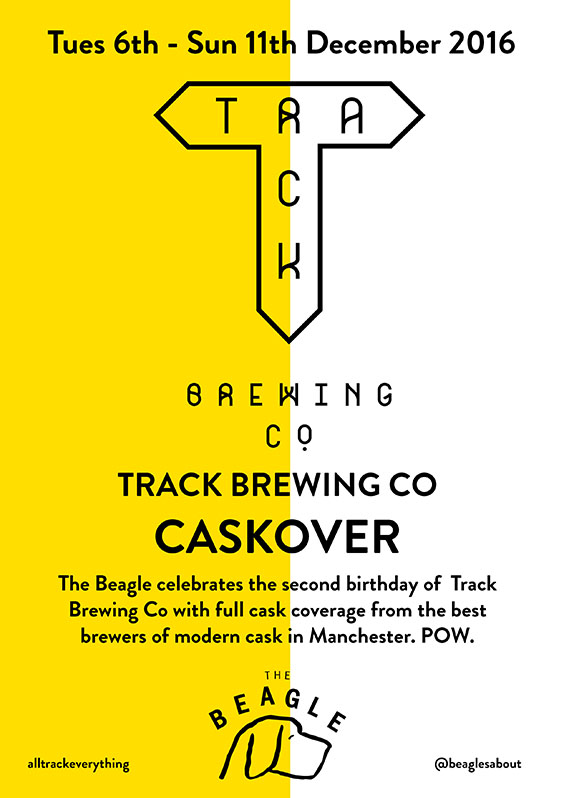 We celebrate Track Brewing Co's second birthday with full cask coverage (that's five lines, people) from one of our very favourite Manchester breweries and makers, we believe, of some of the best cask around. Float by The Beagle any time between 6th-11th December for a piece of the good stuff.
I MISSED THE BEER CON
IMBC 16 COLLAB TAP TAKEOVER
Wednesday 30th November 2016 / 4pm – late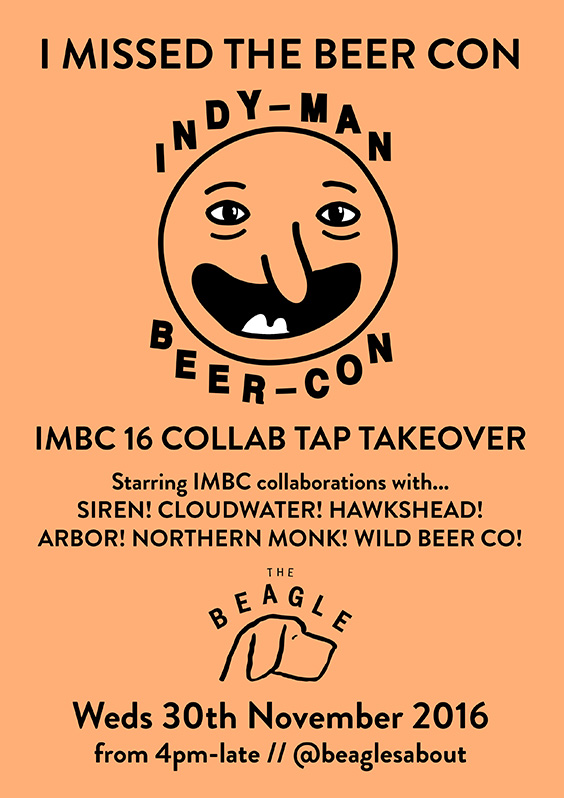 Keg tap takeover of ALL the Indy Man Beer Con 2016 collaborations. Definitely the best ones yet. Expect a Vimto IPA (Siren x IMBC), an old fashioned inspired red IPA (Cloudwater x IMBC), blends aplenty and more. The loose theme of the collaborations was wood – in so much as the beers that were brewed/blended all have some kind of barrel ageing/barrel conditioned element. Anyway, they're great. Come down and relive them or taste them for the first time!
COMPASS BOX WHISKY TASTING & BOILER MAKER MENU LAUNCH
Friday 2nd December 2016 / 7pm
The Beagle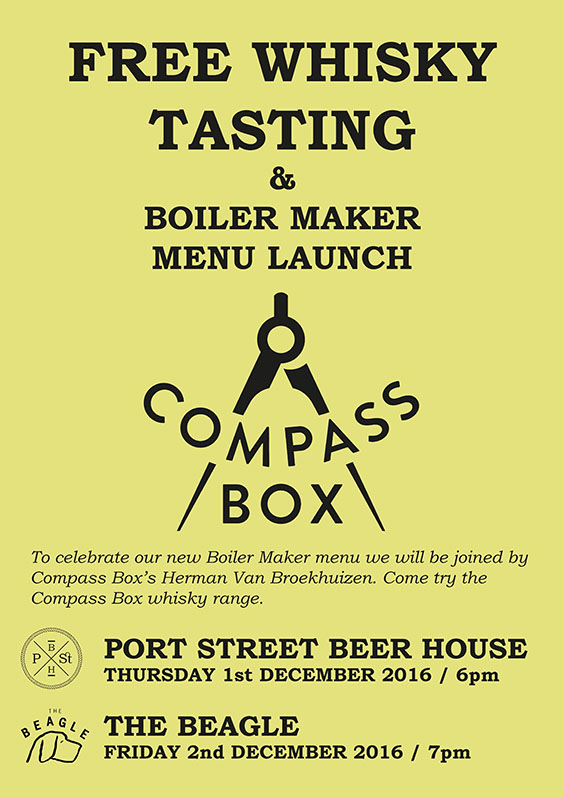 Yes sire! The immaculate Compass Box make the trek up to Chorlton from London town to ply with free drams of their stunning whisky range. It's something of a celebration to herald our new Boiler Maker menu of beer and whisky pairings. Turn up on the night and engage. The tastings will be low key informative and smoky affairs. Been waiting all my life for this moment.
UP IN SMOKE
November food specials at The Beagle
1st-30th November 2016
Here's some glimpses of our new specials…
HAM HOCK POUTINE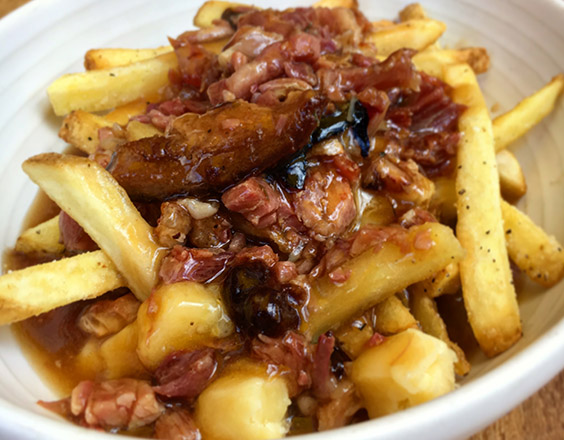 S'MORES PIE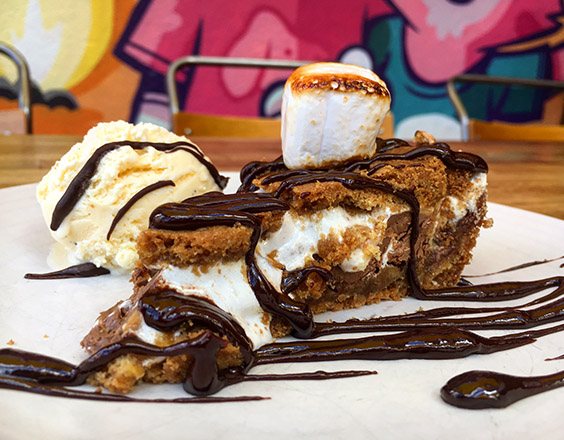 ROOT BURGER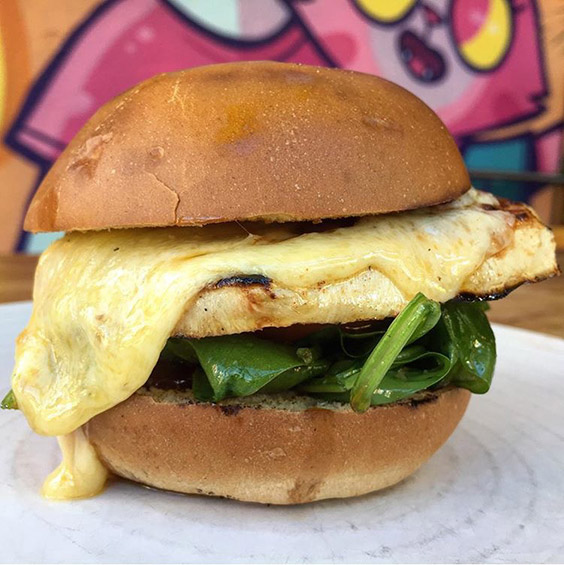 VINCENT HAM HOCK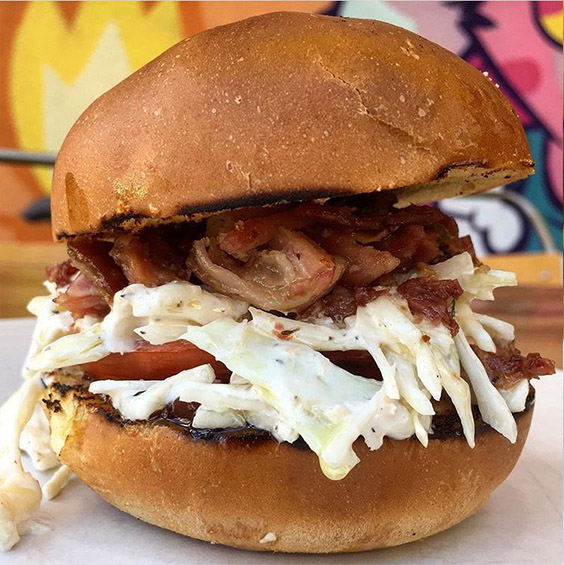 SPACED QUIZ
Common Knowledge at The Beagle
Thursday 17th November 2016 / 8pm-late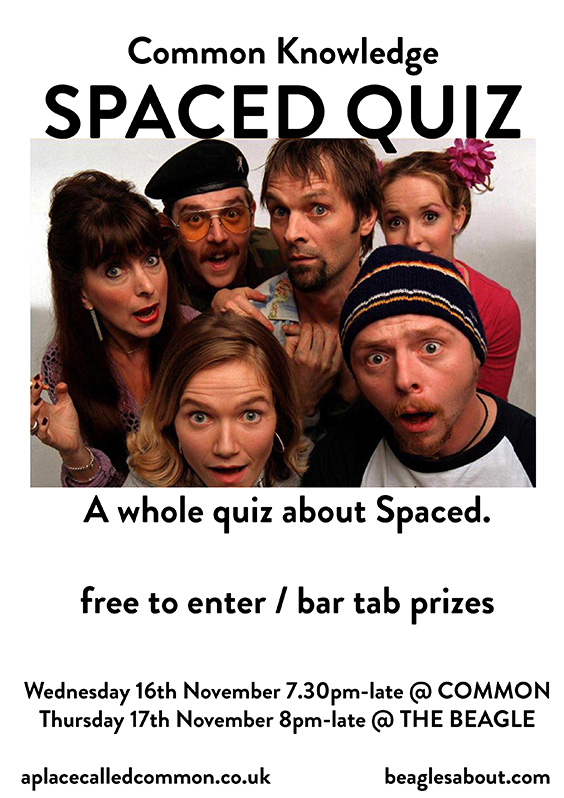 Join us at The Beagle with Common Knowledge quiz hosts Duncan and Beckie for a SPACED special. Free to enter. Bar tab prizes. Facebook event page HERE.
ALAN PARTRIDGE QUIZ 
Common Knowledge at The Beagle
Thursday 20th October 2016 / 8pm – late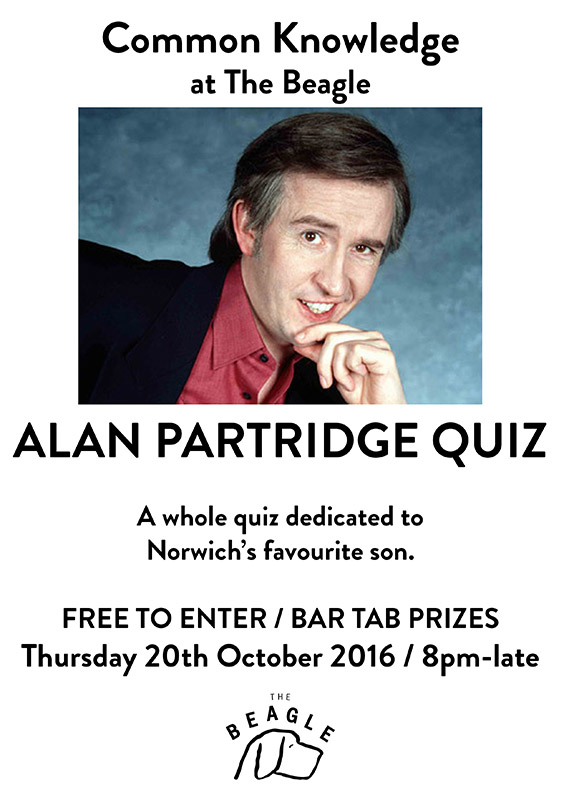 A-HA!
Team Common Knowledge return to The Beagle with a new quiz host in tow, come witness the power couple double act of Beckie and Duncan in action.
This month Common Knowledge is putting Alan Patridge on a pedestal. All Partridge everything. I'm Alan Partridge will make up the bulk, and of course there'll be questions based around Alan's other endeavours. It wouldn't be the complete Alan Partridge quiz otherwise would it.
Come on down and partake for FREE. Bar tab prizes will be up for grabs.
Facebook event page HERE.
Also, we'll be serving up LADYBOYS…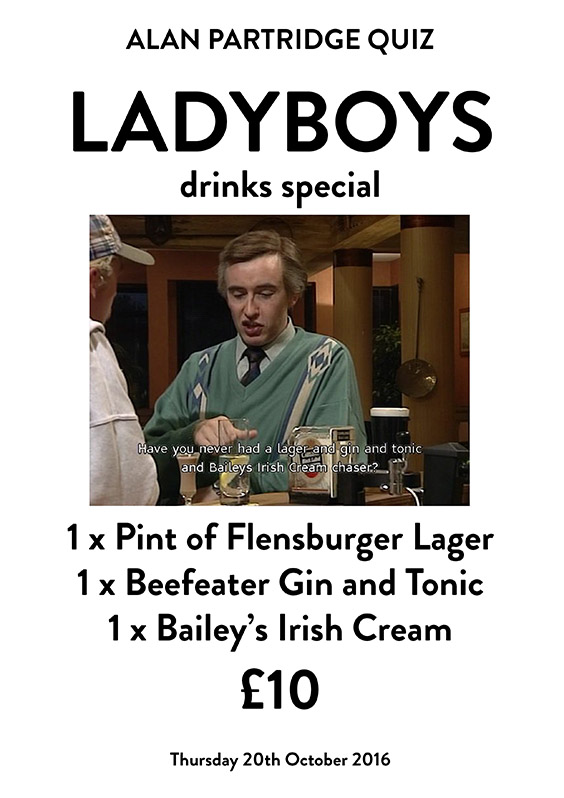 THE BEAGLE BIG SCREEN GREAT BRITISH BAKE OFF
Wednesday 26th October / 8pm

Does what it says on the tin. We are screening the final of Great British Bake Off LIVE on our big screen. Come on down for free cake and we are encouraging comers to bring their own bakes to share with fellow viewers.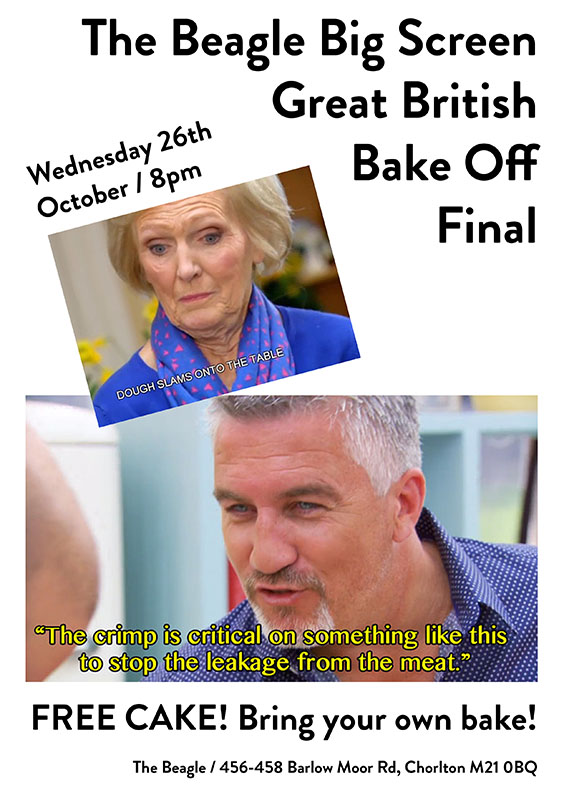 HALLOWEEN MASK MAKING WORKSHOP
Colouring Club at The Beagle
Thursday 27th October 2016 / 7pm-10pm / free entry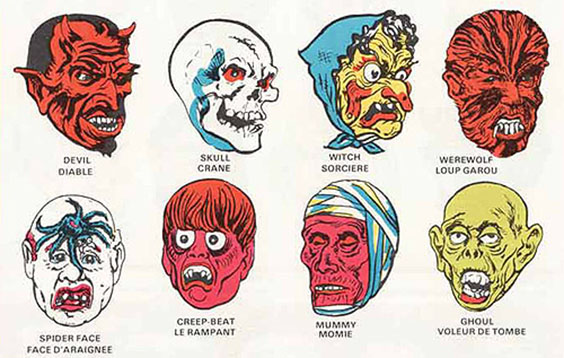 Muhahahaha join Camille and Amy for a Colouring Club Halloween Mask Making special at The Beagle. Colouring Club is a free to attend collaborative creative meet-up. All are welcome.
Come down for this Halloween special (the very first Colouring Club at The Beagle) and make a mask for Halloween. This is a free event and materials will be provided.
Make a freaky one! Make a cheeky one! Make a spooky one! Make a kooky one! Make a scary one! Make a hairy one! The creative choices are yours. Feel free to bring your own weapons (creative weapons) of choice down to help aid you on your quest in this mask making mega bash.
SPOOOOOOOOOOOOOOOKY
Facebook event page HERE.
Check out Colouring Club on facebook HERE and instagram HERE.