At The Beagle, we've got 10 keg lines, and 4 cask pumps – all rotating and serving modern, seasonal beers. We'll always have our Beagle Pale and Beagle Lager on, and you'll usually be able to get yourself a Schofferhofer grapefruit beer alongside the best in IPAs, stouts, sours, and all other styles. We've also got a fully stocked fridge with our favourite craft cans too. Not sure what you want? Speak to our bar staff, and they'll do their best to match a tipple to your tastes.
See below for our cocktails and wines menu, or scroll down to the bottom of the page and read what people have been saying about The Beagle lately.
Download the brand new Common & Co app HERE to earn reward points for every pound you spend, and we'll give you £2.50 credit once you reach 25 points. You'll also get 15 points just for signing up, too. Find out more about how it all works here.
We think our happy hour is the best in Chorlton – see what we offer here.
Click it to big it, drink fans!
After our food menu? Click here.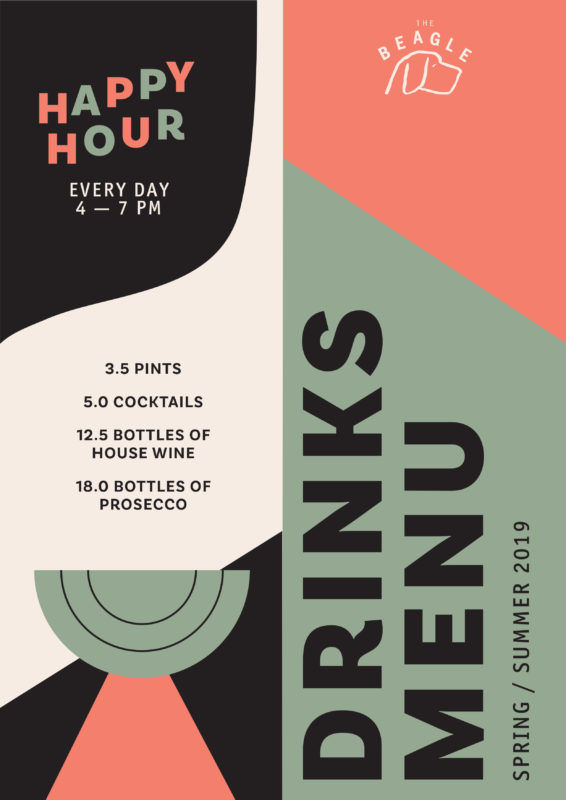 A great neighborhood pub/bar/restaurant that is suitable for any occasion. You'd feel just as welcome coming for a cocktail on a date night as you would popping in for lunch with your baby or taking your gran out for her birthday. They have a great selection of cash and keg ale to boot.
– PW, April 2019, *****
Excellent, just what I've been looking for! Great beer and spirits selection, really chilled vibe and attentive staff.
– RC, October 2019, *****
Super friendly staff and a cosy place for a drink!
– LP, January 2020, *****
I love this place. The beer selection, the amazing food, the events they host etc. My only complaint is that it's not close to where I live
– CH, November 2019, *****
Great choice of ales, good variety of seating, perfect for a Bloody Mary and late brunch to recover!
– N, 2019, *****