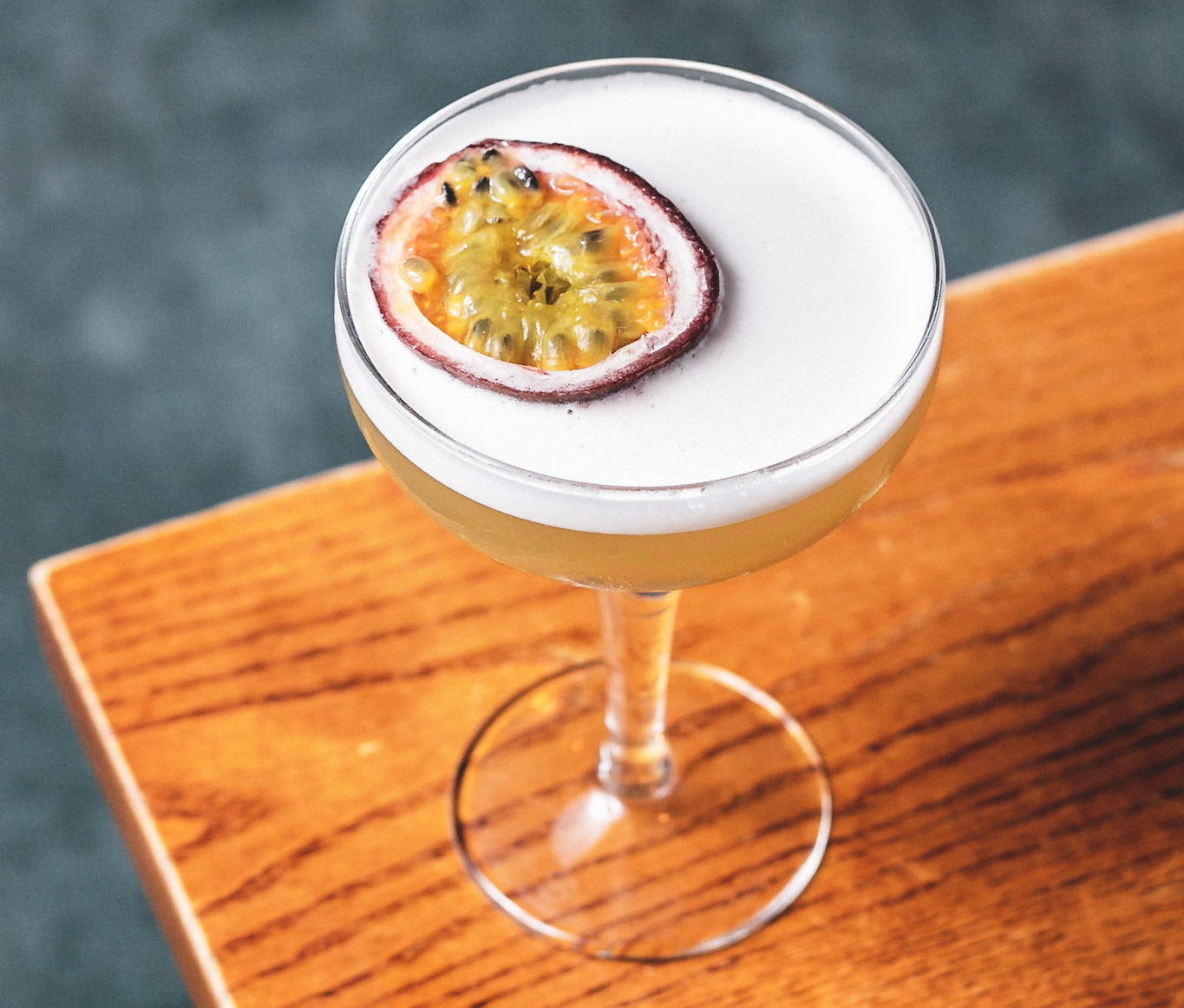 At The Beagle, we've got 10 keg lines, and 4 cask pumps – all serving modern, seasonal beers. We'll always have our Beagle Pale and Beagle Lager on, and you'll usually be able to get yourself a Schofferhofer grapefruit beer alongside the best in IPAs, stouts, sours, and all other styles. We've also got a fully stocked fridge with our favourite craft cans too. Not sure what you want? Speak to our bar staff, and they'll do their best to match a tipple to your tastes.
See below for our cocktails and wines menu.
Download the brand new Common & Co app HERE to earn reward points for every pound you spend, and we'll give you £2.50 credit once you reach 25 points. You'll also get 15 points just for signing up, too. Find out more about how it all works here.
We think our happy hour is the best in Chorlton – see what we offer here.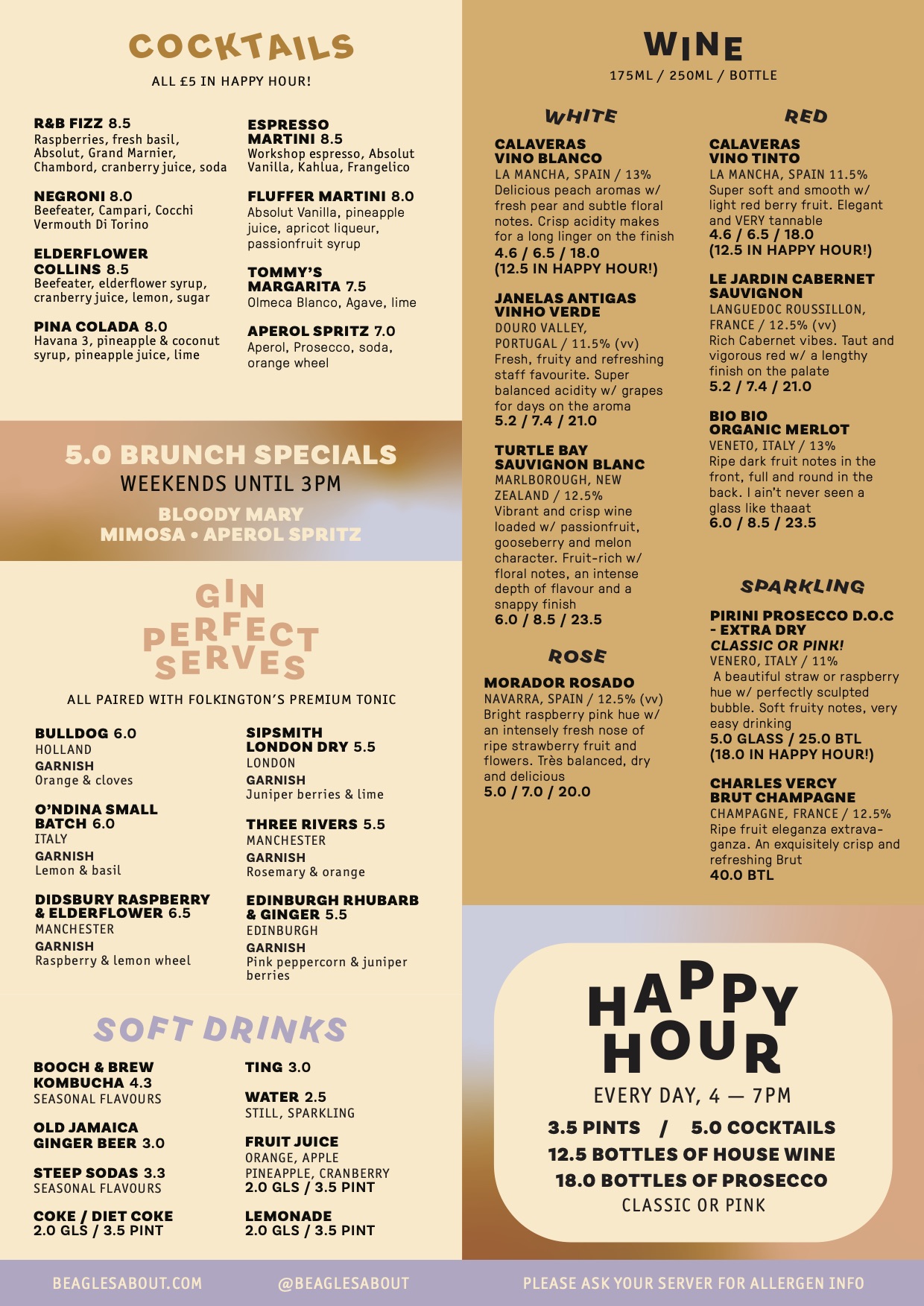 Click the titles to skip to individual sections, or scroll below
Cocktails
ALL £5 IN HAPPY HOUR!
R&B FIZZ 8.5
Raspberries, fresh basil, Absolut, Grand Marnier, Chambord, cranberry juice, soda
NEGRONI 8.0
Beefeater, Campari, Cocchi Vermouth Di Torino
ELDERFLOWER COLLINS 8.5
Beefeater, elderflower syrup, cranberry juice, lemon, sugar
PINA COLADA 8.0
Havana 3, pineapple & coconut syrup, pineapple juice, lime
ESPRESSO MARTINI 8.5
Workshop espresso, Absolut Vanilla, Kahlua, Frangelico
FLUFFER MARTINI 8.0
Absolut Vanilla, pineapple juice, apricot liqueur, passionfruit syrup
TOMMY'S MARGARITA 7.5
Olmeca Blanco, Agave, lime
APEROL SPRITZ 7.0
Aperol, Prosecco, soda, orange wheel
Gin Perfect Serves
ALL PAIRED WITH FOLKINGTON'S PREMIUM TONIC
BULLDOG (NETHERLANDS) 6.0
GARNISH – Orange & cloves
O'NDINA SMALL BATCH (ITALY) 6.0
GARNISH – Lemon & basil
DIDSBURY RASPBERRY & ELDERFLOWER (MANCHESTER) 6.5
GARNISH – Raspberry & lemon wheel
SIPSMITH LONDON DRY (LONDON) 5.5
GARNISH – Juniper berries & lime
THREE RIVERS (MANCHESTER) 5.5
GARNISH – Rosemary & orange
EDINBURGH RHUBARB & GINGER (EDINBURGH) 5.5
GARNISH – Pink peppercorn & juniper berries
Wine
White Wine
CALAVERAS VINO BLANCO LA MANCHA, SPAIN / 13%
Delicious peach aromas w/ fresh pear and subtle floral notes. Crisp acidity makes for a long linger on the finish
4.6 / 6.5 / 18.0 (12.5 IN HAPPY HOUR!)
JANELAS ANTIGAS VINHO VERDE DOURO VALLEY, PORTUGAL / 11.5% (vv)
Fresh, fruity and refreshing staff favourite. Super balanced acidity w/ grapes for days on the aroma 5.2 / 7.4 / 21.0
TURTLE BAY SAUVIGNON BLANC MARLBOROUGH, NEW ZEALAND / 12.5%
Vibrant and crisp wine loaded w/ passionfruit, gooseberry and melon character. Fruit-rich w/ floral notes, an intense depth of flavour and a snappy finish 6.0 / 8.5 / 23.5
Rose
MORADOR ROSADO NAVARRA, SPAIN / 12.5% (vv)
Bright raspberry pink hue w/ an intensely fresh nose of ripe strawberry fruit and flowers. Très balanced, dry and delicious 5.0 / 7.0 / 20.0
Red Wine
CALAVERAS VINO TINTO LA MANCHA, SPAIN 11.5%
Super soft and smooth w/ light red berry fruit. Elegant and VERY tannable 4.6 / 6.5 / 18.0 (12.5 IN HAPPY HOUR!)
LE JARDIN CABERNET SAUVIGNON LANGUEDOC ROUSSILLON, FRANCE / 12.5% (vv)
Rich Cabernet vibes. Taut and vigorous red w/ a lengthy finish on the palate 5.2 / 7.4 / 21.0
BIO BIO ORGANIC MERLOT VENETO, ITALY / 13%
Ripe dark fruit notes in the front, full and round in the back. I ain't never seen a glass like thaaat 6.0 / 8.5 / 23.5
Sparkling
PIRINI PROSECCO D.O.C – EXTRA DRY CLASSIC (OR PINK!) VENERO, ITALY / 11%
A beautiful straw or raspberry hue w/ perfectly sculpted bubble. Soft fruity notes, very easy drinking 5.0 GLASS / 25.0 BTL (18.0 IN HAPPY HOUR!)
CHARLES VERCY BRUT CHAMPAGNE CHAMPAGNE, FRANCE / 12.5%
Ripe fruit eleganza extravaganza. An exquisitely crisp and refreshing Brut 40.0 BTL
Soft Drinks
BOOCH & BREW KOMBUCHA 4.3
SEASONAL FLAVOURS OLD JAMAICA GINGER BEER 3.0
STEEP SODAS 3.3
SEASONAL FLAVOURS COKE / DIET COKE 2.0 GLS / 3.5 PINT
TING 3.0
WATER 2.5 (STILL, SPARKLING)
FRUIT JUICE ORANGE, APPLE PINEAPPLE, CRANBERRY 2.0 GLS / 3.5 PINT
LEMONADE 2.0 GLS / 3.5 PINT
Happy Hour
Available 4 – 7pm every day
£5 cocktails
Negroni
R+B Fizz
Strawberry Daquiri
Espresso Martini
Tommy's Margarita
French Martini
Whiskey Sour
White Russian
Bramble Collins
Bloody Mary
£3.5 Pints
Beagle Pale, Beagle Lager
£12.5 Wine
Calaveras Vino Blanco, La Mancha, Spain / 13%
Calavera Vino Tinto, La Mancha, Spain / 11.5%
£18 Prosecco
Pirini Prosecco D.O.C. – Extra Dry Classic or Pink, Venero, Italy, 11%
£5 Brunch Specials
Available weekends until 3pm
Bloody Mary
Mimosa
Aperol Sprtiz
---
What our customers have been saying of late…
A great neighborhood pub/bar/restaurant that is suitable for any occasion. You'd feel just as welcome coming for a cocktail on a date night as you would popping in for lunch with your baby or taking your gran out for her birthday. They have a great selection of cash and keg ale to boot.
– PW, April 2019, *****
Excellent, just what I've been looking for! Great beer and spirits selection, really chilled vibe and attentive staff.
– RC, October 2019, *****
Super friendly staff and a cosy place for a drink!
– LP, January 2020, *****
I love this place. The beer selection, the amazing food, the events they host etc. My only complaint is that it's not close to where I live
– CH, November 2019, *****
Great choice of ales, good variety of seating, perfect for a Bloody Mary and late brunch to recover!
– N, 2019, *****