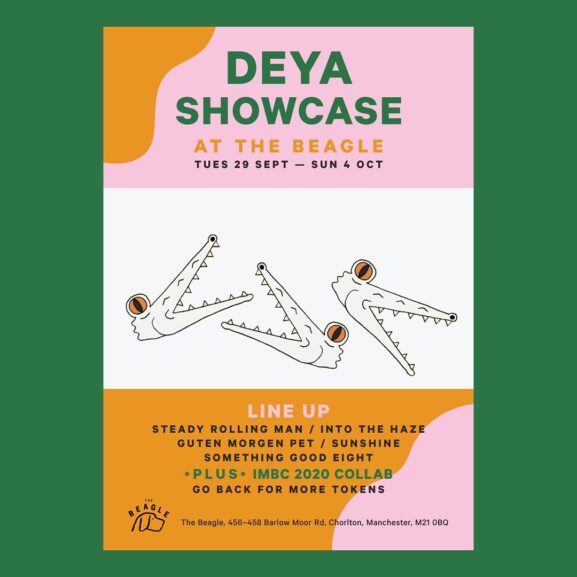 Tuesday 29 September – Sunday 4 October
Deya Tap Takeover
The Beagle, Chorlton
Free Entry
Cheltenham's finest bring their wares to Chorlton for a Tap Takeover at The Beagle. their first outing in the suburbs, DEYA are one of the UK's best young breweries, smashing out hit after hit of sessionable (and extra special) drops.
We've got the following on, as well as being available by the flight. Woof.
KEG
Steady Rolling Man Pale Ale 5.2%
Steady Rolling Man. Our pale ale. Inspired by the ridiculously tasty hoppy beers we fell for, we got brewing our own versions, over and over again, while listening to the blues greats. The heady concoction of old-time blues records and juicy American hops transfixed us from the start and the rolling man was born in these sessions! Incredibly soft and delicate with intense tropical fruit hop aromatics and saturation, this is our vision of the perfect pale ale.
Something Good 8 IPA 6.2%
Something Good 8 6.2% is the 8th iteration of our Something Good series. For this beer we have switched up the soft, juicy profile of our usual IPA's for a lean and clean experience! Something Good 8 has flaked rice in the grist, uses a West Coast ale yeast and is dry hopped with Chinook, Simcoe and Enigma.  You can expect plenty of citrus and pine flavour!
Into the Haze IPA 6.2%
Into the Haze, our IPA. Soft, juicy, citrus and tropical fruit laden IPA in our house style. This beer has clean malt structure, peachy yeast esters, and the saturated presence of Citra and Simcoe. Refreshing, clean and beautiful to drink!
Sunshine IPA 6%
A tropical delight of an IPA. Carrying on from where My Life In The Sunshine left off – bright, juicy, tropical deliciousness. Drawing inspiration from our collaboration with Other Half. Sunshine is a tropical IPA with Citra, Idaho 7 and Sabro.
Guten Morgen Pet Hefeweizen 5.2%
German style Hefeweizen with a twist. Brewed using traditional German yeast with DEYA's own house strain, throwing some banging zesty hops (Huell Melon and Lemondrop) in the whirlpool and some spicy bottle conditioning, this bad boy will have you dreaming of those Berlin summer nights.
+++
An exciting collaboration, launching FRIDAY
+++
About Deya:
Theo founded DEYA in 2015 having become obsessed with American beer and beer culture. Through home brewing and some work experience at local breweries, Theo pursued a career as a brewer starting with a Masters of Brewing and Distilling at Heriot-Watt (2014). Having completed his degree and internships at Odell Brewery (Colorado) and Cotswold Brewery, Theo began building the recipe for Steady Rolling Man on a homebrew scale. Theo brewed the first versions of SRM on a local 4bbl commercial system.

Now regarded as one of the UK's best breweries, we're proud to be welcoming DEYA to Port Street for a weekend of their tastiest drops.