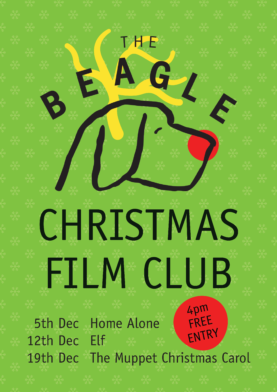 CHRISTMAS FILM CLUB!
What's the best bit about Christmas? That's right – the pizza! And what's the second best bit? Watching classic movies whilst eating pizza! Yes, yes, yes!
If only there were a series of events that celebrated both festive pizza, and yuletide cinema… wait! We're happy to announce The Beagle's Christmas Film Club, where each Sunday in the lead up to the big day, we'll be airing some Christmas classics.
All free entry, and screening at 4pm – perfect for children of all ages. Here's the line-up
Sunday 5th December – Home Alone

When bratty 8-year-old Kevin McCallister (Macaulay Culkin) acts out the night before a family trip to Paris, his mother (Catherine O'Hara) makes him sleep in the attic. After the McCallisters mistakenly leave for the airport without Kevin, he awakens to an empty house and assumes his wish to have no family has come true. But his excitement sours when he realises that two con men (Joe Pesci, Daniel Stern) plan to rob the McCallister residence, and that he alone must protect the family home.
Sunday 12th December – Elf
Buddy (Will Ferrell) was accidentally transported to the North Pole as a toddler and raised to adulthood among Santa's elves. Unable to shake the feeling that he doesn't fit in, the adult Buddy travels to New York, in full elf uniform, in search of his real father. As it happens, this is Walter Hobbs (James Caan), a cynical businessman. After a DNA test proves this, Walter reluctantly attempts to start a relationship with the childlike Buddy with increasingly chaotic results.
Sunday 19th December – The Muppet Christmas Carol
The Muppets perform the classic Dickens holiday tale, with Kermit the Frog playing Bob Cratchit, the put-upon clerk of stingy Ebenezer Scrooge (Michael Caine). Other Muppets — Miss Piggy, Gonzo, Fozzie Bear and Sam the Eagle — weave in and out of the story, while Scrooge receives visits from spirits of three Christmases — past, present and future. They show him the error of his self-serving ways, but the miserable old man seems to be past any hope of redemption and happiness.
Book a table by getting in touch with bookings@beaglesabout.com