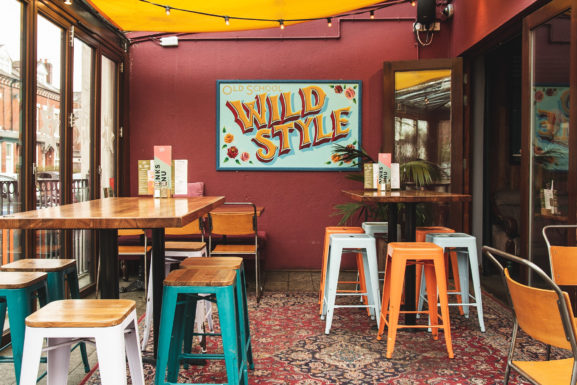 With the launch of our new food menu, we've brought in a new food offer too – The Beagle's £5 lunch deal is here, perfect for midweek quick eats out here in Chorlton.
Our five pound deal runs Tuesday to Friday, 12pm to 4pm, and gives the choice of 3 of our new dishes: the Ultimate Fried Chicken wrap, the Wing Dings wrap (vv), and V-Gang Wrap (vv) – a trio of tasty, filling, and speedy lunches, and served with chips. If you want to hang about and make an afternoon of it, that's great too – have a look at our new drinks menu, or pick from our 9 keg and 4 cask lines if you fancy a pint. Our full food menu is also available throughout, too – including vegetarian and vegan options, as well as our famed gluten-free fried chicken.
See what our £5 lunch has to offer below, or scroll further down for our full menu.
FIVE POUND LUNCH
Available Tuesday – Friday 12 – 4pm 
Served w/ fries

ULTIMATE FRIED CHICKEN WRAP £5.0
*NEW* Crispy chicken tenders w/ lettuce, chipotle mayo, tomato, wrapped in a tortilla
WING DINGS WRAP £5.0 (vv)
*NEW* Crispy oyster mushroom wings w/ lettuce, chipotle mayo, tomato, wrapped in a tortilla
V-GANG WRAP £5.0 (vv)
*NEW* Crispy seitan strips w/ lettuce, chipotle mayo, tomato, wrapped in a tortilla
Substitute fries for curly fries + £2.0