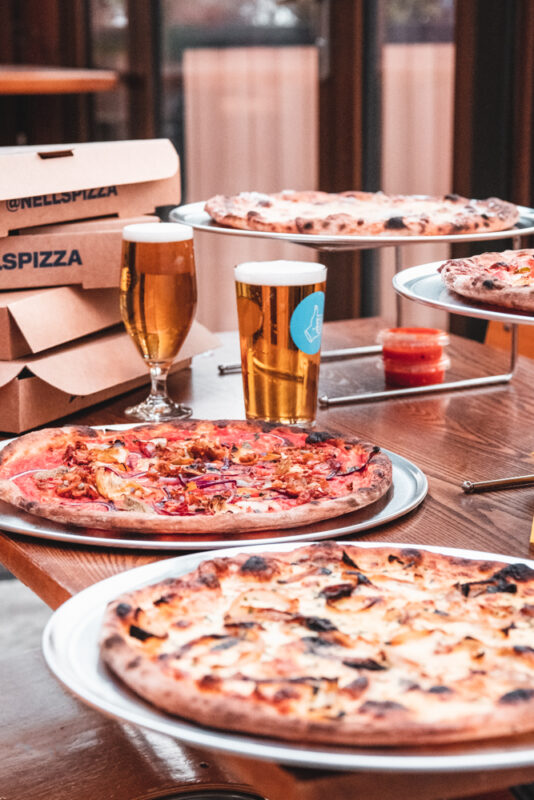 Nell's is, quite simply, about the best dough and the best ingredients, treated with care and attention. The dough is slow-fermented over 36 hours to allow for the perfect combination of strength for folding and lightness for enjoyment. They use 100% British organic flour from Shipton Mill, local cheese sourced from the Crafty Cheeseman, British meat from Littlewoods Butchers and charcuterie from London based, Cobble Lane Cured. A big part of the drive behind Nell's was to create a food business which was more gentle on the environment. Nell's is an environmentally friendly model, using less power, creating less waste, using less meat and using local and responsible British suppliers. Find out more.
Our slice selection changes day to day depending on what we're feeling (check our app for the latest), but our full menu includes the 22″ pizzas that have made Nell's a firm favourite. Want dessert? We also serve Nell's Ice Cream Sandwiches.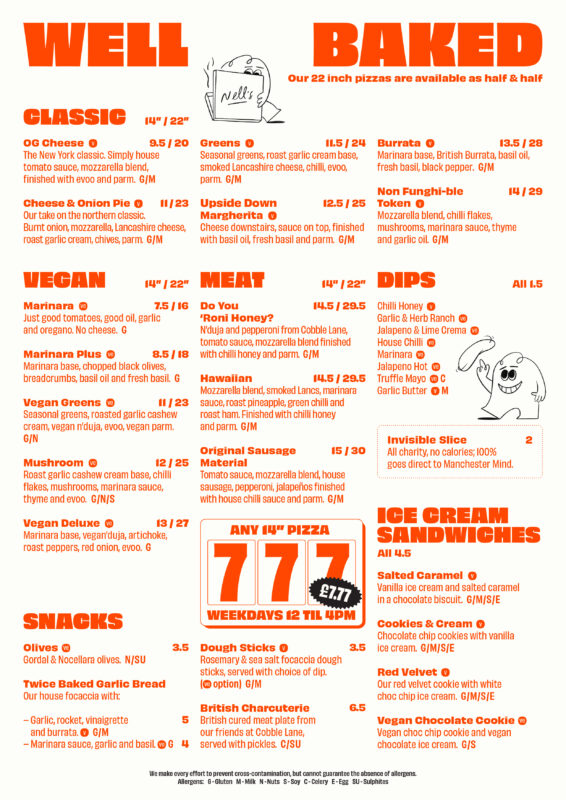 Classic
ORIGINAL CHEESE (v)
The New York classic. Simply house tomato sauce, mozzarella blend, finished with evoo and parm. £9.5 / £20
CHEESE & ONION PIE (v)
Our take on the Northern classic. Burnt onions, mozzarella, Lancashire cheese, chives, parm. £11 / £23
NON FUNGHI-BLE TOKEN (v)
Mozzarella blend, chilli flakes, mushrooms, marinara sauce, thyme, and garlic oil £14 / £29
GREENS (v)
Seasonal greens, roast garlic cream base, smoked Lancashire cheese, chilli, evoo, parm £11.5 / £24
UPSIDE DOWN MARGHERITA (v)
Cheese downstairs, sauce on top, finished with basil oil, fresh basil and parm £12.5 / £25
BURRATA (v)
Marinara base, British Burrata, basil oil, fresh basil, black pepper £13 / £28
Vegan
MARINARA (ve)
No cheese, just good tomatoes, good oil, garlic and oregano.
£7.5 / £16
MARINARA PLUS (ve)
Marinara base, chopped black olives, breadcrumbs, basil oil and fresh basil.
£9 / £18
MUSHROOM (ve)
Roast garlic cashew cream base, chilli flakes, mushrooms, marinara sauce, thyme and evoo.
£12 / £25
VEGAN DELUXE (ve)
Marinara base, vegan'duja, artichoke, roast peppers, red onion, evoo. £13 / £27
VEGAN GREENS (VE)
Seasonal greens, roast garlic cashew cream base, chilli, vegan'duja, evoo, vegan parm £11 / £25
Meat
DO YOU 'RONI HONEY?
N'duja and pepperoni from Cobble Lane, tomato sauce, mozzarella blend finished with chilli honey and parm. £14.5 / £29.5
ORIGINAL SAUSAGE MATERIAL
Tomato sauce, mozzarella blend, house sausage, pepperoni, jalapeños finished with house chilli sauce and parm. £14.5 / £29.5
HAWAIIAN
Mozzarella blend, smoked Lancs, marinara sauce, roast pineapple, green chilli and roast ham, finished with chilli honey and parm. £15 / £30
All pizzas available in 22″ half & half format, prices available via our app.
DIPS
CHILLI HONEY
GARLIC & HERB RANCH
HOUSE CHILLI
MARINARA
JALAPENO & LIME CREMA
JALAPENO HOT SAUCE
TRUFFLE MAYO
£1.5 each
SNACKS
Olives
Our house mix of Sicilian Nocellara and Gordal olives. £3.50
Twice Baked Garlic Bread
Our house focaccia with:
Garlic, rocket, burrata, vinaigrette. £5
Marinara sauce, garlic and basil. £4
Dough Sticks
Rosemary & sea salt focaccia dough sticks served with choice of dip. £3.5
British Charcuterie
British cured meat plate from our friends at Cobble Lane served with pickles. £6.5
ICE CREAM SANDWICHES
Salted Caramel
Vanilla ice cream and salted caramel in a chocolate biscuit.
Cookies & Cream
Chocolate chip cookies with vanilla ice cream
Red Velvet
Our red velvet cookie with white choc chip ice cream
Vegan Chocolate Cookie
Vegan choc chip cookie and vegan chocolate ice cream
All £4.5
Follow Nell's on Instagram for the latest.
Photos by Joe White.